The blockchain landscape is witnessing a paradigm shift in 2023, with the rise of scalable and programmable Unspent Transaction Output (UTXO) platforms that are set to revolutionize web3. This year, two Layer-1 UTXO platforms, Kaspa and Nexa, have emerged as front-runners in this transformative phase.
Kaspa is making waves with its focus on Layer-1 (L1) performance, positioning itself as a viable means of digital payment. It aims to leverage the inherent speed and scalability of UTXO protocols to facilitate efficient transactions across the web3 ecosystem.
Nexa, on the other hand, is not just breaking ground with scalability but is also pioneering the programmability of UTXOs by integrating functionalities reminiscent of Ethereum's Virtual Machine (EVM). This allows for the creation of EVM-like smart contracts and native token services, expanding the utility of UTXO beyond mere transaction management to a more versatile, application-friendly platform.
Verus Blockchain
Then there's Verus, a project that has refused to conform to the conventional dichotomy of Layer-1 and Layer-2 solutions. Much like Kaspa and Nexa, Verus ($VRSC) prides itself on a fair launch without the trappings of an Initial Coin Offering (ICO), pre-mining, or developer tax. While others have sought to enhance performance through hardware improvements, Verus has taken a different approach with its Public Blockchains as a Service (PBaaS) architecture. This innovation allows the creation of an unlimited number of autonomous blockchains that are not only interoperable but also inherit the full feature set of the Verus L1 protocol.
Verus's PBaaS technology demonstrates an impressive throughput, with a single blockchain capable of handling 75 to 800 transactions per second (TPS) depending on the block time. A network comprising thousands of these blockchains could potentially handle over a million TPS—a bandwidth unheard of in current blockchain systems. Moreover, in an open fractal network like Verus, the notion of maximum TPS is obsolete, as the system is designed to scale out indefinitely.
#Verus enables financial empowerment and inclusivity for local communities. The approach, as explored in the article [linked below], changes the world of community currencies, using the transformative Verus PBaaS blockchain technology to foster sustainable growth and… pic.twitter.com/2T8kQd2f5C

— Verus – The Internet of Value (@VerusCoin) November 16, 2023
UTXOs
For years, Verus has been at the forefront of UTXO programmability. Verus departs from the smart contract model and instead utilizes smart transactions. These smart transactions facilitate a multitude of functions, including the support of an unlimited number of currencies or tokens and the ability to launch new blockchains for these currencies with ease. They enable not just simple transactions and currency swaps, but also complex cross-chain operations, all without the need for smart contracts.
Smart transactions on Verus can even alter consensus rules, allowing for more robust and inherently scalable cross-chain applications and protocols than those limited to a single-chain architecture. The platform can execute operations that seem impossible on traditional smart contract platforms, thanks to its unlimited scalability, native tokens, and resistance to Maximal Extractable Value (MEV) attacks.
Privacy & Digital ID
Verus also boasts of zk-SNARK privacy features, a leading-edge web3 identity protocol, and provably secure, non-custodial cross-chain bridges. It is designed to be interoperable with Ethereum, serving as a launchpad for ERC-20 and ERC-721 tokens. The recently launched Verus-Ethereum bridge AMM is MEV-resistant and has already achieved a Total Value Locked (TVL) of approximately $6.7 million. It supports the exchange of Verus, Ethereum, Maker, DAI, and bridge.vETH tokens.
Industry Recognition
In recognition of its groundbreaking work, Verus received the 'Inspiration Award' from Fidelity's Investments Center for Applied Technology last year. Chosen from hundreds of tech disruptors, Verus was acknowledged after a thorough analysis conducted by Fidelity and Dogpatch Labs.
Verus stands out not only for its innovative technology but also for its commitment to maintaining low transaction and swap fees, enabling both transparent and private transactions, and providing theft-resistant fund storage through VerusID. Its MEV-resistant and LVR (loss-versus-rebalancing) mitigating features further underscore its potential to disrupt the web3 space profoundly.
Tokenomics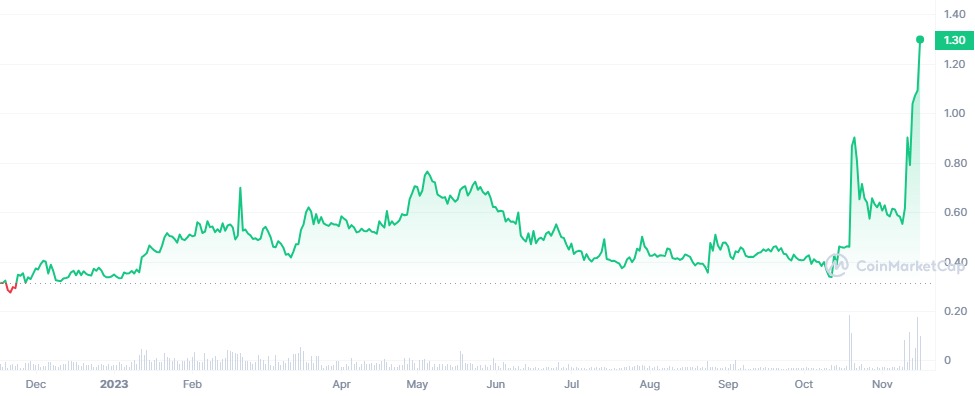 VerusCoin (VRSC) is currently trading at $1.3, indicating a vibrant interest in its market activity and the technology underpinning the coin. With a market capitalization of $97,006,043, it stands as a substantial player in the cryptocurrency space, reflecting a solid valuation by market participants. The trading volume of $105,385, while modest, suggests a steady level of trading activity and liquidity.
The circulating supply of VerusCoin is 74,736,635 VRSC, a majority of its maximum supply cap of 83,540,184 VRSC, which implies that most of the coins have already been mined or distributed. This near-reach to the maximum supply could potentially lead to scarcity, thereby possibly increasing the coin's value if demand continues to grow. The data points to VerusCoin's significant adoption and the investors' confidence in its long-term potential within the blockchain ecosystem.
Platforms like Kaspa, Nexa, and Verus are redefining the scope and functionality of UTXO platforms. By enhancing scalability, programmability, and interoperability, they are setting the stage for a more robust, efficient, and user-friendly web3 that could very well redefine the blockchain ecosystem for years to come.
Author Profile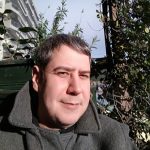 Writing about markets and decentralized finance since 2018.