Continuing from The Fairway Brief: Part 1. In the rapidly evolving world of corporate structures and global businesses, corporate governance plays a crucial role in ensuring that organizations operate ethically, transparently, and in the best interest of all stakeholders.
However, when these governance mechanisms are sidestepped or manipulated, the very integrity of an institution can be compromised. This seems to be the narrative unfolding at nChain Group, as revealed in recent submissions by its former Group Chief Executive Officer, Christen Ager Hanssen.
Background: The Service Agreement & Corporate Bypass
Dated 17th July, a Service Agreement with profound implications was presented to the nChain Group's Board. Curiously, this agreement was not discussed or negotiated with the Group's senior management prior to its submission. The Agreement mandated that all department heads within nChain Group would now be accountable to their counterparts at Calvin's Family Office.
Such a decision is perplexing, as it challenges standard corporate governance protocols. An organization, especially of the stature of nChain Group, relinquishing oversight of its top-tier executives to an external entity, especially the family office of a minority shareholder, can potentially lay the groundwork for multiple conflicts of interest.
The Conspiracy Allegation
Christen Ager Hanssen paints a picture of alleged deception at multiple levels. He claims that Calvin Ayre, Marco Bianchi, and Calvin's Family Office have engaged in what appears to be a coordinated conspiracy against HEH Holding and nChain Group, aiming to favor Indigo/Calvin Ayre.
The intricate interplay between the three Agreements from the 17th July Transaction seems to be a ploy, orchestrated by Calvin's Family Office, to maneuver circumstances allowing them to undervalue and acquire nChain's Intellectual Property. The allegations suggest that this conspiracy was not only craftily executed but was also cloaked in deception to mislead the Board and Management.
Breaking: The Whistleblowing Report regarding the Conspiracy to Defraud @nChainGlobal by Calvin Ayre @CalvinAyre, Stefan Matthew @TurkeyChop and Marco Bianchi who is head of Calvin Ayre's Family office Fairway Family Office AG is now published online as The Fairway Brief. The… pic.twitter.com/QQxMtz0UhC

— Christen Ager-Hanssen (@agerhanssen) October 11, 2023
Governance Concerns & Alleged Breaches
This narrative also casts a shadow over those in influential positions within the organization. The directors representing Calvin's Family Office, by allegedly not declaring their potential conflicts of interest and not recusing themselves from pertinent decisions, might have breached their fiduciary duties. Such a breach is especially concerning, given the weight and implications of the decisions in question.
Moreover, the concerns extend to the Chairman, Stefan Matthews, Marco Bianchi, Calvin's Family Office, and Calvin Ayre himself. The alleged lack of comprehension of corporate law and governance is evident from a chain of email correspondences, where the Family Office announced key appointments, indicating an overarching strategy to align all companies in Calvin Ayre's investment portfolio with a unified vision.
The Imperative Path Forward for HEH Holding & nChain Group
In light of recent events and internal issues within HEH Holding and the nChain Group, there have been pressing calls from Christen Ager-Hanssen for immediate actions to be taken in order to restore the faith of stakeholders, rectify mismanagement issues, and ensure proper corporate governance. Here's a detailed breakdown of the proposed course of action to address the situation:
1. Emergency Board Meeting:
An immediate emergency Board Meeting of HEH Holding is to be convened within the next 10 working days. This is a non-negotiable, vital step for briefing the Board on current pressing issues. At the forefront of this meeting will be the discussion about the 17 July Transaction, amongst other crucial matters, to ensure every board member is on the same page and understands the gravity of the issues.
2. Revoking Previous Agreements:
Given the possible irregularities and concerns surrounding the agreements made on 17th July, it's proposed that these be rendered null and void. This is to protect the interests of all involved parties and ensure that there's no lingering shadow of doubt.
3. Instituting New Agreements:
It's not just about revoking problematic agreements; it's about replacing them with ones that stand up to scrutiny. There's a clear call to renegotiate and draft new agreements between nChain Group and representatives of both the Family Office and Indigo. However, this time, the negotiations will adhere strictly to proper corporate governance procedures to ensure transparency and propriety.
4. Board Reshuffling:
Marco Bianchi, given the potential conflicts of interest, is to vacate his position on the Board immediately. This aligns with HEH Holding's Board Regulations 7.2, emphasizing the importance of impartiality and fiduciary responsibility.
5. Management Restructuring:
For a company to operate seamlessly, trust in its leading officers is imperative. Given the concerns surrounding the actions of the Chief IP Officer, Robert Alizon, the proposal is for his immediate dismissal on grounds of gross misconduct.
6. Involvement of Regulatory Authorities:
To ensure transparency, protect shareholders, and possibly prevent any future mismanagement, it's recommended that FINMA be informed of the alleged inappropriate actions by Calvin's Family Office.
7. Enhancing Corporate Governance:
True strength lies in unity and proper checks and balances. Therefore, there's an emphasis on:
A. Appointing a new director from the Family Office who carries the required integrity, along with further independent non-executive directors. This ensures a diverse range of viewpoints, expertise, and oversight.
B. Elevating the Group CEO to the Board, offering a direct channel for management's perspective and concerns at the highest level.
C. Reiterating the importance of an independent non-executive director helming the position of the Chairman of the Board to ensure decisions are made without bias and in the best interest of the company and its stakeholders.
By adopting these measures, the nChain Group and HEH Holding aim to restore faith, rectify management issues, and ensure a bright, transparent future for all its stakeholders.
COPA V WRIGHT 🇬🇧 https://t.co/vHR5kDNlYV "Please explain the steps the Craig Wright took to create the https://t.co/ytlh4QJwIl Website. If the Defendant's case is that he paid for this domain name, please indicate how he paid for it and which documents in the Defendant's… pic.twitter.com/IfAvT5wbv2

— Ryuushi (@_electronicCash) October 6, 2023
Next Steps
In his chairman's letter, Calvin Ayre aptly articulated a sentiment that resonates deeply within many prominent businesses: "The only thing that can stop us now is ourselves." This proclamation, however, contrasts sharply with the revelations from Christen Ager Hanssen regarding nChain's internal affairs. Hanssen's disclosures highlight the profound importance of maintaining ethical corporate governance. The emerging story from nChain serves not just as a corporate narrative but also as a global cautionary tale, emphasizing the pivotal role of transparency, ethics, and integrity in today's corporate world.
Ayre's subsequent announcement regarding the restructuring of Ayre Ventures is indicative of a strategic shift toward investing more in the Enterprise Blockchain sector. This move, especially with the forthcoming introduction of lite Client SPV and Teranode, showcases his bullish confidence in the realm of blockchain technology, reinforcing his belief that this is a pivotal moment for the industry. You cannot help but think though that Calvin is avoiding the elephant in the room with his statements as of late.
On the legal front, the ongoing confrontation with Craig Wright continues to cast a shadow. Christen Ager-Hanssen has expressed his commitment to the matter by offering to testify for COPA in their case against Wright. This contentious legal battle further intensified when Mr. Justice Mellor sought explicit details regarding the origins of the Bitcoin.org website, placing Wright in a position to provide concrete evidence for his claims.
Author Profile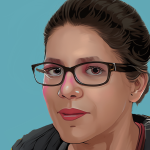 Lucy Walker is a journalist that covers finance, health and beauty since 2014. She has been writing for various online publications.