In a series of even more startling allegations, Christen Ager-Hanssen, former CEO of blockchain technology company nChain, has gone public to unveil what he claims to be a tangled web of deception, financial malfeasance, and hidden secrets involving Calvin Ayre, a prominent tycoon in the gambling industry.
According to Ager-Hanssen, Ayre's activities extend beyond well-known ventures, delving into undisclosed data centers and possibly illicit gambling operations. These revelations are all set against the backdrop of the enduring debate over the true identity of Satoshi Nakamoto, the anonymous creator of Bitcoin.
The Data Centers and Financial Intrigue
Ager-Hanssen's primary focus has been on Ayre's interest in data centers, which are operated under Ayre's FINMA-regulated family office, Fairway Family Office AG. The office is led by Marco Bianchi, a Swiss banker known for his discretion. While this in itself might not be cause for concern, Ager-Hanssen has insinuated that something untoward may be going on, specifically mentioning IP addresses as a keyword of interest. He is currently investigating a hidden data center that Ayre allegedly owns in South America and has put out a call for information about another center reportedly being acquired in Bogota. The accusation is grave. Ager-Hanssen is clearly suggesting that these data centers may be engaged in activities that could be illegal.
Unveiling the "Fairway Brief"
The ex-CEO's forthcoming book, "THE FAIRWAY BRIEF," promises to offer an unfiltered account of the dealings of Calvin Ayre, along with Stefan Matthews and Dr. Craig Wright. The book purportedly aims to expose the trio's attempt to persuade the public that Wright is, in fact, the elusive Satoshi Nakamoto. This claim has long been a point of controversy, generating widespread skepticism and in-depth scrutiny from the cryptocurrency community. Ager-Hanssen's label of Wright as a "#Fakesatoshi" only adds fuel to an already raging fire of debate and speculation.
Legal thriller soon to come: My new book will be called "THE FAIRWAY BRIEF" it will reveal the unfiltered story about the journey @CalvinAyre @TurkeyChop @Dr_CSWright took to try to convince the world that @Dr_CSWright is Satoshi. #Fakesatoshi @satoshi pic.twitter.com/wYDVuvA3CB

— Christen Ager-Hanssen (@agerhanssen) October 6, 2023
Investigating Secret Gambling Operations
Beyond the issue of data centers and Satoshi Nakamoto's identity, Ager-Hanssen has cast yet another stone by indicating that he is looking into Calvin Ayre's undisclosed gambling operations. The former nChain CEO has tagged the UK Gambling Commission, signaling his intent to take these allegations to regulatory authorities. This suggests that the scope of his investigation isn't confined to corporate machinations but may also involve regulatory and legal challenges that could have significant ramifications.
The Counter-Narrative: Wright & Ayre Respond
In the wake of these weighty allegations, Dr. Craig Wright responded with a succinct but cryptic statement: "Don't believe everything you read from ex-CEOs on X." While this response invites skepticism towards Ager-Hanssen's claims, it doesn't provide a concrete counter-argument. The brevity leaves room for interpretation; is Wright inviting a rational, measured evaluation, or is it a vague denial meant to obfuscate the issue further?
Don't believe everything you read from ex CEOs on X

— Dr Craig S Wright (@Dr_CSWright) October 6, 2023
In response to the allegations from Christen Ager-Hanssen, ex-CEO of nChain, about ownership and shadow directors Calvin Ayre offered a carefully framed statement that not only dismisses the notion that he is a shadow director but also puts a positive spin on his involvement with nChain. According to Ayre, nChain is now a part of the Ayre Group and will benefit from its extensive resources, high-level corporate governance, and "other best practices that cause my companies to be winners."
His statement exudes confidence and frames his involvement as a calculated, long-term strategy, emphasizing that he has been working on this restructuring for months. In this manner, Ayre aims to shift the focus away from the shadow director allegations and towards his purported role in enhancing the company's prospects.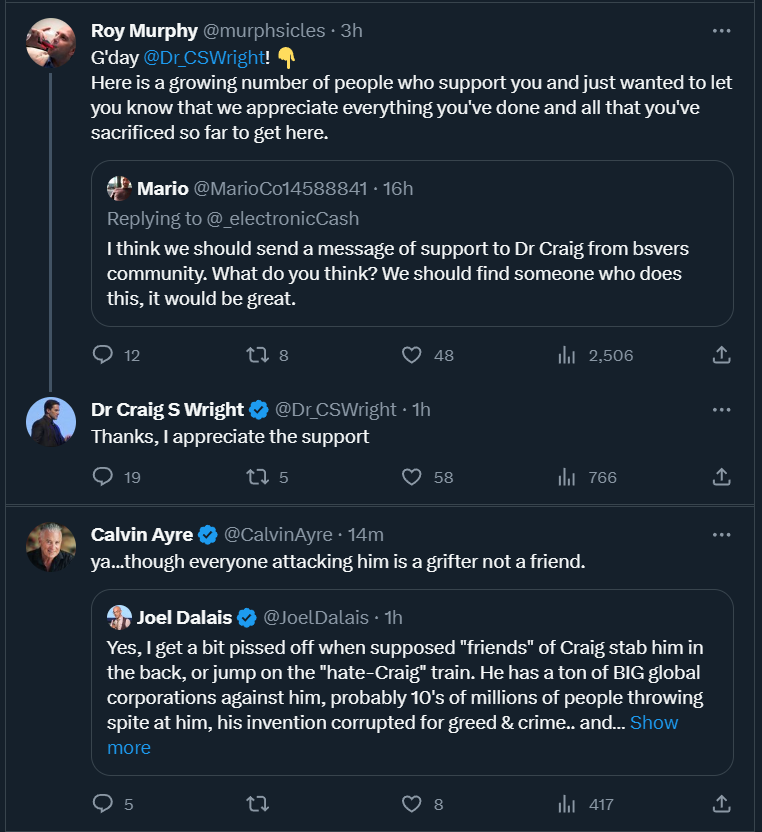 Ayre's reply serves multiple functions. It is a rebuttal designed to not just negate the allegations but also to instill confidence among stakeholders, be it employees, investors, or other partners. The mention of "high-level corporate governance" subtly counters the shadow director claim by emphasizing the legitimacy and transparency that, according to him, are hallmarks of his involvement with nChain.
This strategic communication is intended to assert his influence and control while also validating it as both formal and beneficial for the company. It's a move that aims to reshape the narrative, position Ayre as a visionary leader, and silence critics all in one swoop. Whether it will succeed or not is left for you to decide.
nChain is now an Ayre Group company and will have access to all the resources this entails and the high level corporate governance and other best practices that causes my companies to be winners. I have been working on this restructuring for months so its nice to see it moving…

— Calvin Ayre (@CalvinAyre) October 6, 2023
High Stakes & Higher Scrutiny
The revelations and allegations brought forth by Christen Ager-Hanssen encompass more than just corporate intrigues; they cut across the complex nexus of blockchain technology, cryptocurrency, identity debates, and potentially, regulatory oversight. His planned book, "THE FAIRWAY BRIEF," appears set to cast a spotlight on a series of covert operations and relationships that, if proven accurate, could significantly shake the foundations of the entities involved.
Reactions from Key Players
Wright appears to be urging the public and stakeholders to approach these serious allegations with a modicum of skepticism. However, what stands out is the lack of a detailed refutation or counter-argument from Dr. Wright, which could either imply that he considers the allegations not worth dignifying with an in-depth response, or perhaps, that he is biding time before unveiling a more comprehensive defense.
Additionally, an online user going by the handle 'Diginaut' has raised doubts about the timestamped document that Wright claims reveals the origins of the name "Satoshi Nakamoto." Diginaut asserts that this is "one of Wright's worst backdating jobs ever," going on to say that the flaws in the document are so evident that "you could even spot it from a blurry picture. It says 20o8."
This critique underscores a broader skepticism about the credibility of evidence that Wright puts forth to substantiate his claims. Given that the identity of Satoshi Nakamoto is pivotal to the cryptocurrency world's mythology, the scrutiny applied to any such claims is naturally intense, and if Diginaut's assertions hold water, they could substantially erode Wright's credibility.
Yeah this was one of Wright's worst backdating jobs ever. You could even spot it from a blurry picture. 20o8 😂 pic.twitter.com/WnN8HltUGr

— ᗪIGIᑎᗩᑌT 🍥 (@digitalnaut) October 6, 2023
World Economic Forum
A tweet from 'artonbitcoin' throws a spotlight on an interesting paradox within the Bitcoin SV (BSV) community. While many BSV proponents have critiqued Ethereum for its affiliations with the World Economic Forum (WEF), artonbitcoin argues that BSV is not without its own connections to the WEF. As evidence, the tweet showcases a picture of Christine Leong, who serves as both the CIO of nChain—a key player in the BSV ecosystem—and Blockchain Lead at Accenture, while also being listed on the WEF website. This revelation puts forth a compelling argument, challenging the BSV community's moral high ground in criticizing Ethereum for its WEF ties.
Artonbitcoin's comment is more than a mere "gotcha" moment; it brings into focus the complexities that riddle the cryptocurrency world. This form of nuanced commentary challenges the often black-and-white narrative that surrounds crypto affiliations, especially when it comes to institutions like the WEF, which are frequently viewed with suspicion for their centralizing tendencies.
By exposing BSV's own entanglements with the WEF, the tweet invites the community to question the integrity of their criticisms against other cryptocurrencies, and more particularly Bitcoin. It essentially asks for a reevaluation of the narrative around decentralization and independence and serves as a reminder that the cryptocurrency space is a web of intricate relationships that go beyond simplistic ideological boundaries.
For those #BSV people critiquing #Ethereum for its #WEF association/links… Guess what? #BitcoinSV is also tied to the @wef 🙃 pic.twitter.com/mclxgkLZLD

— Λ☯₿ (@artonbitcoin) October 6, 2023
The Unfolding Drama: Implications for Credibility & Trust
The interaction of these multiple perspectives contributes to an increasingly intricate narrative. On one hand, Ager-Hanssen is adamant that his allegations are rooted in fact, supported by meticulous documentation and heralded as an act of public interest whistleblowing. On the other hand, the sparse but deliberate comments from Dr. Craig Wright and critical assessments from online spectators like Diginaut serve to muddy the waters. What emerges is a labyrinthine tableau of contested claims, counter-claims, and a clamour for evidential substantiation.
As the pieces continue to move on this corporate chessboard, each party's credibility is at stake. With allegations involving potential illegal activities, hidden assets, and the identity of one of the most enigmatic figures in the digital age, the stakes could hardly be higher. For now, the audience—comprising investors, regulatory bodies, and the general public—must adopt a vigilant stance as they await further revelations or confirmations. The unfolding drama seems poised to either validate Ager-Hanssen's claims or vindicate those he accuses, but either outcome promises to leave an indelible mark on the cryptocurrency landscape and the reputations of all involved.
Public Interest and Future Developments
Ager-Hanssen argues that his actions are in the public interest, citing his meticulous documentation of events as a form of whistleblowing. The weight of these claims, however, will ultimately depend on the veracity of the evidence presented. As we await the publication of "THE FAIRWAY BRIEF," one thing is clear: the story surrounding Calvin Ayre, Fairway Family Office AG, and the enigmatic identity of Satoshi Nakamoto is far from settled. The coming months promise to be an unfolding drama of corporate chess, where each player must carefully calculate their next move in a game with increasingly high stakes.
The stage is set for a dramatic legal and corporate saga (see in-depth article by Arthur van Pelt), and it remains to be seen how these revelations will impact the reputation and operations of those implicated. One thing is certain: the lines have been drawn, and the next moves will be critical in this high-stakes game of revelation and counter-revelation.
Author Profile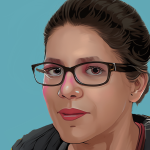 Lucy Walker is a journalist that covers finance, health and beauty since 2014. She has been writing for various online publications.