In the rapidly evolving world of blockchain technology, the concept of tokenization has been gaining significant traction, particularly with the advent of non-fungible tokens (NFTs). Chainlink, a decentralized oracle network that provides real-world data to smart contracts on the blockchain, has proposed a fascinating hypothesis: the tokenization of every Tesla car as a dynamic non-fungible token (dNFT) with real-time metadata updates. This concept could revolutionize the way we view vehicle ownership, history, and value.
The Vision of Tokenized Teslas
The idea is as innovative as it is ambitious. Imagine a world where every Tesla vehicle is represented as a unique dNFT on the blockchain. This digital twin would not be a static representation but a dynamic one, constantly updated with real-time data such as service records, mileage, accident history, and market value. This would create an immutable and transparent ledger of a vehicle's life, accessible to all current and potential future owners.
The Benefits of Onchain Vehicle Histories
Transparency and Trust: The primary advantage of having a vehicle's history onchain is the level of transparency it offers. Prospective buyers can verify the car's history, ensuring that there are no hidden surprises after purchase. This transparency builds trust in the marketplace and could potentially increase the resale value of vehicles with well-documented and favorable histories.
Fraud Prevention: Odometer fraud and tampering with service records are common issues in the used car market. Tokenization would make it nearly impossible to alter a vehicle's history, thereby protecting both buyers and sellers from fraudulent activities.
Efficiency in Transactions: With all necessary information available onchain, the process of buying and selling cars could become significantly more efficient. Smart contracts could automatically execute transactions once certain conditions are met, such as the transfer of funds, without the need for cumbersome paperwork.
Insurance and Financing: Insurers and financiers could benefit from access to a vehicle's dNFT by obtaining accurate data to assess risk and determine loan value. This could lead to more personalized insurance policies and fairer financing options.
The Technical Feasibility
For this vision to become a reality, several technical and logistical challenges must be addressed. Chainlink's decentralized oracle network could play a crucial role in this ecosystem by securely feeding real-time data to these dNFTs. However, the integration of such a system would require collaboration between Tesla, data providers, and possibly regulatory bodies to ensure privacy concerns are addressed and that the system complies with relevant laws.
LINK Price Chart

The Broader Implications
Beyond Tesla, the tokenization of physical assets into dNFTs could extend to various sectors, including real estate, luxury goods, and more. The concept could usher in a new era of digital ownership, where the history and authenticity of any high-value item are verifiable and transparent.
Chainlink's hypothesis about tokenizing Tesla cars as dNFTs is a testament to the potential of blockchain technology to disrupt traditional systems of ownership and value assessment. While the implementation of such a system may be complex and far-reaching, the benefits could be substantial, paving the way for a more transparent, efficient, and trustworthy marketplace. As the world becomes increasingly digitized, the line between physical and digital assets blurs, and the idea of tokenized cars could soon shift from hypothesis to reality.
Author Profile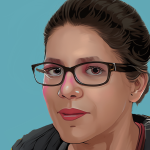 Lucy Walker is a journalist that covers finance, health and beauty since 2014. She has been writing for various online publications.