The digital currency landscape is witnessing another remarkable day as Bitcoin climbs to a new high of $37,285 on November 10, 2023. This 2% increase, building upon the previous day's gains, underscores the sustained bullish momentum that Bitcoin has been experiencing. The leading cryptocurrency has now soared by 124% this year alone, reflecting robust confidence from investors and enthusiasts alike.
Record Hodlers With More Than $1k BTC
An analysis of Bitcoin wallet data reveals a significant milestone; the number of addresses holding over $1,000 worth of Bitcoin has reached a new all-time high. This metric is often viewed as an indicator of growing retail investment and holding behavior, suggesting a broadening base of support for Bitcoin's long-term value proposition.
In a significant development that is poised to have far-reaching implications for the cryptocurrency market, news has emerged that China is setting its sights on Bitcoin. Hong Kong, a special administrative region of China known for its economic freedom, is reportedly preparing to launch a Bitcoin Exchange-Traded Fund (ETF). This move is expected to open the floodgates for institutional money into Bitcoin and could serve as a catalyst for other nations to follow suit.
Mining Records
Amidst these developments, Bitcoin mining has been witnessing its own surge, with revenue hitting a yearly high. The increase in mining revenue is a testament to the rising price of Bitcoin and the network's resilience, despite the challenges posed by market fluctuations and regulatory scrutiny in various jurisdictions.
Advocacy
The conversation around Bitcoin is not limited to its price and technical achievements; it has entered the political arena as well. Advocates for cryptocurrencies are now encouraging the public to support politicians who hold positive views on Bitcoin and the wider crypto market. The sentiment is clear: the future of finance is digital, and legislative support is crucial for its advancement.
The call to action is resonant and timely. "This is how we make change," echoes the community's mantra, as they push for a world that recognizes the transformative potential of Bitcoin and its underlying technology. Voting for pro-crypto politicians is seen as a step towards a more inclusive, efficient, and decentralized financial system.
BTC Day Price Chart

As Bitcoin continues to break barriers and forge new paths this year, it becomes increasingly apparent that the cryptocurrency is not just a fleeting trend, but a fixture in the financial landscape that is here to stay. With each milestone, Bitcoin is reshaping the conversation around money, investments, and the power structures within global finance, pointing towards a future that values transparency, autonomy, and innovation.
Author Profile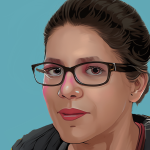 Lucy Walker is a journalist that covers finance, health and beauty since 2014. She has been writing for various online publications.