Chainlink is making significant strides in the blockchain and financial sectors by collaborating with some of the world's largest financial institutions to make tokenized real-world assets (RWAs) a reality. Unlike other cryptocurrencies that rely on speculative narratives, Chainlink is substantiating its position as the true institutional coin through concrete partnerships and technological advancements.
From its inception, Chainlink was envisioned as the universal connectivity layer for the blockchain ecosystem, a vision that has now come to fruition. It serves as the critical bridge that connects blockchains to external data sources, bank systems, and even other blockchains. This foundational role has made it indispensable in powering the burgeoning decentralized finance (DeFi) economy by providing reliable financial data.
Chainlink's Cross-Chain Interoperability Protocol (CCIP) has become a pivotal tool for institutions, enabling seamless integration of their backend infrastructure with both public and private blockchains. This same protocol also facilitates interoperability between any public and private chains. While price data was the initial product-market fit for Chainlink's oracles, the scope has broadened significantly.
As early as 2016, Chainlink was involved in a proof-of-concept with Swift, and its original 2017 whitepaper already mentioned cross-chain interoperability. Fast forward to 2023, and Chainlink, in collaboration with Swift and over a dozen of the world's largest financial institutions, has successfully used CCIP to connect existing Swift infrastructure to blockchains, thereby enabling the movement of tokenized real-world assets between public and private chains.
Current Price Action
Chainlink is currently demonstrating strong momentum, evidenced by its breakout above the range high and the establishment of a new yearly high. This bullish trend suggests that the asset is gaining traction and could offer lucrative investment opportunities.
However, it's worth noting that as Chainlink reaches these new highs, some investors may start taking profits, leading to temporary dips in its price. For those looking to enter the market or add to their positions, these dips could present an ideal buying opportunity. Specifically, price levels between $8 and $8.50 could offer a favorable entry point before the asset potentially ascends to the $12 mark.
LINK Price Chart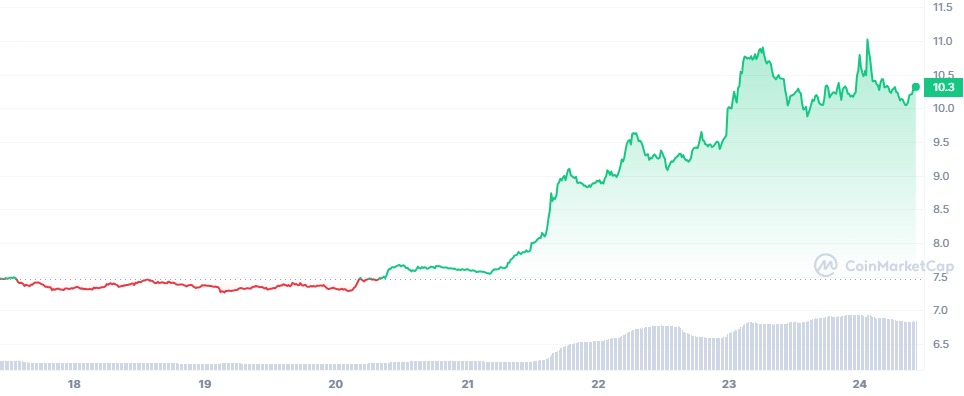 A Long-Standing Relationship with SWIFT
In August, Chainlink joined forces with SWIFT, the global inter-bank messaging network used by over 11,000 banks, to work on the Cross-Chain Interoperability Protocol (CCIP) for tokenized asset settlement. This collaboration is not new; it builds upon a proof-of-concept (PoC) between SWIFT and Chainlink dating back to 2016 focused on the tokenization of bonds.
The recent collaboration involved an impressive list of participants, including
ANZ
BNP Paribas
BNY Mellon
Clearstream
Euroclear
Lloyds Banking Group
SIX Digital Exchange (SDX)
The Depository Trust & Clearing Corporation (DTCC)
Chainlink and ANZ: A Tokenized Asset Marketplace
In September, ANZ, the largest institutional bank in Australia with $1 trillion AUM, collaborated with Chainlink to enable cross-chain, cross-currency, and cross-border settlement of ANZ-issued RWAs. This partnership aims to create a tokenized asset marketplace, further solidifying Chainlink's role in the institutional adoption of blockchain technology.
Technical Insights & Industry Talks
Chainlink and ANZ also released a detailed report that delves into the technical aspects of their integration. Nigel Dobson, Banking Services Lead at ANZ, and Anurag Soin, Director of Digital Asset Services at ANZ, have spoken at various events about this groundbreaking collaboration, providing valuable insights into the future of digital assets.
DTCC Collaboration: Bringing Capital Markets Onchain
Stephen Prosperi, Executive Director at DTCC, announced a collaboration with Chainlink focused on bringing capital markets on-chain. Given that DTCC settles $2 quadrillion in securities volume annually, this partnership is a monumental step in the adoption of blockchain technology in traditional financial markets.
Chainlink is not just another cryptocurrency; it is a transformative force in the blockchain and financial ecosystems. Through its collaborations with SWIFT, ANZ, and DTCC, among others, Chainlink is proving that it is the true institutional coin, driving the adoption of blockchain technology and tokenized RWAs among the world's largest financial institutions.
Author Profile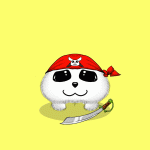 Community moderator of the Banano memecoin since 2018. I have since been involved with numerous cryprtocurrencies, NFT projects and DeFi organizations.