An explosive argument between an established project and the largest data aggregator in crypto
CEO of CoinMarketCap supports action
Fury from the community as other far less trustworthy projects are getting better treatment
Yes, yet another dispute with Coinmarketcap, an affiliate of Binance. This time CMC decided to display a bizarre message on their website for the ERGO project. In the intricate world of cryptocurrency, the accuracy and transparency of data are paramount. Investors, traders, and enthusiasts alike depend on platforms like CoinMarketCap (CMC) to provide them with reliable information to make informed decisions.
However, what happens when a disagreement arises between a crypto project and a data aggregator over how historical data should be presented? This is the crux of the recent dispute between the Ergo (ERG) project and CoinMarketCap.
Transparency is what we want. The statement on the ERG page is based on facts.

Rush, CMC CEO
The ERGO project recently shed light on a longstanding issue with CoinMarketCap (CMC) regarding an error in the reported circulating supply of their token. Despite repeated attempts to rectify this through support channels, ERGO was met with a static figure on CMC that failed to reflect the dynamic nature of their Proof of Work (PoW) blockchain, where the supply naturally increases every two minutes. The situation escalated when ERGO was presented with a $5,000 invoice for correcting this 'error,' a charge that they were led to believe was standard procedure for such amendments. This revelation was initially shared by ERGO in a tweet that quickly caught the attention of the crypto community.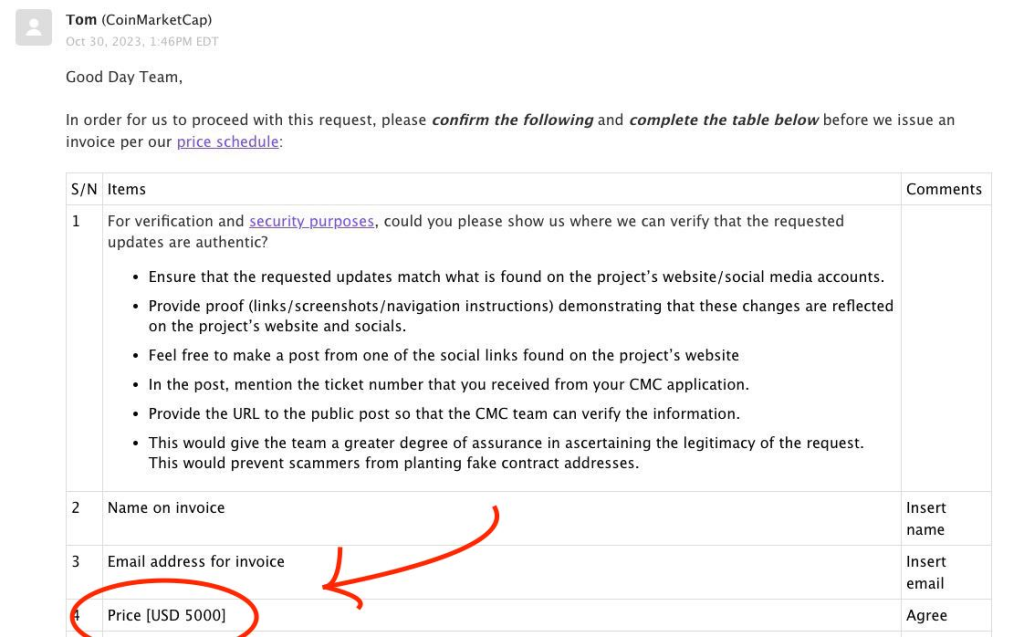 In a surprising turn of events, following the public outcry from ERGO's tweet, CMC retracted their invoice, dismissing it as a "mistake" and asserting that updates of this nature are, in fact, free of charge. Subsequently, they corrected the circulating supply to align with ERGO's API feed, a change that ERGO had been advocating for over an extended period. However, the plot thickens as further scrutiny into CMC's practices reveals a pattern; numerous posts surfaced showcasing screenshots where CMC had demanded exorbitant fees for similar corrections or listings from other projects. This has led to a broader discussion within the community, prompting stakeholders to question whether such incidents are genuine errors, intentional malpractices, or simply a sign of deeper company mismanagement.
The Controversy Over ERG's Historical Data
The Ergo team (a BPSAA member) has expressed a desire to "erase years of data to improve its chart optics," according to an official note on ERG's page on CoinMarketCap. The rationale behind this request stems from the Ergo team's concern that the pre-swap price history is misleading due to a significant difference in supply between the EFYT and ERG tokens, despite a 1:1 swap ratio. They argue that this historical data does not accurately reflect the token's performance and could deter potential interest in Ergo, as it appears to have failed to break all-time highs during the bull run.
CoinMarketCap's Stance
We want to be as transparent as we could possibly be to our users. Your attempt to erase the historical price data is not acceptable.

Rush, CMC CEO
CoinMarketCap, a subsidiary of Binance, has taken a firm stance on the matter, choosing to retain the pre-swap price history. Rush, the CEO of CoinMarketCap, responding to the tweet from ERGO has emphasized the importance of transparency to users, stating that any attempt to erase historical price data is unacceptable. This decision aligns with CMC's customary practice for 1:1 swaps, which typically involves preserving the price history for continuity and reference.
However, as is usual in these situations CMC failed to provide any further detail as to why it took this unusual exception, particularly for the reputable ERGO project, whilst allowing much more suspicious projects to display data which is manipulated. A well-known complaint from the crypto community.
There is a coordinated FUD. I have wasted much time trying to work with them, but they don't seem to care about the facts. They just want to cover what they did in the past, and they want some eyeballs by attacking CMC. Good to have some transparency. pic.twitter.com/AI2PPNHYWz

— Rush (@RushCMC) November 4, 2023
Ergo's Response
"The crux of the issue is that even scam projects have the privilege of having separate charts on CMC. Ergo, an open and transparent chain with all info public, now has a spiteful message from the CEO on top of their chart, simply because we spoke out. Split the charts, be consistent…"

qx()
In response, Ergo has accused CoinMarketCap of twisting its words and displaying unprofessionalism. They have called for accurate representation of their data, criticizing CMC's understanding of total supply in relation to a 1:1 migration. Ergo's team has made it clear that their intention is not to obscure historical data but to present it in a way that they believe is more representative of the token's true value and performance over time.
Hey @coinmarketcap
You've now made a statement to other projects who want accurate data on #CMC: "Don't question us, or we will make it worse". Your updated note on our chart is a clear sign you prefer "don't you dare correct us" rather than have data that is represented with… pic.twitter.com/sAgBByidlG

— Ergo (@ergo_platform) November 4, 2023
Community Reactions & the Call for a Resolution
The dispute has caught the attention of the crypto community, with reactions ranging from support for Ergo's quest for what they deem accurate representation to backing CoinMarketCap's commitment to data integrity.
A user named TaserFace has suggested that all projects facing similar issues with CMC could collaborate on a discussion to resolve these discrepancies. This plan would also invite Rush to explain CoinMarketCap's position, potentially opening a dialogue for reconciliation and a path forward.
CoinMarketCap, a titan in the aggregation of cryptocurrency data, has long been the go-to source for market participants seeking information on various cryptocurrencies. However, beneath its veneer of comprehensiveness lies a history of contentious relationships, particularly with smaller cryptocurrency projects. These projects often find themselves at odds with the platform, feeling overlooked and undervalued, as CoinMarketCap has been accused of lacking transparency in its operations.
The methodology behind its calculation of daily volumes and other critical metrics remains a black box, shrouded in mystery and not fully disclosed to the public or the projects it lists. This opacity has fueled frustration and claims of punitive treatment, as smaller entities struggle to understand why they are seemingly marginalized. The lack of clear communication and criteria for data representation has led to a trust gap between CoinMarketCap and some of the very projects that rely on its platform for visibility and validation in the competitive crypto space.
$5k was the invoice they sent us to fix the circulating supply. A separate issue that has cost us 50 ranks or so over the 2 years we've been trying to get it sorted. They walked that back after some pushback. (Other projects came out and noted they had also been sent invoices by…

— Glasgow (@ERG_Glasgow) November 5, 2023
The Implications of the Dispute
The Ergo-CoinMarketCap dispute highlights a broader issue within the crypto industry: the challenge of maintaining data integrity while accommodating the evolving nature of tokens and projects. It raises important questions about the responsibilities of data aggregators and the rights of crypto projects to influence how their data is presented.
Price of ERG

Looking Ahead
As the debate continues, the crypto community will be watching closely to see if a resolution can be reached. The outcome of this dispute could set a precedent for how historical data from token swaps is handled in the future, potentially influencing the policies of data aggregators across the industry.
In conclusion, the Ergo-CoinMarketCap tussle is more than a mere disagreement over data presentation; it is a testament to the growing pains of an industry striving to balance transparency, accuracy, and fairness in a rapidly changing landscape. The resolution of this conflict will not only impact ERG and CMC but could also send ripples through the entire crypto ecosystem, affecting how projects and platforms interact and how users perceive the reliability of the data they depend on.