Coinbase, a leading cryptocurrency exchange, has demonstrated significant strides in its Q3 update, showcasing a comprehensive expansion and innovation in the rapidly evolving crypto market.
The update reveals that Coinbase has been focusing on its international expansion, with new developments across several countries. Spain has seen AML registration in Q3, Singapore has acquired a new license in Q4, and Ireland has announced a MIca Hub in Q4, exemplifying Coinbase's commitment to adhering to regulatory frameworks globally. In addition, Canada has witnessed the official launch of Coinbase in Q3, further cementing its global footprint.
American Base
In the United States, Coinbase's influence is evident with 52 million Americans owning cryptocurrency, reflecting the growing mainstream acceptance of digital assets. A significant generational shift in investment is highlighted, with 31% of Gen Z and Millennials now owning cryptocurrency, compared to 12% of Gen X and Baby Boomers. This demographic shift underscores the changing landscape of investment and asset distribution among different age groups.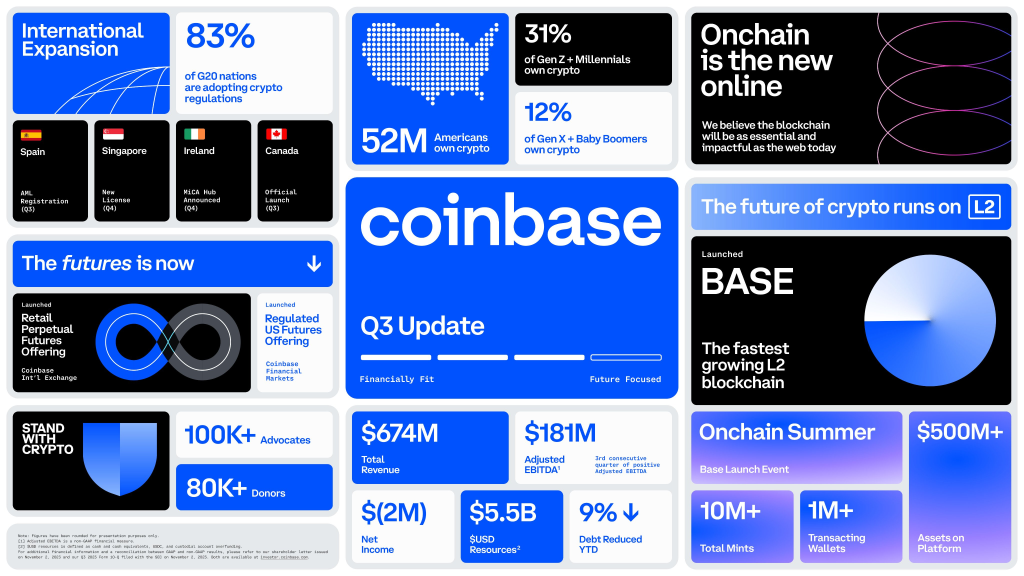 Coinbase's financial health appears robust, with a total revenue of $674 million. Despite a net income loss of $2 million, the company boasts a hefty $5.5 billion in USD resources. Notably, Coinbase has reduced its debt by 9% year-to-date, signaling strong financial management and strategic planning.
The company has launched new products, including a retail perpetual futures offering on the Coinbase International Exchange and a regulated US futures offering via Coinbase Financial Markets. This expansion into derivative products is a forward-thinking move that aligns with the statement "the futures is now," hinting at the broader potential and applications of crypto assets in various financial sectors.
OnChain the New OffChain?
Coinbase's vision for the future of blockchain is encapsulated in the phrase "Onchain is the new online." They believe blockchain technology will become as essential and impactful as the internet is today. Supporting this vision, Coinbase has launched BASE, the fastest-growing L2 blockchain, which has already seen over 10 million total mints and over 1 million transacting wallets, with more than $500 million in assets on the platform.
The "Onchain Summer" is marked by the Base Launch Event, indicating a season of increased activity and community engagement in the crypto space, likely aimed at fostering adoption and education around the BASE platform and its capabilities.
COIN Share Price NASDAQ

Lastly, the company prides itself on its community involvement, with over 100,000 advocates and 80,000 donors standing with crypto, reflecting a strong community-based approach to growth and a focus on the grassroots movement in the cryptocurrency sector.
Coinbase's Q3 update paints a picture of a dynamic company that is not only growing its global presence but is also innovating and adapting to the needs of a new generation of crypto users. Through strategic expansion, careful financial management, and community engagement, Coinbase is positioning itself at the forefront of the cryptocurrency revolution.
Author Profile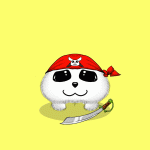 Community moderator of the Banano memecoin since 2018. I have since been involved with numerous cryprtocurrencies, NFT projects and DeFi organizations.