Ergo stands at the forefront of the next wave of blockchain innovation, offering a smart contract platform designed to empower the everyday individual with secure, accessible, and decentralized financial tools. With a foundation built on a decade of blockchain evolution, Ergo harmonizes the robustness of established blockchain protocols with cutting-edge academic research in cryptography and digital currencies. At its core, Ergo is committed to solid blockchain fundamentals, enhanced by advanced cryptographic features native to the platform. The project is part of the BPSAA (Blockchain, Privacy, Security and Adoption Alliance).
Ergo's vision is to facilitate real-world financial agreements through its platform, providing a fertile ground for dApps that operate predictably, transparently, and safely—without the pitfalls of unrestricted functionality. The platform's smart contracts are not only versatile but also cost-predictable, ensuring that users are always aware of the execution cost and outcome.
This is made possible by Sigma Protocols (Σ-Protocols), the bedrock of Ergo's smart contracts, which enable a range of efficient zero-knowledge proofs. These protocols allow for the implementation of complex tasks that would otherwise be unfeasible, risky, or prohibitively expensive.
Explore the explosive potential of Ergo's smart contract platform as it receives a monumental $1.6 million token donation, promising to catapult the DeFi ecosystem into a new era.
The platform champions application-level privacy, offering trustless scripts that facilitate operations such as mixers, all without the need for third-party involvement. Ergo also prioritizes the security of all users, ensuring that those who do not operate a full node enjoy the same level of security as miners.
This is achieved through Non-Interactive Proofs of Proof-of-Work (NIPOPOWs), which allow users to make and verify transactions confidently with minimal data requirements, enabling the use of Ergo on virtually any device. Ergo's commitment to decentralization and security is further underscored by its ASIC-resistant Proof of Work algorithm, Autolykos, which is oriented towards GPU mining.
Foundation Work
In a recent development, the Ergo Foundation, the steward of the Ergo ecosystem, received a substantial donation of 30,000,000 Spectrum Finance tokens (SPF), valued at $1.6 million. This donation, representing 3% of the total SPF supply, significantly enhances the Foundation's ability to foster innovation and growth within the Ergo ecosystem.
The Foundation has also anticipated a similar allocation from Rosen Bridge (RSN), reinforcing its resources for future endeavors. With a strategic and measured approach, the Ergo Foundation is dedicated to deploying these assets to maintain market stability while advancing its mission of decentralization and community empowerment.
ERG Markets & Price Chart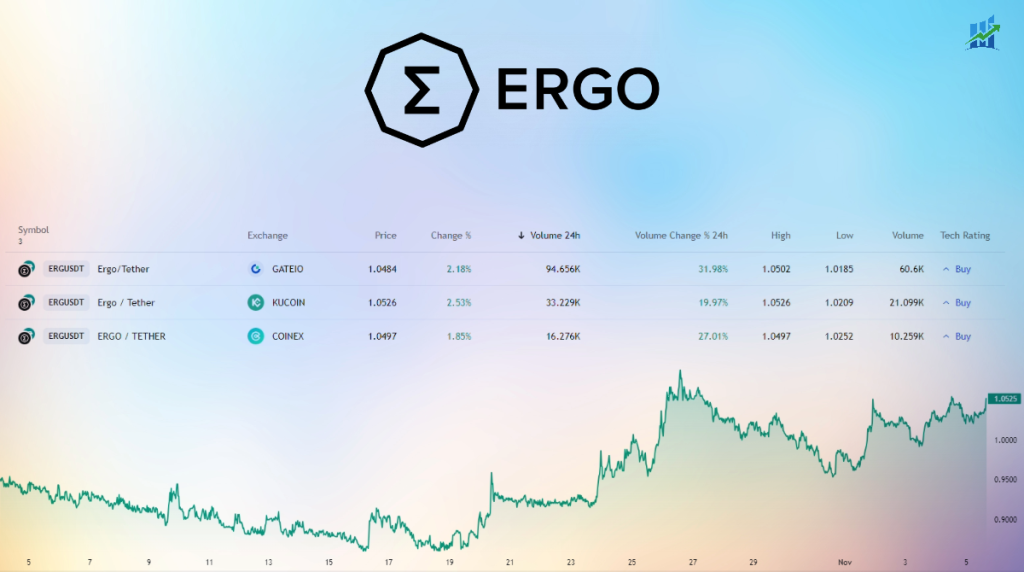 The Sigmanauts Treasury, a community advocacy group within the Ergo ecosystem, will benefit from a portion of the donated tokens. The Sigmanauts are instrumental in promoting the adoption of the Ergo blockchain and embodying Ergo's values in the broader cryptocurrency landscape.
This donation is a testament to the collaborative spirit of the Ergo community and marks a significant milestone for the Ergo Foundation in its quest to drive innovation and support projects that shape the blockchain technology landscape.
Native DeFi ecosystem
Ergo's DeFi ecosystem is burgeoning, with cornerstone applications in place and ongoing development. The ecosystem boasts a variety of Ergo-centric DeFi applications, including SigUSD, a proven algorithmic stablecoin, and Spectrum Finance, which offers a decentralized trading experience. Duckpools provides pooled lending services, Sigmafi introduces a P2P collateralized bond service, and Sigma'O creates an options market with a decentralized orderbook. Ergopad facilitates seamless ICOs for new projects, while HodlCoin caters to DeFi enthusiasts with a competitive financial game. The ErgoMixer ensures user privacy, aligning with Ergo's mission to enable financial freedom for all.
The ecosystem continues to expand with numerous applications in development, promising to attract more users and opportunities. Among the most anticipated is the Rosen Bridge, a bridge infrastructure that will facilitate token transfers between the Ergo and Cardano blockchains. This bridge is not limited to these two chains; it has the potential to connect any blockchains that support multisig wallets, revolutionizing interoperability within the blockchain space.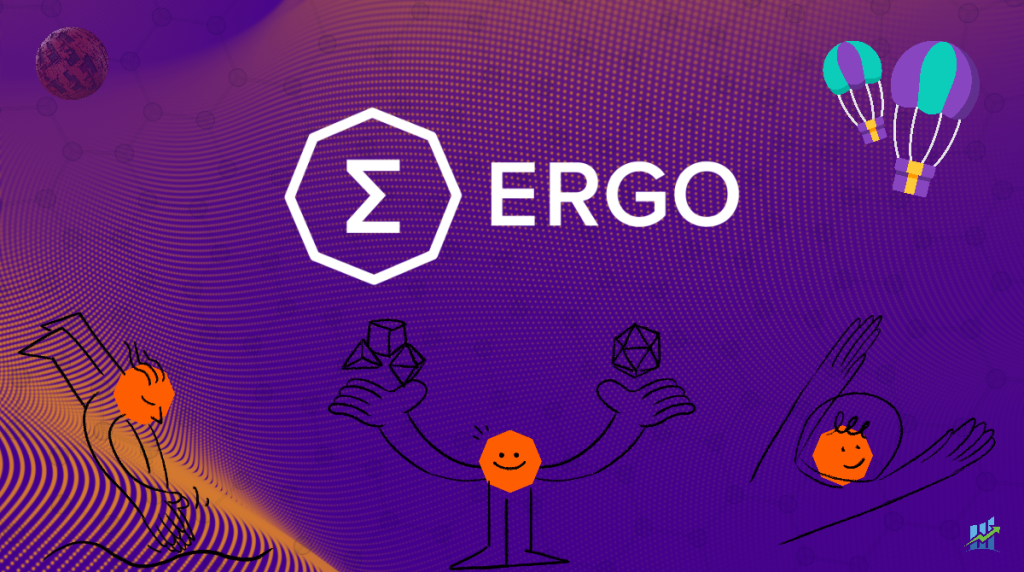 Hackathons
ErgoHacks, such as the recently concluded Ergohack VII: The Future of Finance – Ways of Adoption, are pivotal events in the Ergo ecosystem, spurring innovation and collaboration. These hackathons challenge participants to create products that drive mainstream adoption of the Ergo Platform, further cementing Ergo's position as a leader in the DeFi space and a beacon for financial sovereignty.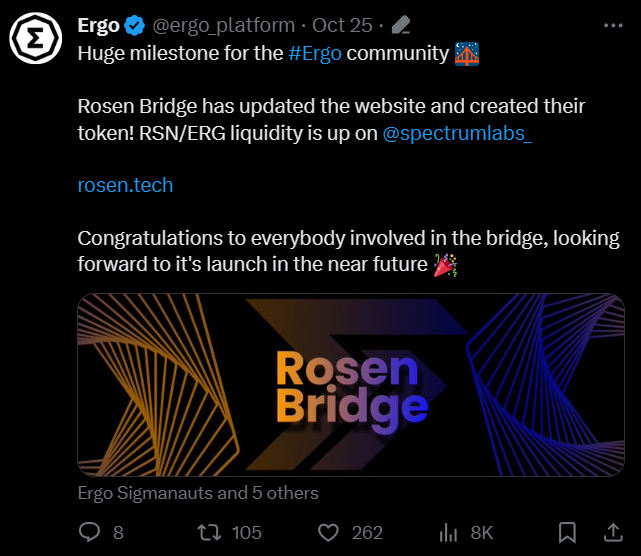 Ergo's ascent in the blockchain space is not merely a testament to its technological prowess but also to its community-driven ethos. The recent donation to the Ergo Foundation and the collaborative success of Ergohack VII epitomize the ecosystem's commitment to fostering an environment where innovation thrives and financial empowerment is accessible to all. With a robust DeFi ecosystem already in place and the anticipation of groundbreaking developments like the Rosen Bridge, Ergo is poised to redefine the landscape of decentralized finance.
As the platform continues to evolve, it remains anchored by its founding principles: to deliver economic freedom through a secure, inclusive, and decentralized framework. The future of finance is being rewritten, and Ergo is at the helm, steering towards a horizon where financial autonomy is the norm, and blockchain technology is the unequivocal catalyst for change.
Author Profile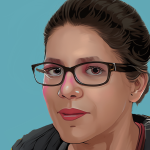 Lucy Walker is a journalist that covers finance, health and beauty since 2014. She has been writing for various online publications.