The world of blockchain technology has witnessed an incredible surge in innovation over the past decade. As the blockchain ecosystem continues to evolve, various alliances and collaborations have formed to drive the adoption and advancement of decentralized solutions.
One such remarkable alliance that has garnered attention is the Blockchain Privacy, Security & Adoption Alliance (BPSAA). Find out more about the mission, objectives, and potential impact of the BPSAA in the ever-evolving landscape of blockchain technology.
What is the BPSAA?
The Blockchain Privacy, Security & Adoption Alliance, or BPSAA, is a unique collaboration between several blockchain projects dedicated to promoting and implementing cutting-edge privacy, security, and adoption solutions. Formed in response to the growing need for improved privacy and security features in the blockchain space, the BPSAA aims to address these concerns through cross-platform integration, knowledge sharing, and cooperative development efforts.
The BPSAA is not driven by competition but by a shared vision of advancing the capabilities of blockchain technology for the greater good. By leveraging their respective strengths and expertise, the member projects work together to accelerate blockchain adoption and create a more secure and privacy-centric decentralized ecosystem.
Key Statistics
Years in Operation – 3
Projects Participating – 12
Combined Market Cap – $190,141,436
Combined Followers on Social Media – 1.3 Million
Main Sub-Sectors – Privacy, Web, Smart Contracts
Member Projects and Objectives
At its core, the BPSAA is an alliance of like-minded blockchain projects that share a commitment to furthering blockchain technology's potential. Some of the prominent member projects within the alliance include:
Pirate Chain (ARRR): A privacy-focused cryptocurrency with an emphasis on 100% anonymous transactions.
Sentinel (DVPN): A decentralized virtual private network (VPN) protocol that ensures secure and private internet access for users worldwide.
Etho Protocol (ETHO): A decentralized content delivery network (CDN) and hosting platform utilizing blockchain technology.
ERGO (ERG): Ergo builds innovative smart contracts and a DeFi platform, boasting a combination of powerful and secure features.
Komodo (KMD): An open-source multi-chain platform that empowers individuals to construct personalized asset chains.
Signum (SIGNA): A sustainable blockchain with a digital currency called Signa, which operates on a decentralized ledger system, enabling its distribution, trading, and secure storage.
DragonChain (DRGN): Designed for both enterprises and startups, providing the tools to develop flexible and scalable blockchain applications.
BitTube (TUBE): A content platform that prioritizes free speech, fairness, and unrestricted monetization for all users.
Handshake (HNS): A community-driven blockchain protocol that decentralizes the DNS root zone, effectively removing centralized control over top-level domain names.
Conceal (CCX): A peer-to-peer privacy network developed to safeguard user privacy within the realms of DeFi and encrypted communications.
Firo (FIRO): Lelantus and Lelantus Spark, offer trustless, on-chain privacy with exceptionally high anonymity sets.
Zano (ZANO): A scalable and secure cryptocurrency, bolstered by its confidential assets support.
Each member project brings its unique set of features and capabilities, with a shared commitment to enhancing user privacy, security, and blockchain adoption.
| | | |
| --- | --- | --- |
| Project | Ticker | Market Cap |
| Komodo | KMD | 48,819,719 |
| Firo | FIRO | 36,598,436 |
| Pirate Chain | ARRR | 36,041,066 |
| Handshake | HNS | 33,719,715 |
| Zano | ZANO | 9,888,363 |
| Sentinel | DVPN | 9,101,669 |
| Conceal | CCX | 8,480,599 |
| Signum | SIGNA | 3,420,007 |
| DragonChain | DRGN | 2,488,233 |
| BitTube | TUBE | 1,213,629 |
| Etho Protocol | ETHO | 370,000 |
BPSAA Members Market Cap Table
BPSAA Members Price Chart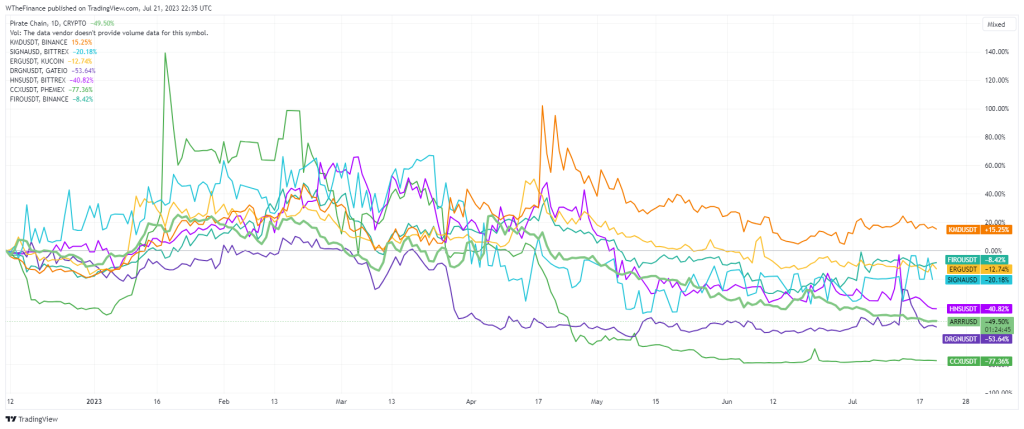 Potential Impact on the Blockchain Ecosystem
The formation of the BPSAA marks a significant step towards building a stronger, more collaborative blockchain ecosystem. By pooling resources and expertise, the alliance is poised to create a more resilient and private blockchain infrastructure, addressing some of the key challenges faced by existing platforms.
Privacy Concerns
Privacy is a major concern in the blockchain world, and the BPSAA's focus on privacy-centric projects demonstrates a collective effort to protect user data and maintain confidentiality in transactions and communications.
Security Measures
As blockchain technology continues to gain popularity, the need for robust security measures becomes increasingly critical. Through cooperative development and shared insights, the BPSAA aims to enhance the security features of member projects and the blockchain ecosystem as a whole.
Blockchain Adoption
Collaboration between blockchain projects fosters the exchange of knowledge and best practices, ultimately accelerating blockchain adoption. By leveraging collective strengths, the BPSAA aims to make blockchain technology more accessible and user-friendly.
Looking to the Future
The Blockchain Privacy, Security & Adoption Alliance (BPSAA) represents a commendable endeavour to address the pressing challenges faced by the blockchain industry. Through collaboration, the member projects strive to enhance user privacy, reinforce security measures, and drive blockchain adoption.
As this alliance continues to grow and develop, the collective impact on the blockchain ecosystem promises to be significant, contributing to a more secure, private, and widely adopted decentralized future. The BPSAA serves as a testament to the potential power of collaboration in propelling blockchain technology to new heights of innovation and utility.
Author Profile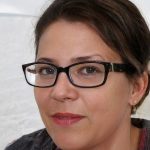 Lucy Walker is a journalist that covers finance, health and beauty since 2014. She has been writing for various online publications.