In the dynamic landscape of cryptocurrencies, privacy-focused coins have emerged as a prominent category, addressing the growing concern over financial privacy and anonymity. This report delves into the battle for dominance in the private cryptocurrency space between Monero, Zcash, Pirate Chain, Conceal, Secret Network, and Firo during the years 2022-2023.
We will analyze the key strengths and challenges faced by each currency, with a special focus on the mechanics behind the popular Zero-Knowledge Proofs technology and its potential to reshape the future of private transactions in the crypto world.
Monero (XMR)

Monero (XMR) is a leading privacy-focused cryptocurrency known for its robust privacy features. One of the main benefits of Monero is its strong emphasis on transactional privacy. It achieves this through the use of Ring Signatures, which mix the sender's transaction with other transactions on the network, making it challenging to trace the origin of funds.
Additionally, Monero utilizes Ring Confidential Transactions (RingCT) to obfuscate transaction amounts, further enhancing privacy. This high level of privacy makes Monero a preferred choice for users seeking enhanced anonymity in their financial transactions. Moreover, Monero has a vibrant and active community that is committed to maintaining privacy as a fundamental aspect of the coin's technology, ensuring continuous development and improvement.
However, Monero also faces some weaknesses that should be considered. One significant challenge is its scalability. The privacy-enhancing features, while crucial for user anonymity, can result in larger transaction sizes and higher computational requirements, leading to slower transaction speeds and higher fees compared to other cryptocurrencies.
Additionally, the privacy features of Monero have attracted regulatory scrutiny, as some governments have raised concerns about its potential use in illicit activities. As a result, there is a risk that increased regulatory pressure could impact its acceptance on mainstream exchanges and businesses. Despite these challenges, Monero remains a top choice for privacy-conscious users, and its community-driven approach continues to foster advancements in privacy technology within the cryptocurrency space.
Pirate Chain (ARRR)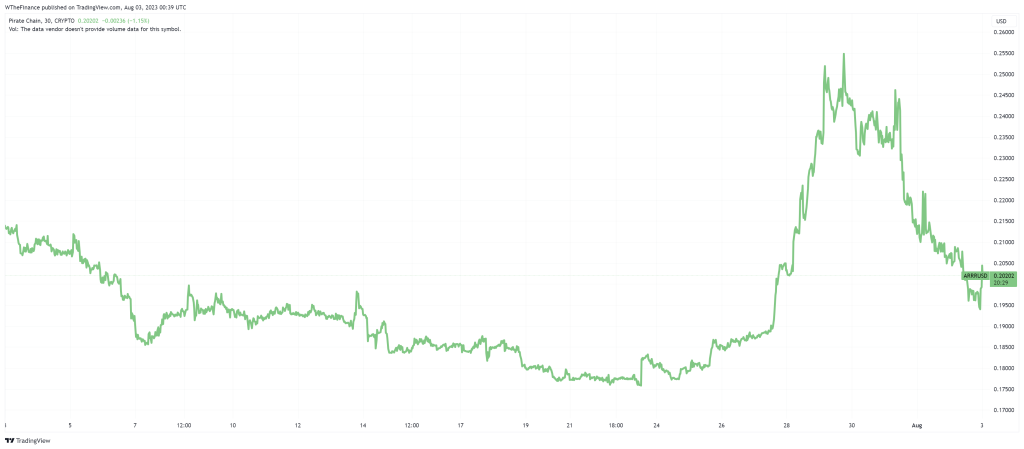 Pirate Chain (ARRR) is a privacy-focused cryptocurrency that has gained attention for its strong emphasis on anonymity and security. One of the key benefits of Pirate Chain is its utilization of the zk-SNARKs technology, the same cryptographic tool used by Zcash. However, in the case of Zcash, privacy is an optional feature, rather than the by-default setting that Pirate Chain has. This enables Pirate Chain to offer shielded transactions, where both the sender's and receiver's addresses, as well as the transaction amount, remain confidential at all times.
The zk-SNARKs technology ensures that transactions on the Pirate Chain blockchain are highly secure and untraceable, providing users with a level of privacy that surpasses traditional transparent blockchains like Bitcoin. This focus on anonymity has attracted privacy-conscious users, as Pirate Chain enables them to conduct private and secure transactions without compromising on security or trust.
Another advantage of Pirate Chain is its community-driven approach and commitment to decentralization. The project is built upon the Komodo platform, providing a strong foundation for privacy and security features. The community actively supports the development and promotion of Pirate Chain, fostering an ecosystem where users can transact with confidence, knowing that their financial activities are shielded from prying eyes.
Furthermore, the commitment to privacy and decentralization aligns with the principles of the broader cryptocurrency community, attracting a growing number of users who value financial sovereignty and anonymity in their transactions. Pirate Chain is also a member of the BPSAA which is an alliance of several organizations that advocate for more inclusivity in digital finance. Overall, Pirate Chain's focus on robust privacy and community-driven development has solidified its position as a prominent and most promising player in the privacy-focused cryptocurrency space.
Zcash (ZEC)

Zcash differentiates itself by offering both transparent and shielded transactions through its unique Zero-Knowledge Proofs technology known as zk-SNARKs. This cryptographic tool allows users to validate transactions without revealing any sensitive information. While Zcash provides enhanced privacy, its adoption has been hindered by the complexities associated with zk-SNARKs, leading to slower transactions and higher computational requirements. Moreover, the need for a trusted setup during its launch has raised questions about the potential existence of hidden vulnerabilities.
Conceal (CCX)

Conceal is another privacy-focused cryptocurrency utilizing Ring Signatures and one-time addresses for privacy enhancement. While it aims to provide secure and anonymous transactions, it faces stiff competition from more established privacy coins and may struggle to gain widespread recognition and adoption.
Secret Network (SCRT)

Secret Network, based on Cosmos, focuses on privacy for decentralized applications (dApps) by employing secure multi-party computation (sMPC). It aims to offer privacy solutions for blockchain-based smart contracts and data without compromising security. However, its specific focus on dApps may limit its appeal to a broader audience looking for overall transactional privacy.
Firo (FIRO)

Firo operates on the Zerocoin protocol, providing users with the option to "mint" their coins into "zerocoins," thus breaking the transactional link to their original holdings. While Firo offers an attractive privacy feature, the initial requirement to destroy original coins during minting has raised concerns about the total supply and potential scarcity issues.
Zero-Knowledge Proofs Technology
Zero-Knowledge Proofs (ZKPs) are cryptographic protocols that allow one party (the prover) to demonstrate the validity of a statement without revealing any underlying information to another party (the verifier). In the context of cryptocurrencies, zk-SNARKs, which stand for "Zero-Knowledge Succinct Non-Interactive Arguments of Knowledge," are a type of ZKP used to ensure transactional privacy. ZK-SNARKs enable users to create shielded transactions where the amount transacted and sender/receiver information remains confidential.
Advantages of ZK-SNARKs
Enhanced Privacy: ZK-SNARKs provide a higher degree of privacy compared to other privacy mechanisms, such as Ring Signatures, as they hide both the transaction amount and the sender/receiver addresses.
Reduced Transaction Size: ZK-SNARKs enable the creation of succinct proofs, resulting in smaller transaction sizes and improved scalability compared to some other privacy coins like Monero.
Auditability and Selective Transparency: ZK-SNARKs allow for selective disclosure of transaction information, making it possible to conduct private transactions while maintaining compliance with regulatory requirements.
Reshaping the Future of Private Transactions
ZK-SNARKs technology has the potential to reshape the future of private transactions in the crypto world. By providing a balance between privacy and auditability, ZK-SNARKs offer a more versatile solution for cryptocurrency users seeking enhanced financial privacy. As the technology matures and becomes more user-friendly, it may attract greater adoption and acceptance by both individual users and institutional players seeking confidentiality in their transactions.
Privacy Wars Continue
In the ongoing Privacy Wars among cryptocurrencies, ZK-SNARKs technology stands out as a promising contender. While Monero, Zcash, Conceal, Secret Network, and Firo each bring their unique strengths and challenges to the table, the ZK-SNARKs technology used by Pirate Chain offers a compelling mix of enhanced privacy, decentralization and reduced transaction size.
As the privacy-focused cryptocurrency space evolves, ZK-SNARKs technology may play a pivotal role in reshaping the landscape of private transactions, offering users a more secure and confidential way to engage in financial activities on the blockchain.
Author Profile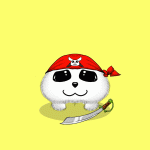 Community moderator of the Banano memecoin since 2018. I have since been involved with numerous cryprtocurrencies, NFT projects and DeFi organizations.