Christen Ager-Hanssen, the ex-CEO of nChain, has been a vocal critic of the company and its key players, notably Calvin Ayre, Stefan Matthews and Craig Wright. However, his recent silence has raised eyebrows and led to speculation. Could it be that nChain and Calvin Ayre have employed legal means to muzzle him?
Based on a recent article, Stefan Matthews, the CEO of nChain, has taken a stern stance on Christen Ager-Hanssen's actions, describing them as "repeated, inappropriate behavior." Matthews specifically calls out Ager-Hanssen for "ongoing breaches of confidentiality and privacy," indicating that these matters are not taken lightly within the organization.
He further states that these issues are "being dealt with appropriately by our legal counsel," suggesting that legal measures may be underway to address the situation. This comment raises questions about the legal ramifications he could face for his actions.
How Can You Stop Someone Talking?
Cease and Desist Letters: If you become aware that someone is planning to disclose confidential information, a cease and desist letter can serve as a formal request for them to stop. While not legally binding, it is often the first step in legal proceedings and demonstrates your intent to enforce your legal rights. However, a letter like this does not force someone to stop talking.
Injunctions: In more extreme cases, you may seek a court injunction to prevent the individual from disclosing the information. An injunction is a court order requiring an individual to do or refrain from doing a specific action. This could be the most likely reason.
Criminal Charges: Depending on the jurisdiction and the nature of the information disclosed, criminal charges like theft or espionage could be applicable. It is unlikely that this is the case in this instance.
I'm sorry that I will not be very vocal for a short while but I will still be on X to repost other peoples opinions pic.twitter.com/jIU6Ry9CMN

— Christen Ager-Hanssen (@agerhanssen) October 14, 2023
The Role of Injunctions
An injunction is a court order that compels a party to do or refrain from specific acts. In the context of whistleblowing or revealing confidential information, an injunction could be used to prevent an individual from disclosing further details. The process generally involves the aggrieved party filing a motion, supported by evidence, to demonstrate the necessity of the injunction. If granted, failure to comply could result in contempt of court, carrying penalties such as fines or imprisonment.
Types of Injunctions
Temporary Restraining Order (TRO): A short-term emergency injunction, usually granted without notifying the opposing party.
Preliminary Injunction: Issued after both parties have had an opportunity to present their case but before a final judgment.
Permanent Injunction: Issued as part of the court's final judgment, mandating or prohibiting specific actions indefinitely.
Legal Criteria for Granting an Injunction
Courts consider several factors, including:
Likelihood of the plaintiff winning the case
Irreparable harm to the plaintiff if not granted
Balance of hardships between both parties
Public interest
No reasons to contact me for the moment my LIPS 👄 are SEALED for now. pic.twitter.com/2HhOGQSLa2

— Christen Ager-Hanssen (@agerhanssen) October 26, 2023
Implications for Christen Ager-Hanssen
If an injunction has indeed been issued against Ager-Hanssen, it would mean that he is legally restrained from making further disclosures about nChain, Calvin Ayre, or Craig Wright. This could have several ramifications:
Credibility: The injunction might be seen as an admission of guilt or wrongdoing on the part of nChain and its key players. Conversely, it could also cast doubt on the veracity of Ager-Hanssen's claims.
Legal Consequences: If Ager-Hanssen violates the injunction, he could face severe legal penalties, including fines and imprisonment.
Public Perception: The use of legal means to silence a whistleblower could result in public backlash, affecting the reputation of all parties involved.
Future Disclosures: The injunction could either deter or embolden other potential whistleblowers within the organization.
The Satoshi Question
Ager-Hanssen has been vocal in disputing Craig Wright's claim to be Satoshi Nakamoto, the pseudonymous creator of Bitcoin. If an injunction has been issued, it could effectively stifle this particular line of discourse, leaving some in the crypto community to continue speculating on Satoshi's true identity without Ager-Hanssen's input.
While it remains speculative whether an injunction has been used to silence Christen Ager-Hanssen, the legal instrument itself is a powerful tool that could have significant implications for all parties involved. It raises questions about the lengths to which companies like nChain will go to protect their interests and reputations, and it puts the spotlight back on the ethical considerations surrounding whistleblowing and corporate transparency.
Only time will reveal the true reasons behind Ager-Hanssen's silence and what it means for the ongoing debates and controversies in the crypto world.
Author Profile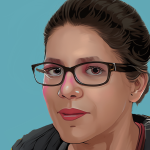 Lucy Walker is a journalist that covers finance, health and beauty since 2014. She has been writing for various online publications.