This is a tough question to answer given Ethereum's dominance and the emergence of BitVM. In the rapidly evolving world of blockchain technology, the race for enterprise adoption is heating up. While Ethereum has long been the go-to platform for decentralized applications, Casper is making waves with its groundbreaking Virtual Machine (VM).
Built from scratch, Casper's VM promises to offer what Ethereum's VM (EVM) cannot, extreme flexibility, privacy, customizability, and upgradeability tailored for enterprise use. So, is Casper poised to dethrone Ethereum? Let's go over the details.
The Allure of Ethereum's Virtual Machine (EVM)
Ethereum's VM has been the cornerstone for many blockchain projects, offering a quick route to market with features like exchange listings, wallet integrations, and Metamask support. The EVM's years of resources, support, and documentation significantly reduce the workload and costs for projects, boosting participant numbers, liquidity, and potentially the perceived value of the project.
The adoption of the Ethereum platform is the widest after market leader Bitcoin and for this to change it will take a lot of innovation, technology adoption, community and ecosystem building and finally enterprise integrations.
The Limitations of EVM: A Barrier to Enterprise Adoption
Despite its advantages, the EVM has its drawbacks, particularly when it comes to enterprise adoption.
Lack of Flexibility: The EVM is not easily customizable for specific enterprise needs, making it less versatile for unique or complex applications.
Scalability Issues: Ethereum's VM has faced challenges with scalability, affecting transaction speed and cost, which can be a significant drawback for enterprises requiring high throughput.
Privacy Concerns: The EVM does not natively support advanced privacy features, which can be a deal-breaker for enterprises that handle sensitive data.
Limited Language Support: EVM primarily supports Solidity for smart contract development, which can be a limitation for developers accustomed to a broader range of programming languages.
High Costs: The EVM's fee structure, particularly "gas fees," can be prohibitively expensive, especially during network congestion.
Influence on Roadmap: Larger enterprises may find it challenging to have a meaningful impact on the EVM's development direction, especially in a timely manner.
Legacy Technology: As one of the earliest VMs in the blockchain space, the EVM faces the challenge of keeping up with newer, more innovative solutions.
Resource Intensive: Running smart contracts on the EVM can be resource-intensive, which might not be ideal for all types of applications or enterprises.
Lack of Native Upgradeability: Smart contracts deployed on the EVM are immutable by default, making upgrades or changes a complex process.
Interoperability: While improvements are being made, the EVM has limitations in seamlessly interacting with other blockchains, which can be a hindrance for enterprises looking for cross-chain solutions.
$CSPR #CasperNetwork#CasperNetwork has built its own Virtual Machine from scratch—a daunting task with potentially profound long-term benefits.

In simple terms, a virtual machine (VM) enables the execution of smart contracts.

Many projects leverage #Ethereum's VM (EVM) for… pic.twitter.com/9ObqG1wXdL

— Kevin Cage (@Kevin_Cage_) October 13, 2023
Casper's Game-Changing Virtual Machine
Casper's decision to build its own Virtual Machine (VM) from scratch represents a seismic shift in the blockchain landscape, particularly for enterprise adoption. Unlike traditional platforms that rely on Ethereum's Virtual Machine (EVM), Casper's VM is engineered for extreme flexibility, customizability, and upgradeability. Based on WebAssembly, it supports over 40 programming languages and is already in use by tech giants like Amazon, Tesla, Spotify and Google, signalling its robustness and versatility.
What truly sets it apart is its future-proof architecture, designed to adapt and evolve based on enterprise feedback. This means that Casper's VM isn't just a static piece of technology; it's a dynamic, evolving solution that can be tailored for specific enterprise use cases, offering a level of customization that is virtually unparalleled in the industry. In a nutshell, Casper Network's VM is not just an incremental improvement in blockchain technology; it's a game-changing innovation that could redefine how enterprises engage with blockchain.
Customization & Future-Proof Architecture
What sets Casper's VM apart is its focus on customization and constant network improvement based on enterprise feedback. This ensures a truly future-proof and upgradeable architecture, allowing for flexibility in public, private, and hybrid deployments.
Astonishingly, around 95% of Casper's customers are building hybrid deployments connected to the Public Casper Network, which means that all computation requires the $CSPR token.
Enterprise Influence on Protocol Roadmap
One of the standout features of Casper is its focus on allowing enterprises to have a significant level of input into the protocol's roadmap. This is a game-changer in the blockchain space, as it addresses a critical need for large corporations to tailor blockchain solutions to their specific requirements. Unlike other platforms where influencing the development direction might be a cumbersome process, especially for Fortune 500 companies, Casper Network is designed to be responsive to enterprise feedback.
This collaborative approach not only ensures that the network evolves in a way that is most beneficial for large-scale, real-world applications, but it also fosters a sense of partnership and investment in the platform's success among enterprise users. In essence, Casper Network is not just offering a product but is inviting enterprises to be co-creators in a blockchain ecosystem that can be moulded to suit their specific needs.
Tokenizing Digital Securities with ACTUS
The $CSPR Network allows users to tokenize digital securities within the broadly accepted ACTUS framework. Companies like Ariadne and Nucleus have already leveraged this capability. The ACTUS framework is not just another standard; it's a cornerstone that governs a vast majority of financial contracts. By aligning with ACTUS, $CSPR is positioning itself as a serious player in the financial applications space.
ISO20022 Compliance and Beyond
While many financial applications are working to fit the ISO20022 standard, $CSPR and ACTUS are taking it a step further. They are not just aiming for compliance but are working to facilitate information exchange in an ISO20022 manner. This nuanced approach ensures that the platform is not just meeting the minimum requirements but is optimizing for a more efficient and seamless financial ecosystem.
🌐When you think ISO20022…

You think $XRP $XDC $QNT $XLM $ALGO & a small handful of others

But 99% don't think of is $CSPR

Today I'll show you WHY & HOW Casper's fit for the standards in the Future of Finance

Let's Begin🧵🔥

The first misconception to clarify is the state… pic.twitter.com/buHKsfmomp

— 🥖Tokenicer✲⥃⬢ (@Tokenicer) October 14, 2023
A Different Route to Financial Exposure
What makes $CSPR's strategy particularly interesting is its focus on the foundations that enable banks and financial institutions to operate at scale. Instead of merely seeking partnerships with established banks, they are embedding themselves into the very fabric that holds modern finance together. This foundational approach could offer them a more sustainable and influential position in the financial ecosystem.
CSPR USD Price Chart

Ethereum's Future Plans: Too Little, Too Late?
Ethereum plans to migrate to an EWasm VM, a move that could take several years. By that time, Casper's architecture, which is capable of swapping out their WebAssembly VM for any new technologies, may have already set a new industry standard.
The Future of Enterprise Smart Contract Adoption
The winning protocols of the future will undoubtedly focus on flexibility, privacy, and upgradeability. Casper, with its unique network features like upgradeability by design, running two consensus mechanisms simultaneously, and accounts that can pay for themselves is well-positioned to lead the charge.
As enterprise networks increasingly look for blockchain solutions that offer more than just a quick route to market, Casper's VM stands out as a revolutionary development. With its focus on meeting the specific needs of enterprises, it's poised to dramatically increase adoption in the future. Time will indeed show us the winners and the losers, but CasperNetwork is making a compelling case for why it could be the former.
Author Profile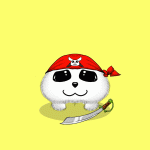 Community moderator of the Banano memecoin since 2018. I have since been involved with numerous cryprtocurrencies, NFT projects and DeFi organizations.