The Financial Times told us in 2014 that the alternative finance market grew by 91% over the last 12 months and is expected to top £1.6bn in that year. In 2023 crowdfunding is worth closer to £7bn per year, more than a 300% increase in 9 years.
So, what is crowdfunding and why has it suddenly become so popular? More importantly, is it a good idea?
What is Crowdfunding?
Crowdfunding is a modern and popular method of raising funds for various purposes, such as launching innovative products, supporting creative projects, aiding charitable causes, or even helping individuals during difficult times.
As the name suggests, crowdfunding relies on the collective support of a large number of people to contribute small amounts of money, which ultimately helps in achieving the desired financial goal. The internet plays a crucial role in connecting creators or campaign organizers with potential supporters from all around the world.
Crowdfunding platforms, such as Kickstarter and Indiegogo, have proved instrumental in the success of thousands of projects, and have made it possible for visionaries to transform their ideas into reality. Aspiring entrepreneurs, artists, and philanthropists alike have benefited from this ingenious funding model, which truly epitomises the power of community and generosity.
The Success Stories
A success story amongst the later, are Chapel Down, a wine producing company in Kent who have adverts on London Underground trains encouraging people to invest in their company.  They are now the largest winemaker in England and were tipped as a good investment by Midas Investment Management in 2013.

Julia Groves, chairwoman of the UK Crowdfunding Association, states that this type of investment is, "a real alternative for your savings" as low interest rates are making other forms of investment less attractive to savers.  There is also evidence that this form of funding is becoming popular due to the reluctance of banks to provide business loans so businesses are forced to look into other options.
Upside and Downside
While this seems like an interesting and potentially profitable venture to put your savings into, there are some definite downsides.  The biggest downside being that there is always a risk that the business you have invested in will simply not make it.  Many businesses started up through crowdfunding go bust within a few years.

Investing through crowdfunding offers both higher and lower risk options for those looking to get involved. Debt crowdfunding allows individuals to receive regular payments from the business, which would become a priority in case of financial difficulties.
On the other hand, equity investments can lead to much larger rewards but also come with greater risks; if things don't go as planned you could lose your money.
Look to the Future
Although there are clearly benefits and risks involved in crowdfunding, this type of business finance and investment is part of a growing trend. Good research is essential in deciding to invest in one of these schemes as well as full awareness of the risks involved.
Author Profile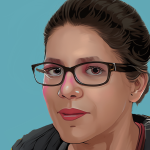 Lucy Walker is a journalist that covers finance, health and beauty since 2014. She has been writing for various online publications.