Uniswap V4 will be introducing hooks to facilitate Know Your Customer (KYC) compliance, a move that has stirred a whirlpool of opinions within the cryptocurrency community. While some view this as a necessary step towards institutionalization and regulatory compliance, others see it as a betrayal of the core principles of decentralized finance (DeFi). This article aims to dissect the implications of this significant update, taking into account various perspectives from key stakeholders in the crypto space.
The Regulatory Landscape: A Sea Change
"Regulations are coming guys…" warns Whale, a prominent figure in the crypto community. Indeed, the tides of regulation are reaching the crypto shores, as Mr Brondor aptly puts it: "Hold tight brothers." Regulatory bodies around the world are increasingly scrutinizing the operations of decentralized platforms, making compliance an inevitable reality.
Dutch Cryptomancer, another crypto enthusiast, offers a more nuanced view: "Regulation doesn't have to be bad." This perspective is echoed by Heidi, who states, "While concerns have been expressed about the changes, some see them as necessary to ensure the sustainability of the cryptocurrency industry, increase institutional investor participation, and increase market transparency."
Uniswap V4 has introduced hooks in a recent update to facilitate KYC (Know Your Customer) compliance.

Regulations are coming guys…

— Whale (@WhaleChart) October 14, 2023
The Controversy: Is It Still DeFi?
Zero Dollars, a critic of the update, argues, "It's not Defi anymore!" This sentiment captures the essence of the debate. One of the fundamental tenets of DeFi is the absence of intermediaries and centralized control, including the freedom from KYC procedures. By introducing hooks for KYC compliance, Uniswap V4 seems to be straddling the line between centralized and decentralized systems.
Max Herman, a disgruntled user, exclaims, "Goodbye Uniswap, will never use you again then! KYC sucks, for tracking and not being able to use services outside your country due to restrictions." Herman's statement encapsulates the frustration of many who see KYC as an infringement on privacy and a limitation on the global accessibility of DeFi services.
The Institutional Angle: A Double-Edged Sword
The introduction of KYC hooks could potentially attract more institutional investors into the crypto space. These investors often have stringent compliance requirements and have been wary of entering a market known for its lack of regulation. Heidi's point about increasing "institutional investor participation" and "market transparency" cannot be overlooked. However, this comes at the cost of alienating a segment of the existing user base who were drawn to DeFi precisely because of its lack of regulatory oversight.
The Future: Navigating Uncharted Waters
The introduction of KYC hooks in Uniswap V4 would mark a pivotal moment in the evolution of DeFi. It raises existential questions about the very nature of decentralized systems and how they can coexist with an increasingly regulated financial landscape.
While the move towards KYC compliance may seem antithetical to the ethos of DeFi, it could be a necessary compromise for the long-term viability and mainstream acceptance of decentralized platforms. However, it is crucial for platforms like Uniswap to strike a balance between compliance and preserving the core principles that make DeFi unique.
Pandora's Box
The Uniswap V4 update has opened a Pandora's box of debates and discussions around the role of regulation in decentralized systems. As the crypto community grapples with these changes, it becomes increasingly clear that the path forward is fraught with complexities. Whether you view this update as a necessary evil or a betrayal of DeFi principles, one thing is certain: the landscape of decentralized finance is changing, and how it will look in the future is still very much up in the air.
Author Profile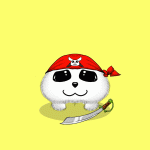 Community moderator of the Banano memecoin since 2018. I have since been involved with numerous cryprtocurrencies, NFT projects and DeFi organizations.