In the ever-turbulent world of cryptocurrency, a new storm appears to be brewing, this time involving the core team behind Bitcoin SV (BSV), notably Craig Wright, Stefan Matthews, and Calvin Ayre. A Twitter (X) user, Diginaut, has raised serious allegations suggesting a conspiracy that could shake the very foundations of the BSV community and its leadership.
According to Diginaut's claims, there is a suspicion that the trio are planning to conspire to deceive the court during the COPA trial, with Wright hinting at possessing "irrefutable evidence" back in June. Matthews, the CEO of nChain, was privy to this, sparking widespread speculation about the nature of this evidence. The community was abuzz, pondering over what could possibly trump cryptographic proof or surpass the weight of documents presented in Oslo.
Diginaut speculated that the key to this puzzle could be a witness coupled with physical evidence, with Matthews being a potential candidate. However, his financial ties to nChain could compromise his credibility. The plot, as outlined by Diginaut, thickens with the introduction of Christen Ager-Hanssen, whose whistleblowing efforts shed light on the supposed star witness: Lynn Wright, Craig Wright's wife during Bitcoin's inception years.
I have a strong suspicion that #BSV management @Dr_CSWright, @TurkeyChop and @CalvinAyre have conspired to deceive the court in order for Wright to win the COPA trial.

In June Wright Tweeted about "irrefutable evidence". Matthews confirmed that he knew what this was about.
1/8 pic.twitter.com/aSi903AQMv

— ᗪIGIᑎᗩᑌT 🍥 (@digitalnaut) November 4, 2023
Lynn Wright's potential testimony could be pivotal, given her proximity to Craig during the period when Satoshi Nakamoto, the pseudonymous creator of Bitcoin, was active. However, her historical stance has been consistent: she claimed to have no knowledge of the matter. This is where Calvin Ayre's role becomes crucial in the alleged scheme.
Ayre, as per the allegations, provided Lynn with accommodation when she was in a difficult situation. But Diginaut suggests this was not a gesture of goodwill but a strategic move to leverage her cooperation later. The alleged promise of a $30 million incentive for her testimony adds another layer of complexity to the situation.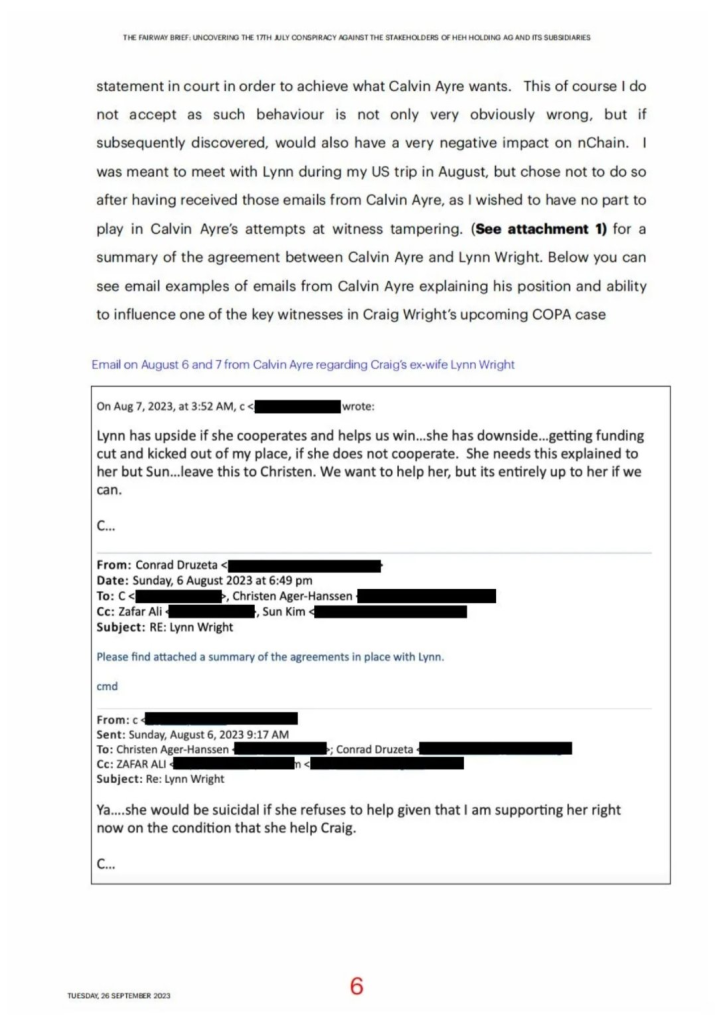 The physical evidence, which could corroborate Lynn's potential testimony, is purported to be forged documents, ostensibly authored by her from the relevant time. These documents, as revealed in recent COPA court documents, were identified as forgeries by COPA's forensic expert, which could have derailed the alleged plan.
While the full truth of these allegations remains shrouded in mystery, Diginaut's theory posits that this "irrefutable evidence" was a carefully orchestrated plot involving all parties. If not for the diligent work of the forensic experts and Ager-Hanssen's whistleblowing, the outcome of the trial could have been starkly different.
As the crypto community watches on, the implications of these allegations are profound, not only for the individuals involved but also for the integrity of the legal processes surrounding blockchain technology and the veracity of claims of identity within this space. The situation calls for a thorough investigation to ensure that justice and truth prevail in a domain where trust is paramount.
Author Profile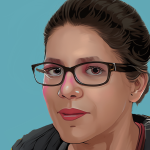 Lucy Walker is a journalist that covers finance, health and beauty since 2014. She has been writing for various online publications.