A significant change occurred this past Wednesday, reducing the per-block Litecoin (LTC) reward from 12.5 LTC to 6.25 LTC. The anticipated timing for this event was around 15:11 GMT (11:11 am ET). Similar halving events took place previously on August 5, 2019, and August 25, 2015.
Litecoin founder, Charlie Lee, emphasizes that these disinflationary halvings play a crucial role in achieving mass adoption without compromising the network's security. By reducing the block rewards, Litecoin becomes scarcer over time, potentially leading to increased demand and long-term value appreciation.
The halving mechanism, embedded in Litecoin's protocol, aims to control the inflation rate and maintain scarcity, mirroring Bitcoin's halving process. As the supply of new LTC entering the market decreases, the cryptocurrency's potential to become a store of value and a medium of exchange improves.
Charlie Lee's vision of achieving mass adoption revolves around building a sustainable ecosystem while ensuring the network's security and stability. By providing a predictable supply schedule, Litecoin's halvings act as a catalyst for promoting financial inclusivity and innovation within the crypto space.
LTC 5-Year Price Chart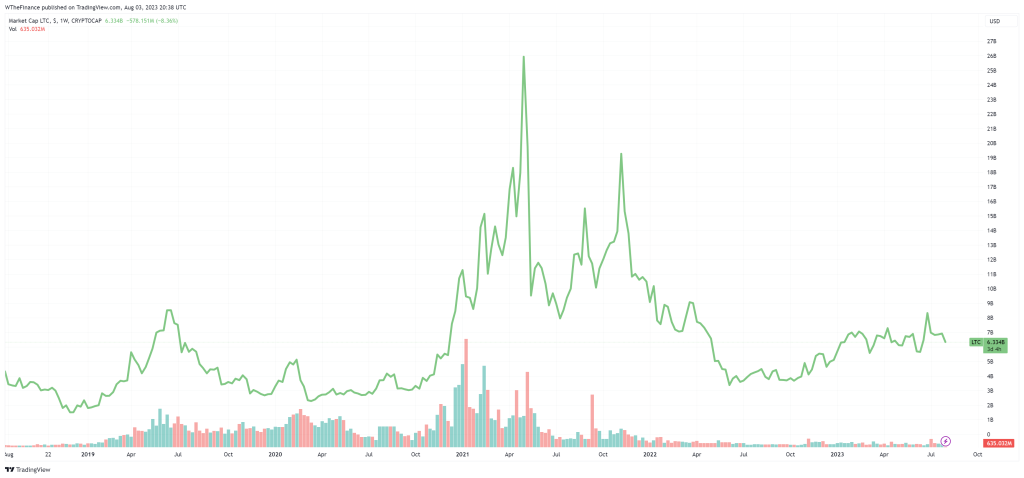 Litecoin Halving Overview
Litecoin, a prominent cryptocurrency created by Charlie Lee in 2011, implements a halving event approximately every four years. During a halving, the block rewards for miners are reduced by 50%, leading to a decreased supply of new Litecoin entering the market. This mechanism is designed to control inflation and scarcity, similar to Bitcoin's halving process.
Past Halving Data
Examining the two previous Litecoin halvings, historical data reveals that immediate price gains were not a common occurrence. In the 2015 halving, Litecoin's price experienced a modest increase in the months leading up to the event, but it was followed by a sharp correction shortly afterwards. Similarly, during the 2019 halving, Litecoin's price showed a similar pattern, with a pre-halving increase and subsequent decline.
Factors Influencing Litecoin's Price
Market Sentiment: The cryptocurrency market is highly influenced by sentiment, and speculative hype leading up to the halving event can contribute to short-term price surges. However, once the event passes, the market tends to stabilize, potentially leading to corrections.
Bitcoin's Influence: As one of the most significant cryptocurrencies, Bitcoin's price movements often have a cascading effect on altcoins like Litecoin. If Bitcoin experiences major fluctuations during or after the halving, it can impact Litecoin's price as well.
Fundamental Adoption: Long-term price appreciation is typically influenced by factors such as increased adoption, real-world use cases, and developments in the underlying technology. Investors should consider these factors beyond the halving event's immediate effects.
Overall Market Conditions: External factors, such as regulatory changes, macroeconomic trends, and global events, can significantly impact the entire cryptocurrency market, including Litecoin.
The Future of LTC
According to BitPay, the global payments platform, both Litecoin and Bitcoin Lightning payments have experienced their most successful months in recent history. In June, Litecoin surpassed Bitcoin to become the preferred cryptocurrency for payments on BitPay, constituting 35% of all transactions. Over the last 30 days, BitPay boasts processing a total of 57,949 transactions related to cryptocurrencies.
While Litecoin halving events generate excitement among investors, historical data suggests that immediate price surges are not guaranteed. Instead, investors should take a holistic approach, considering the broader market dynamics and Litecoin's fundamentals beyond the halving event. Prudent investment decisions require careful research, risk assessment, and a long-term perspective.
Disclaimer: Cryptocurrency investments carry inherent risks, and investors should exercise caution and perform their due diligence before making any financial decisions. This article does not constitute financial advice.
Author Profile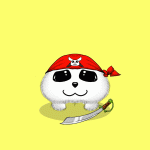 Community moderator of the Banano memecoin since 2018. I have since been involved with numerous cryprtocurrencies, NFT projects and DeFi organizations.