As we delve into the third quarter of 2023, Polkadot stands as a testament to the relentless evolution of blockchain technology. The network's recent milestones not only underscore its commitment to innovation but also reflect a growing confidence among users and developers in its infrastructure. Here's an extensive analysis of Polkadot's state as of Q3 2023, highlighting key developments and their implications for the ecosystem.
Completion of Polkadot 1.0
The completion of Polkadot 1.0 marks a significant achievement for the network. This foundational milestone sets the stage for enhanced stability, security, and scalability. The full release of Polkadot 1.0 is a clarion call to developers and enterprises alike, signalling the network's readiness for the deployment of sophisticated, production-ready applications. It's a leap forward that solidifies Polkadot's position as a leading platform for multi-chain integration.
Asynchronous Backing Announced at #sub0
At the #sub0 conference, the announcement of Asynchronous Backing was met with palpable excitement. This development is poised to revolutionize the way parachains achieve consensus, allowing for more efficient processing of parachain blocks. Asynchronous Backing is expected to significantly reduce the time it takes for parachains to communicate with the Relay Chain, thereby enhancing the overall throughput of the network.
DOT Price Chart

Simplified Appchain Deployment
The simplification of appchain deployment is a strategic move by Polkadot to lower the entry barriers for developers. By streamlining the process, Polkadot is fostering an environment that is more conducive to innovation and experimentation. This simplification could lead to an influx of new appchains, each potentially introducing novel use cases and driving further adoption of the Polkadot network.
Launch of Native USDC
The introduction of a native USDC stablecoin is a monumental stride towards financial inclusivity and flexibility within the Polkadot ecosystem. This move is likely to attract a new wave of DeFi applications and services, offering them the stability of a widely recognized fiat-backed asset. The presence of USDC on Polkadot is a critical step in bridging the gap between traditional finance and decentralized ecosystems.
Six Parachain Auctions Completed
The completion of six more parachain auctions is indicative of the vibrant and competitive spirit that characterizes the Polkadot ecosystem. Each successful auction represents a community's trust in a project's vision and capabilities. The auctions are a core component of Polkadot's governance model, ensuring that the network's growth is driven by the collective decision-making of its stakeholders.
Ecosystem Analysis
The ecosystem's expansion is quantitatively evident in the over 4.3 million unique accounts created by the end of September, marking a 9.3% increase quarter-over-quarter and an impressive 34.9% growth year-to-date. This surge in unique accounts is a clear indicator of Polkadot's widening reach and the growing interest in its capabilities.
Furthermore, the bonding of 873K DOT, a 14% increase from the previous quarter, and the cumulative 135 million DOT bonded to date, reflect a deepening commitment from the network participants. Bonding is a direct measure of trust in the network's future, as it involves locking in DOT tokens to support the security and operability of the parachains.
Cardano's Embrace of Substrate
In an intriguing twist of cross-chain collaboration, Cardano has announced its intention to utilize Substrate, the foundational framework of the Polkadot SDK, to develop its ambitious "partner chain" project. This strategic move not only highlights Substrate's expansive potential within the Web3 domain but also underscores its versatility and user-friendliness for various blockchain ecosystems.
Cardano's choice to build on Substrate is a testament to the shared vision and mutual respect between the two projects. IOG, the organization behind Cardano, has expressed admiration for the modular technology crafted by the Substrate team. By adopting Substrate, Cardano is poised to enhance its infrastructure, potentially leading to more robust and flexible blockchain solutions within its ecosystem.
ADA Price Chart 2023

Substrate's Versatility and Independence
Substrate's ability to empower developers to create self-sovereign blockchains that can operate independently of the Polkadot network is a significant aspect of its appeal. This feature is exemplified by projects like Polygon's Avail, which leverage Substrate to forge their own paths in the blockchain space. The decision by Cardano to employ Substrate for its partner chain initiative further solidifies Substrate's reputation as a versatile and powerful tool for blockchain development.
Implications for Polkadot and Cardano
The collaboration between Polkadot and Cardano through Substrate is a compelling development for the future of interoperable blockchain networks. It demonstrates the potential for different blockchain ecosystems to work in tandem, utilizing shared technologies to drive innovation and user adoption. This partnership could serve as a blueprint for future collaborations, fostering a more interconnected and unified Web3 environment.
Polkadot's Q3 2023 has been marked by pivotal developments that have not only advanced its technological framework but also expanded its user base. The network's progress is a harbinger of the transformative potential that interoperable blockchain technology holds. The use of Substrate by Cardano is a significant endorsement of Polkadot's technology and a step forward in the broader adoption of Substrate across the Web3 landscape.
As Polkadot continues to innovate and adapt, it is poised to play a central role in the next wave of blockchain integration, setting a benchmark for others in the space. The coming quarters will undoubtedly be watched with keen interest as Polkadot's journey unfolds further, potentially reshaping the landscape of decentralized networks.
Author Profile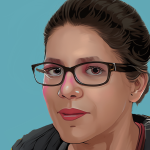 Lucy Walker is a journalist that covers finance, health and beauty since 2014. She has been writing for various online publications.