Another great surprise this month from the stock market. The latest earnings report from Hims & Hers Health Inc., a telehealth company that provides prescription and over-the-counter drugs, has revealed a robust financial performance that has outstripped analysts' expectations on several fronts. But there is a catch.
For the quarter, Hims & Hers achieved a commendable feat by surpassing revenue estimates by 2.9% and guiding figures by 3.3%. The company's EBITDA also exceeded estimates by 3.8% and surpassed the guide by a notable 6.5%. However, it wasn't all positive news, as the company fell short of GAAP EBIT estimates by 12%, although it did manage to beat the GAAP Gross Profit Margin (GPM) estimate. The GAAP Earnings Per Share (EPS) missed the estimate by a penny, a minor shortfall in an otherwise strong quarter.
The Q4 guidance provided further cause for optimism among investors, with the company beating revenue estimates by a substantial 7.9% and EBITDA estimates by a remarkable 45%. This guidance suggests that the momentum gained in the current quarter is expected to continue, solidifying the growth trajectory of the company.
A deeper dive into the numbers shows a year-over-year (YOY) revenue growth of 56.6% and a quarter-over-quarter (Q/Q) growth of 9.0%. The 3-year Compound Annual Growth Rate (CAGR) stands at a stellar 74.8%. The Average Order Value (AOV) has seen an increase to $99, up from $95 in the previous quarter, and the subscriber base has grown by 10% Q/Q to 1.43 million, indicating strong customer retention and acquisition strategies.
The company's margin profile shows mixed results. The GAAP Gross Profit Margin (GPM) has improved significantly over the past year, standing at 82.6% for the current quarter, a significant increase from 74% in the same quarter last year. EBITDA margin has improved to 5.4%, which is a recovery from the negative margins seen in the same quarter of the previous year. However, GAAP EBIT and Net Income (NI) margins remain in negative territory, although there has been a notable improvement in these figures year-over-year.
HIMS NYSE 1-Year Price Chart

Notably, Hims & Hers boasts a strong balance sheet with $210 million in cash and equivalents, maintaining a flat inventory year-to-date (YTD), which suggests efficient inventory management. The announcement of a new $50 million buyback program reflects confidence in the company's valuation and a commitment to returning value to shareholders. Moreover, the share count has seen a slight increase of 2.4% year-over-year.
Hims & Hers Health Inc.'s latest financial report illustrates a company that is scaling effectively, managing its growth profitably, and continuing to invest in its future. The substantial increase in revenue and the significant improvement in both gross profit margin and EBITDA reflect a business that is navigating the complexities of the telehealth market with agility and strategic acumen. Despite some areas of underperformance, the overall picture is one of a company on the rise, with strong indicators for future growth.
Author Profile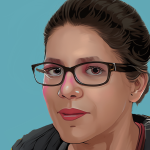 Lucy Walker is a journalist that covers finance, health and beauty since 2014. She has been writing for various online publications.