As blockchain technology continues to rapidly advance application development landscapes, Loom is emerging as a key platform for ambitious decentralised application (dapp) developers. The platform provides a production-ready, user-friendly platform for crafting high-performance dapps across multiple blockchains, like Bitcoin, Ethereum, Binance Chain, and Tron. This multichain interoperability is not merely a feature but a core philosophy that underscores the ethos of Loom Network.
At its core, Loom Network is a meticulously crafted multichain interop platform, optimised for scaling high-performance dapps requiring a swift and smooth user experience. This emphasis on user experience is fundamental to Loom Network's vision, enabling dapps to offer a user interface comparable to traditional applications, thus reducing the friction usually associated with blockchain applications.
Platform-as-a-Service (PaaS)
Delving deeper into the architecture of Loom Network unveils its Platform-as-a-Service (PaaS) model. This model fosters a conducive environment for developers to create custom-made dapps tailored for large-scale operations.
Loom Network's PaaS model is not merely a service but an ecosystem where developers can thrive, experiment, and deploy applications with ease and efficiency. It empowers developers to implement their own rules and protocols, aligning perfectly with the unique requirements of each dapp, especially concerning consensus methods and security measures.
The LOOM Token
Central to Loom Network's ecosystem is its native token, LOOM, which acts as the driving force behind the network's functionality and security. The LOOM token operates on a proof-of-stake mechanism, essential for securing Loom Network's mainnet, known as Basechain. This staking mechanism ensures not only network security but also establishes a reward system for LOOM holders, incentivising them to stake their tokens and contribute to the network's stability.
Moreover, the LOOM token facilitates dapp hosting on Loom Network, introducing a unique pricing model that offers developers a flat monthly fee. This model is a departure from the conventional per-transaction fee models seen in other blockchain platforms. By eliminating per-transaction costs for users, Loom Network significantly enhances the user experience, making dapp usage more affordable and predictable.
Furthermore, the token economics of LOOM has been designed to maintain a balanced ecosystem. The utility of LOOM tokens extends to governance and voting on network upgrades, thereby giving the community a say in the network's future development.
Financial wiz Kostas Alekoglu comments, "The innovative tokenomics of LOOM provides a strong foundation for a sustainable and user-centric blockchain ecosystem. The flat fee model for dapp hosting is a game-changer, potentially setting a new standard in how blockchain platforms can create a more user-friendly fee structure."
Fast and Scalable for Serious Dapps
Loom Network's consensus mechanism, Delegated Proof of Stake (DPoS), stands as a cornerstone ensuring fast confirmation times and high-transaction throughput, which is vital for real-world dapps demanding robust, scalable blockchain solutions. The DPoS mechanism employs a set of validator nodes that take turns validating transactions and creating new blocks, thus accelerating the block production process and enhancing the scalability of the network.
The platform's live production status underscores its readiness for serious dapp developers, allowing them to launch their dapps immediately and start onboarding thousands of users without delay. This readiness is not just a technical stance but a demonstration of Loom Network's commitment to providing a reliable, production-grade platform.
Frictionless User Experience
Another of the standout features of Loom Network is its dedication towards delivering a frictionless user experience. By enabling transactions at lightning speeds and at zero cost to the users, Loom Network effectively removes the typical hurdles associated with blockchain transactions such as gas fees and the need for MetaMask popups at every action or button click.
This thoughtful approach towards user experience is pivotal for the mainstream adoption of blockchain technology. By reducing technical friction and making blockchain interactions seamless, Loom Network is pushing the boundaries and making decentralised applications more accessible and user-friendly.
The attention to a seamless user experience doesn't stop at transaction costs; it extends to the ease of onboarding and user interface design, ensuring that users can interact with dapps on the Loom Network with the same ease and familiarity they would with traditional applications. Through these measures, Loom Network is significantly lowering the entry barrier for non-technical users, driving blockchain technology closer to mainstream adoption.
Access to a Massive User Base
Loom Network's seamless integrations with major blockchains and the implementation of Universal Transaction Signing substantially broadens the platform's user base. By deploying their decentralised applications (dapps) to Basechain just once, developers can tap into a vast pool of users across different blockchain networks like Bitcoin, Ethereum, Binance Chain, and Tron. This functionality enables users from every major chain to access Loom dapps using their native wallets, creating a unified, interoperable blockchain ecosystem. The ability to reach a broad audience without requiring multiple deployments on different blockchains is not just a time and cost saver for developers, but also a monumental stride towards blockchain interoperability, a critical factor for mainstream blockchain adoption.
A source connected with Loom Network had this to add, "The strategy at Loom of enabling a unified blockchain ecosystem through seamless integrations and Universal Transaction Signing is a forward-thinking approach. It not only breaks down the silos existing in the blockchain space but also dramatically expands the user base accessible to developers. This is a significant advantage in fostering widespread adoption and enhancing the network effect of dapps deployed on Loom Network."
Top-Notch Security
The security framework of Loom Network is meticulously designed to ensure the utmost protection against adversarial activities. With 21+ external validators spread across the globe and a substantial amount of LOOM tokens staked (over 247 million), the network exemplifies a fortified security infrastructure. These external validators play a crucial role in the network's Delegated Proof of Stake (DPoS) consensus mechanism, ensuring that transactions are validated accurately and promptly.
Moreover, the robustness of Loom Network's security framework has been independently validated through an extensive audit by Trail of Bits, a reputable information security company specialising in blockchain technology. This audit underscores the network's commitment to maintaining a secure and reliable platform for developers and users alike. It also provides an additional layer of confidence for both developers and investors, knowing that the network has undergone rigorous security testing by industry experts.
Future-Proof Your Dapp
With the rapidly evolving blockchain landscape, launching a dapp on a single blockchain that lacks compatibility with others poses a significant risk of vendor lock-in. However, Loom Network aims to mitigate this risk by continuously building integrations with new chains. This proactive approach ensures that dapps deployed on Loom Network remain relevant and accessible, regardless of the shifts in blockchain preferences and technologies over time.
The ethos of future-proofing dapps reflects Loom Network's long-term vision and unwavering commitment towards fostering a thriving decentralised applications sector. By providing a platform that evolves alongside the broader blockchain ecosystem, Loom Network ensures that developers have a resilient and adaptable infrastructure for deploying and managing their dapps. This adaptability is a hallmark of Loom Network's mission to provide a sustainable and future-ready platform for the burgeoning decentralised application development sector.
For Developers, by Developers
Loom Network's allegiance to fostering developer growth shines through its innovative initiatives, one of which is CryptoZombies, a highly-regarded code school focused on teaching Ethereum decentralised application development. With a substantial engagement of over 415,672+ students to date, this initiative is more than just a tutorial; it's a testament to Loom Network's resolve to nurture a global developer community.
CryptoZombies provides a hands-on, interactive learning experience that guides budding developers through the nuances of blockchain development, particularly on the Ethereum platform. By crafting an engaging and accessible learning platform, Loom Network is actively contributing to reducing the learning curve associated with blockchain technology.
Moreover, the success of CryptoZombies underscores Loom Network's understanding of the practical and real-world skills developers need to excel in the blockchain space. It also reflects the network's broader aim of equipping developers with the requisite knowledge and tools to tackle real-world challenges using blockchain technology. Through initiatives like CryptoZombies, Loom Network is not just building a robust platform for dapp development but is also investing in creating a knowledgeable and skilled developer community that can drive innovation and adoption in the blockchain domain.
This developer-centric approach, coupled with a rich repository of resources and a supportive community, underscores Loom Network's position as a conducive ecosystem for developers. It's an ecosystem where developers are empowered to learn, innovate, and deploy solutions that can potentially reshape industries and contribute to the mainstream adoption of blockchain technology.
Recent Market Performance
Loom Network has recently become a focal point in the crypto market due to a game-changing development that significantly impacted its native token, LOOM. The catalyst behind this sudden surge in interest and market performance is the acquisition of Loom by Atlassian, a global heavyweight in team collaboration software, for a substantial sum of $975 million. This acquisition reflects a strong vote of confidence in Loom Network's potential and marks the beginning of a promising chapter of growth and opportunities for both entities.
Following the announcement of this acquisition, LOOM's market performance soared by over 450%, reflecting the crypto community's buoyant optimism regarding the partnership. This merger envisions a future where the collaboration of Loom's innovative video features and Atlassian's established products like JIRA and Confluence will significantly enhance the realm of knowledge work.
The acquisition has propelled Loom into a new stratum of market recognition and financial robustness, as evidenced by the meteoric rise in the price of the LOOM token. This uptrend mirrors the positive sentiment and growing confidence in Loom Network's capability to innovate and add substantial value in the collaborative software space.
Moreover, the increased visibility from this acquisition has positioned Loom Network as a noteworthy player in the blockchain arena. It's not just a change of ownership; it's a significant endorsement of Loom's substantial growth and robust financial health over the years. This acquisition is seen as a stepping stone towards making Loom's integration with Atlassian tools indispensable, a vision shared by the leaders of both entities.
In Summary
Loom Network stands as a formidable platform for serious dapp developers, offering a gamut of tools, resources, and a thriving ecosystem. With a focus on multichain interoperability, user experience, and scalable blockchain solutions, Loom Network is poised to drive the next wave of decentralised application development, propelling blockchain technology to new frontiers.
Author Profile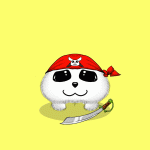 Community moderator of the Banano memecoin since 2018. I have since been involved with numerous cryprtocurrencies, NFT projects and DeFi organizations.