In the rapidly evolving landscape of cryptocurrencies, one name has been gaining unprecedented momentum: the XDC Network. As an astute investor, staying ahead of the curve is crucial, and understanding the XDC Network's rise might be a game-changing opportunity. But how valid is the transformative potential of the XDC Network and how it is revolutionizing the crypto world?
What is XDC Network?
The XDC Network, short for XinFin Delegated Proof of Stake Consensus Network, is a blockchain platform designed to address the limitations of traditional finance systems and streamline global trade and finance. It is built on the XinFin Hybrid Blockchain, combining the best features of both private and public blockchains to offer a secure, scalable, and high-performance network.
XDC serves as the native token of the XDC blockchain, and it has a total supply of 37.85 billion tokens. Presently, approximately 35% of this supply is in circulation, equating to a value of 13.85 billion tokens available in the market.
The XDC blockchain has a maximum token supply cap of 100 billion tokens. Among this allocation, 25% is reserved for the founders and core team, while 32.5% is set aside as an incentive for encouraging user participation. Additionally, 15% is designated for ecosystem development, 10% for pre-placement and subsequent token offerings, another 10% for hedge pools, 5% for philanthropic activities, and the remaining 2.5% is kept as a contingency fund.
Atul Khekade founded the XDC project in 2017 and has successfully raised a total of $50 million so far.
Key Factors Propelling XDC Network's Rise
Speed and Scalability: XDC Network boasts a lightning-fast transaction speed of up to 2000 TPS (Transactions Per Second), making it ideal for various applications, including cross-border payments and trade finance. This efficiency sets it apart from many other cryptocurrencies.
Ecosystem Partnerships: XDC Network has forged strategic partnerships with governments, businesses, and enterprises globally. These collaborations have bolstered the network's credibility and contributed to its rapid adoption in various sectors.
Token Utility: The native token of the XDC Network, XDC, plays a vital role in powering the ecosystem. It is utilized for transaction fees, staking, governance, and collateral, enhancing its overall demand and utility.
Interoperability: XDC Network is designed to be interoperable with other blockchains and traditional systems, allowing seamless integration with existing infrastructures. This versatility attracts both investors and businesses looking for a bridge between blockchain and traditional finance.
Decentralization and Security: The XDC Network employs a Delegated Proof of Stake (DPoS) consensus mechanism, ensuring decentralization and enhanced security. Investors are drawn to the platform's robustness and trustworthiness.
Market Status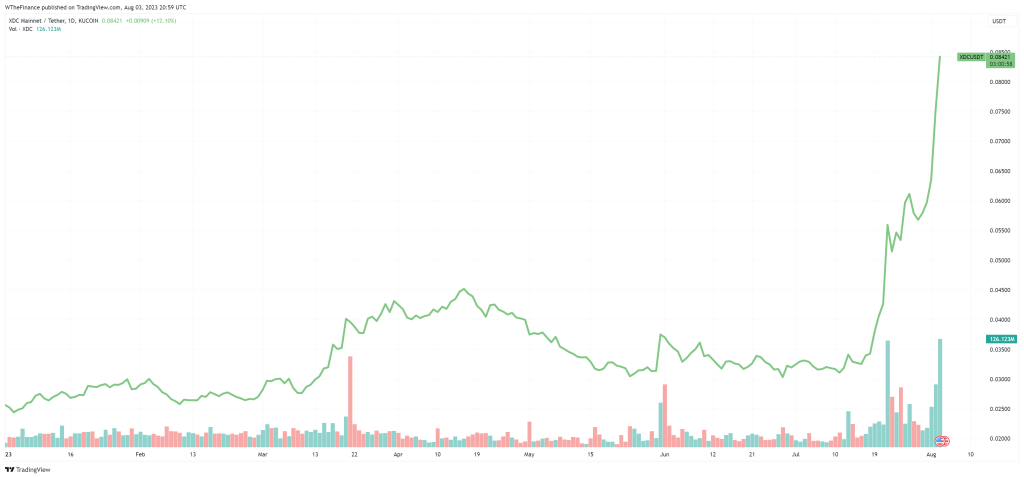 The XDC Network seems to be experiencing a significant breakout, as its price surged impressively by over 100% in the past weeks. The blockchain, which is compatible with the Ethereum Virtual Machine (EVM), gained momentum and attention starting on July 18, coinciding with the ETH Barcelona and ETH Toronto events.
The 20% decline in price is a result of local retracement moves following rejection from the upper trendline at approximately $0.09. Such retracements are common after a notable price surge toward a new resistance level and do not raise major concerns.
Notably, XDC is still trading significantly above moving average levels, with the 20-day moving average (20DMA) gradually catching up to the current price at $0.051. Throughout 2023, the 200-day moving average (200DMA) served as a reliable support level for the technical structure, and it remains relatively lower at $0.035.
Growth Opportunities
Capitalizing on Growth Potential: With the XDC Network's increasing adoption in various industries, early investors have the potential to enjoy substantial returns as the network expands its influence.
Diversifying Your Portfolio: Adding XDC to your investment portfolio can provide diversification, reducing overall risk exposure and adding an innovative asset class to your holdings.
Supporting Financial Inclusion: Investing in XDC Network aligns with the goal of promoting financial inclusion and global trade by supporting a blockchain platform that bridges the gap between traditional and decentralized finance.
XDC Network into the Future
Are you ready to explore the future of finance and be part of the XDC Network's remarkable journey? Seize this opportunity and find out more about XDC, its partnerships, use cases, and the potential it holds for investors. Do your own research.
Disclaimer: Cryptocurrency investments involve risk, and potential investors are encouraged to conduct thorough research and seek professional advice before making any investment decisions.
Author Profile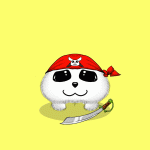 Community moderator of the Banano memecoin since 2018. I have since been involved with numerous cryprtocurrencies, NFT projects and DeFi organizations.