Minswap Labs, the pioneering force behind the first multi-pool decentralized exchange on the Cardano blockchain, has publicly called out CoinMarketCap (CMC) over persistent inaccuracies in volume data reporting. This issue, which has been unresolved for four months despite numerous support tickets, is not just a technical glitch; it's a significant hindrance for users and investors relying on CMC for precise market information.
Minswap DEX is currently the dominant player on Cardano, commanding approximately 80% of the DEX volume on the network. However, pools featuring tokens from projects like Lenfi, SingularityNET, The Ape Society, World Mobile, Snek, and Lagon have been inaccurately represented on CoinMarketCap. This misrepresentation affects not only the perception of Minswap's liquidity and activity but also the overall visibility and potential investment decisions in these tokens.
The Data Dispute
In an earnest attempt to rectify the situation, Minswap Labs has proposed several solutions to CoinMarketCap, including the provision of a custom API and script hash, to enable proper tracking and reflection of the trading volume. The lack of response from CMC, save for the suggestion to purchase a "CMC Priority" package for $50,000, has led Minswap to take alternative measures to ensure transparency and accuracy for their users.
As a resolution, and in alignment with the community's decision, Minswap is moving forward with the implementation of the ADA Delegation proposal. This decision underscores their commitment to the community and the decentralized ethos of the Cardano ecosystem.
CoinGecko Steps In
For users seeking accurate volume data for Minswap pairs, the team recommends using CoinGecko, which has integrated Minswap's API, ensuring reliable data for informed trading and investment decisions.
This situation highlights a broader issue within the cryptocurrency information space, where the accuracy of reported data is crucial for the efficiency and integrity of the market. It calls into question the responsibilities of data aggregators like CoinMarketCap and the need for decentralized exchanges to have control over how their data is represented.
As the cryptocurrency landscape continues to evolve, the demand for transparency and accuracy becomes increasingly paramount. It is essential for data platforms to work collaboratively with exchanges to foster trust and provide the community with the quality information they require. Minswap's proactive stance sets a precedent for other DEX platforms to follow, advocating for the betterment of the crypto ecosystem as a whole.
Author Profile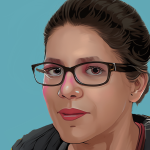 Lucy Walker is a journalist that covers finance, health and beauty since 2014. She has been writing for various online publications.