Economist Nouriel Roubini, a vocal critic of Bitcoin and the broader cryptocurrency market, has made a surprising pivot by announcing the launch of his own digital currency. Known for his skepticism of the crypto industry, Roubini's decision has sparked a lively debate within the financial community, with many expressing surprise given his historical stance on the matter.
Since the fundamental value of bitcoin is zero and would be negative if a proper carbon tax was applied to its massive polluting energy-hogging production, I predict that the current bubble will eventually end in another bust.

Nouriel Roubini (Feb 2021)
Roubini, often referred to as "Dr. Doom" for his bearish outlooks, has spent much of the past five years highlighting what he perceives as the pitfalls and speculative nature of cryptocurrencies. His critiques have ranged from questioning the intrinsic value of digital assets to raising concerns about their regulatory status and potential for facilitating illicit activities.
Classic. Goldman & Blackrock bois. Launching a climate token backed by a basket of legacy baloney. I mean "climate reserve assets" 😂 whatever that means. As long as it's fractionalizable, who cares?

— Csilla Brimer ❤️‍🔥🗽🆙 (@CryptoTweetie) November 7, 2023
The announcement of his own coin, therefore, raises questions about the motivations behind this move and the potential implications for the cryptocurrency space. Some industry observers speculate that Roubini's entry into the market could signal a broader acceptance of digital currencies, while others wonder if it represents a strategic shift to engage more directly with the very technologies he has criticized.
The Atlas Climate Token, developed in collaboration with the Atlas Capital team, represents a significant departure from Roubini's past skepticism towards the crypto sector. This new token is designed to address the pressing issue of climate change while offering accessible and scalable investment opportunities to the general public.
The seven Cs of crypto: Concealed, corrupt, crooks, criminals, con men, carnival barkers, CZ.

Nouriel Roubini
The Atlas Climate Token is allegedly not just another addition to the burgeoning list of cryptocurrencies; it is supposed to be a purpose-driven asset aimed at fostering positive environmental impact. By pegging the token to a diversified portfolio of liquid real-world assets, including climate-resilient Real Estate Investment Trusts (REITs), strategic commodities, inflation-hedged sovereign bonds, and gold, the Atlas Climate Token is claimed to offer a stable and democratized store of value. This strategic selection of underlying assets is intended to provide resilience against the economic impacts of climate change, while also offering a hedge against inflation, according to the company.
Roubini's venture into the digital currency space with a climate-centric investment strategy marks a bold and innovative approach to leveraging the blockchain technology he once critiqued. The Atlas Climate Token aims to make climate investment strategies more accessible to everyday investors, offering them low-cost and liquid terms. This initiative reflects a growing trend in the financial sector where investment products are increasingly aligned with global sustainability goals and the urgent need to combat climate change.
Literally 99% of crypto is a scam.

Nouriel Roubini
The introduction of the Atlas Climate Token by a figure as prominent and previously critical as Roubini has sparked a conversation about the evolving perception of cryptocurrencies. It suggests a potential shift towards recognizing the value of digital assets when they are tied to tangible, real-world objectives, such as environmental sustainability.
As the Atlas Climate Token enters the market, it will be closely observed as a case study of how and IF traditional finance experts can integrate into the new digital economy, and how cryptocurrencies can be harnessed for social and environmental good.
Author Profile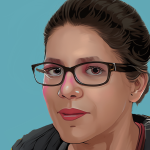 Lucy Walker is a journalist that covers finance, health and beauty since 2014. She has been writing for various online publications.