The world's most popular cryptocurrency is rising again after a period of dramatic drops and upheaval in crypto. Several high-profile scandals rocked the cryptocurrency world but it seems that BTC is now experiencing a revival.
Why is that though? And what can investors expect in the coming months?
After two years of gains, the Bitcoin price started declining sharply after November 2021. The price has been in a freefall since then reaching its lowest point just above $16,000 in November and December of 2022.
However, as the new year has entered, BTC has been gaining traction with the price gaining more than 72% in the last 3 months. The latest increase is significant because $30,000 is considered a psychological barrier that once it overcomes, it will lead Bitcoin back to a new bull run and all-time highs.
Why is this Happening Now?
Whilst the price of Bitcoin has been more closely following stock market trends recent failures in the banking system and general instability are pushing investors back to digital currencies.
Together with Bitcoin other alternative digital assets such as Ethereum are also increasing in value, with ETH price close to breaking the $2,000 barrier which is another milestone in the world of crypto.
About Bitcoin
Bitcoin has revolutionized the world of finance, introducing a new kind of currency that relies on decentralized technology known as the blockchain. This cryptocurrency has quickly become an asset in its own right, garnering widespread attention and investment from individuals and businesses alike. But Bitcoin isn't just another investment opportunity. It is much more than that.
It has the potential to transform the global economy and promote greater financial freedom and globalization, allowing people from all corners of the world to participate equally. With its secure, transparent, and decentralized network, Bitcoin represents the future of finance and the power of technology to create positive change.
But what is more than that, the prediction that Bitcoin will gain value is based on its deflationary nature. Since nobody can "print" extra bitcoins and the supply keeps getting sparser, in normal markets this is a cause for an increase in value. And this is why the Bitcoin supporters are once again preparing for a bull run.
Author Profile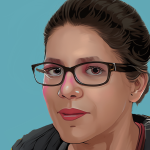 Lucy Walker is a journalist that covers finance, health and beauty since 2014. She has been writing for various online publications.