Meme Coins: The New Wave in Financial Markets
Meme coins, a new breed of digital assets, have taken the world of finance by storm. These cryptocurrencies, which started as internet jokes or memes, have recently gained significant attention from investors. Dogecoin, Shiba Inu, SafeMoon, Pepe, ApeCoin and Banano are among the most popular meme coins captivating the market.
What drives their value is largely speculative – they work based on the principle of supply and demand, with their prices often influenced by social media hype and celebrity endorsements rather than fundamental financial metrics or differential underlying technology.
The allure of meme coins lies in their potential for rapid price appreciation. For instance, Dogecoin, initially created as a joke, has seen astronomical gains, partly driven by high-profile endorsements from personalities like Elon Musk. This phenomenon has led to a gold rush among some investors hoping to strike it rich with the next big meme coin.
Unlike traditional cryptocurrencies like Bitcoin or Ethereum, which have underlying technologies such as blockchain and smart contracts, meme coins often are simple forks (copies of a blockchain) of existing coins, with no additional innovation or utility. Therefore the value of these coins is highly volatile and can fluctuate wildly due to shifting social media trends and sentiment, leading to unpredictable investment outcomes.
Banano, is one of those meme coin projects that managed to turn heads and raise eyebrows with its unique approach to community creation for digital currencies. In an industry that often takes itself too seriously, Banano brought a much-needed sense of fun and humor, all while also offering a serious and innovative approach to blockchain technology.
Check out this $Banano Monthly Update June 2023 which recaps all the news and updates from the $BAN ecosystem in May 2023:https://t.co/ugX0ZHvyw1

— BANANO (@bananocoin) June 14, 2023
What is Banano?
Banano (BAN) is a so-called "fourth-generation" cryptocurrency that utilizes Directed Acyclic Graph (DAG) based block-lettuce architecture. It was created as a hard fork of Nano but with a more humorous and accessible approach. Its mission is to be a feeless, instant, and high-throughput cryptocurrency, disrupting the meme economy one transaction at a time.
The creators of Banano have made it their mission to ensure that cryptocurrency is accessible to everyone. As stated on their website, "Don't let your memes be dreams". They are striving to make the world of cryptocurrency fun, engaging, and easy to understand.
I'm here to talk to you about Banano Coin, a meme cryptocurrency that is potassium-rich and utilizes DAG technology to disrupt the Meme economy $BAN@bananocoin@kucoincom@binancehttps://t.co/v93WpR5LrA

— rubinhu (@RubinhuVn) June 28, 2023
The History of Banano and the BAN Token
Banano was founded on April 1st, 2018. Although it was launched on April Fool's Day, the project is anything but a joke. The BAN token operates within the Banano ecosystem, serving as the primary medium of exchange.
The technology behind BAN is impressive. The use of DAG-based block-lettuce architecture allows for each user to have their own blockchain, reducing transaction times and increasing security. This approach sets Banano apart from other cryptocurrencies and has been a significant factor in its success.
Market Performance
According to recent data from CoinMarketCap, Banano has been performing relatively well in the market compared to other meme coins. Despite being a relatively new player in the crypto space, Banano's unique approach and engaging community have led to increased interest and investment.
Factors contributing to Banano's success include its unique technology, strong community engagement, and the growing popularity of meme coins. The overall bullish trend in the cryptocurrency market has also played a role.
Meme Coins 5-Year Comparison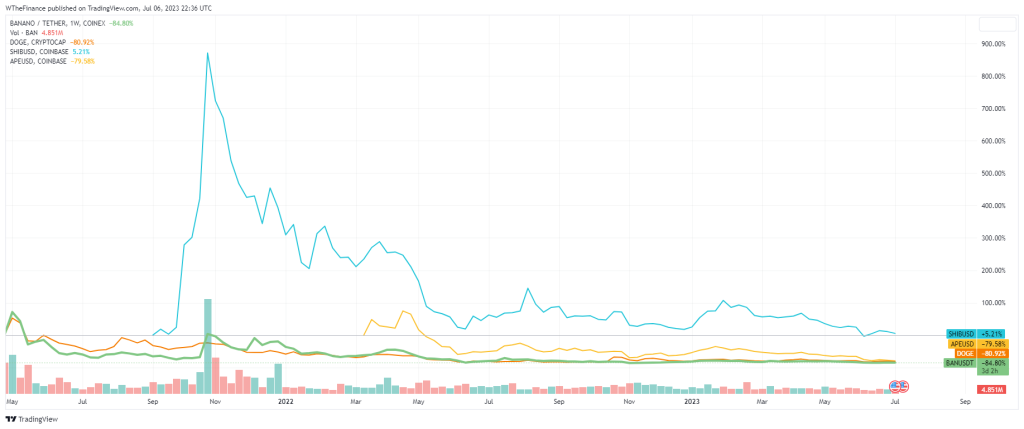 Banano as a project is dynamic, enjoys robust support, and boasts an expanding community, making it a promising prospect for growth in 2023 and beyond. Recently, its Spanish-speaking community has experienced the most significant surge.
BAN/USDT Weekly Chart

Expert Opinions and Future Prospects
Cryptocurrency experts are keeping a close eye on Banano. While some caution that the meme coin market can be volatile, others see potential in Banano's unique approach. Cryptocurrency analysts say that Banano's combination of cutting-edge technology and engaging community make it a project to watch. While the meme coin market can be unpredictable, Banano's solid foundations set it apart from similar coins.
For potential investors interested in BAN tokens, it's advised to do thorough research and consider the volatility of the cryptocurrency market. As with any investment, there's always a degree of risk involved.
In conclusion, Banano is a rising star in the meme coin arena, bringing humor, accessibility, and innovative technology to the cryptocurrency world. With its solid performance and unique approach, this is one project worth watching.
For more information on Banano and the BAN token, visit Banano's official website or CoinMarketCap.
The information provided in this article does not constitute investment advice, financial advice, trading advice, or any other sort of advice, and you should not treat any of the article's content as such. Do conduct your own due diligence and consult your financial advisor before making any investment decisions.
Author Profile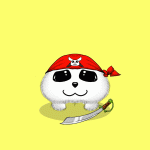 Community moderator of the Banano memecoin since 2018. I have since been involved with numerous cryprtocurrencies, NFT projects and DeFi organizations.