Yet another surprise, or maybe not. In the volatile landscape of cryptocurrency markets, sudden fluctuations are not uncommon, yet certain surges capture attention for their sheer magnitude and rapid development. One such recent phenomenon was the staggering 925% increase in the valuation of CYBER Token within just one month.
The CYBER token reached a high of $16.06 last week from $3.5 just a few days before. $6 billion in CYBER was traded last week in under 24 hours. CYBER was trending on Twitter at the time of initial writing. Not everyone was convinced though. Analysts on Crypto Twitter expected a sharp market correction with some predicting a sell-off at over $15. They did not disappoint.
Some Twitter users were shorting the token and others called it a Ponzi scheme. How right were they, and what a fall from grace that was. Soon after hitting an ATH the token started dropping dramatically as low as $7, which is still double the value of what was trading before last week's frenzy.
I am currently looking to entry $CYBER short.

The insane rally that caused price up from $3.5 to current $11.40 in less than 72 hours will soon get corrected hard.#mexc #cyber #bnb #binance #btc #eth pic.twitter.com/ejpxzfZO0C

— Lana Queen (@Lana_Queen7) September 1, 2023
Factors Behind the Sharp Increase
Market Sentiment & Adoption
One of the leading factors driving this surge is positive market sentiment. The CYBER Token has been gaining credibility and adoption at an accelerated rate. Partnerships with key industry players, endorsements from influential crypto enthusiasts, and favorable reviews have all contributed to the mounting investor interest.
However many Twitter users and cryptocurrency experts still see the token with considerable mistrust and are not yet convinced of the project's long-term sustainability and value.
Technological Innovation
At the core of CYBER Token's escalating value is its technological architecture. Designed for scalability and low transaction costs, it has attracted businesses and individual users alike who are looking for efficient decentralized solutions.
Regulatory Environment
Another significant element is the favorable regulatory conditions in jurisdictions where CYBER Token operates. By proactively working with regulatory agencies, the project has managed to sidestep major legal hurdles that have plagued other cryptocurrencies.
CYBER Token Price Chart
What is the CYBER Token Project?
A New Paradigm for Decentralized Networks
CYBER Token is not just another cryptocurrency; it represents a new paradigm in decentralized network architecture. Unlike traditional blockchain projects, CYBER Token employs a hybrid system that combines the robustness of blockchain with the speed and efficiency of Directed Acyclic Graphs (DAGs).
User-centric Approach
One of the defining features of the CYBER Token project is its focus on the end-user. The platform has been developed with a user-friendly interface, making it accessible to both crypto veterans and novices. It offers an array of services from smart contracts to decentralized applications (dApps), all aimed at making cryptocurrency usage as seamless as possible.
Eco-Friendly
Environmental sustainability is another cornerstone of the CYBER Token project. By utilizing a Proof of Stake (PoS) consensus mechanism instead of the energy-intensive Proof of Work (PoW), the project is contributing to a more sustainable cryptocurrency ecosystem.
#Cyber 1.6B$ volume.. pic.twitter.com/ixweTJFVdz

— A c e 雨 (@BlackSwanChart) September 1, 2023
How Does CYBER Token Differ from Other Cryptocurrencies?
Multi-Functionality
While many cryptocurrencies serve a single purpose, like being a store of value or a medium of exchange, CYBER Token is designed to be multifunctional. It can be used in a variety of applications, including but not limited to, smart contracts, peer-to-peer transactions, and as a governance token for decentralized decision-making.
Security Measures
The CYBER Token employs state-of-the-art security measures, including quantum-resistant algorithms, making it one of the most secure tokens on the market. Its network architecture also allows for faster transaction validations without compromising security.
Community Governance
Unlike many cryptocurrencies that are controlled by a centralized entity or a small group of developers, CYBER Token has a decentralized governance model. Token holders have the ability to vote on major changes to the protocol, thereby directly influencing the project's future.
$CYBER to the moon and why:

1. All tokens at the market maker
2. Foundation known for manipulation

I am waiting for ATH in the region of $15-17 after which there will be a sale of tokens on the market#CYBER #BTC #Crypto #pump pic.twitter.com/kYQCzqvVLU

— budapest (@buda_cm) September 1, 2023
The Future of Crypto
The meteoric rise of CYBER Token is not just a stroke of luck, it is the result of innovative technology, strategic positioning, and a user-centric focus. Its multifacited utility and strong governance model set it apart from other cryptocurrencies, making it a compelling option for both investors and users. While market volatility is always a factor in the crypto space, the underlying fundamentals of CYBER Token suggest that it is a project worth watching closely in the coming months and years.
For those however that hate on the token, most of this is fudder and they firmly believe that last week's events were no more or less than a usual pump-and-dump (an event in crypto where an asset is overvalued and overbought until the main hodlers sell large amounts of their stock back into the market with the price crashing for investors).
For those considering investment, as with any financial decision, due diligence and risk assessment are paramount. Nevertheless, the CYBER Token project stands as a pioneering endeavour in the cryptocurrency landscape, and its recent gains may be just the tip of the iceberg.
Author Profile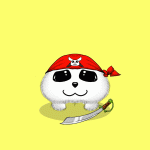 Community moderator of the Banano memecoin since 2018. I have since been involved with numerous cryprtocurrencies, NFT projects and DeFi organizations.