Everyone now knows that luxury fashion has recession-proof stocks. This is because their clientele does not suffer the same in economic downturns. LVMH Moet Hennessy Louis Vuitton SE, commonly known as LVMH, is a global leader in luxury goods and the dominant company in this market.
A rare occasion occurred recently in Paris when Tesla CEO, Elon Musk and LVMH CEO Bernard Arnault, the world's two wealthiest individuals, shared a meal together at the latter's company-owned Cheval Blanc.
Brief History of LVMH
LVMH was created in 1987 through the merger of two prominent French luxury brands, Moet Hennessy and Louis Vuitton. Moet Hennessy, a wine and spirits company, was itself the result of a 1971 merger between Moet & Chandon and Hennessy. Louis Vuitton, established in 1854, was a renowned luxury fashion brand specializing in leather goods and accessories. The merger aimed to capitalize on the synergies between the two companies and strengthen their presence in the global luxury market.
Today, LVMH has expanded its portfolio to include over 75 prestigious brands across various segments, such as fashion and leather goods, perfumes and cosmetics, watches and jewellery, wines and spirits, and selective retailing.
Current Market Conditions
Key LVMH Statistics Table (20/06/2023)
| Statistic | Value |
| --- | --- |
| Stock Price | $926.7 |
| Market Capitalization | $464B |
| P/E Ratio | 30.98 |
| Dividend Yield | 1.41% |
LVMH Financials Table
As of 20/06/2023, LVMH's stock price stands at $926.7, with a market capitalization of ~$464 Billion. The company's performance over the past 12 months is depicted in the graph above, reflecting fluctuations due to various factors such as global economic uncertainties, shifts in consumer preferences, and competition within the luxury market.
LVMH Stock Performance vs S&P 500 (Last 12 Months)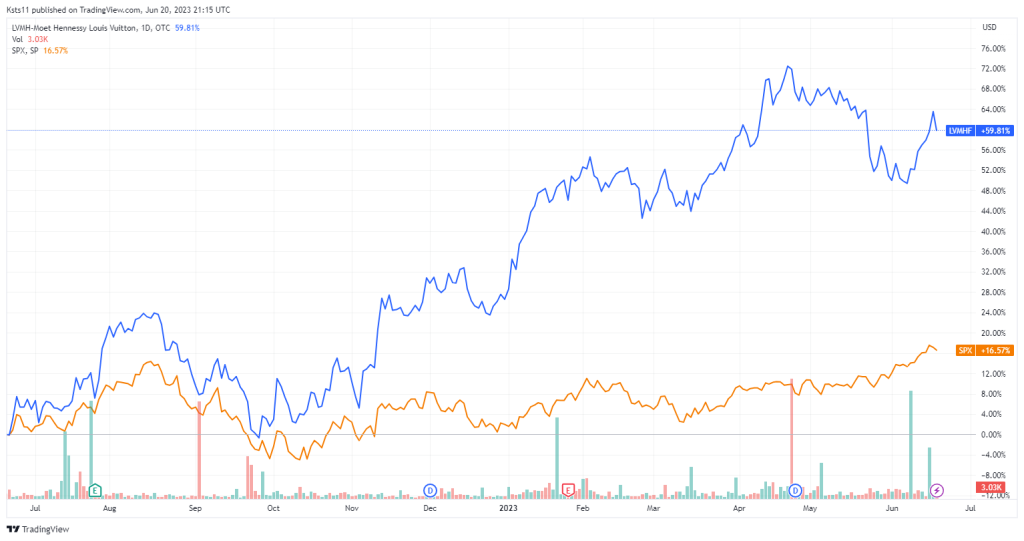 Events Impacting LVMH and its Sectors
Several events have recently influenced LVMH and its component sectors:
COVID-19 Pandemic: The pandemic has significantly affected the luxury goods sector, with temporary store closures, reduced international travel, and changes in consumer behavior impacting sales.
E-commerce Growth: The rise of e-commerce has compelled luxury brands, including LVMH, to adapt their strategies and enhance their online presence to cater to evolving consumer preferences.
Sustainability and Ethical Concerns: Consumers are increasingly demanding sustainable and ethically sourced products, leading luxury brands to focus on adopting environmentally friendly practices and transparent supply chains.
Components of LVMH
LVMH operates in five main business segments:
Fashion & Leather Goods: This segment includes luxury fashion brands such as Louis Vuitton, Christian Dior, Fendi, and Loewe.
Perfumes & Cosmetics: LVMH's portfolio in this segment features brands like Guerlain, Givenchy, Benefit Cosmetics, and Fresh.
Watches & Jewelry: Prominent brands under this segment include TAG Heuer, Bulgari, Hublot, and Boucheron.
Wines & Spirits: LVMH's wine and spirits portfolio comprises brands like Moet & Chandon, Hennessy, Dom Perignon, and Veuve Clicquot.
Selective Retailing: This segment includes retail operations such as Sephora and DFS Group (Duty-Free Shoppers).
Broader Economic Trends Impacting LVMH
Several overarching economic trends currently affect LVMH:
Global Economic Recovery: As economies rebound from the pandemic-induced recession, consumer spending on luxury goods is expected to rise, potentially benefiting LVMH.
Emerging Markets Growth: The expanding middle class in emerging markets, particularly in Asia and the Middle East, presents growth opportunities for luxury brands like LVMH.
Currency Fluctuations: Exchange rate fluctuations can impact LVMH's revenue and profitability, as the company generates a significant portion of its sales from international markets.
Insider Info
Sources report that there has been considerable speculation that Bernard is positioning his five children within his $500 billion luxury goods empire, providing each of them an opportunity to demonstrate their capabilities to both him and major investors before he steps down.
Last year, Arnault Sr. amended LVMH's articles of association, allowing him to stay at the helm until his 80th birthday. Although this milestone is just over five years away, it appears that he wants to ensure a seamless transition for his chosen successor, which could potentially occur sooner if he decides so.
Antoine, the eldest son, serves as the vice-chairman of Christian Dior's fashion division and oversees Moët Hennessy. Moreover, he is responsible for bolstering LVMH's reputation as the world's leading provider of luxury products, ranging from couture and luggage to fine wines, watches, and jewellery.
The Olympics, commencing on July 26, will offer an unparalleled showcase for LVMH during the 350,000 hours of planned TV broadcasts worldwide, as predicted by the organizers. Antoine reportedly views the 16 days of competition as an exceptional opportunity to emphasize LVMH's status as the embodiment of French craftsmanship and heritage to consumers across the globe.
Insiders suggest that Antoine is determined to leverage the sponsorship to elevate the entire LVMH luxury portfolio while avoiding excessive brand logo displays that could potentially diminish its image.
After the announcement of Louis Vuitton's digital Treasure Trunk nonfungible tokens, parent company LVMH Group has revealed two groundbreaking strategic partnerships. One with Epic Games (creator of Fortnite and Unreal Engine) and the other one with tech giant Apple.
Louis Vuitton is the first LVMH maison to implement the technology through this official partnership. The innovation, known as the Digital Show Experience, premiered this morning at the LVMH Dream Box pavilion during the Viva Technology show in Paris. LVMH Group IT Director Franck Le Moal presented it to a select group of press members.
This six-minute interactive and immersive experience, created using Epic Games' Unreal Engine 5 technology, is a digital reimagining of the Louis Vuitton Men's Fall '23 fashion show, featuring 3D versions of products worn by avatars.
Recommendations for Investors
Given the current market conditions and economic trends, investors should consider the following strategies when managing their portfolios in relation to LVMH:
Diversification: Maintain a well-diversified portfolio across various sectors and asset classes to mitigate risks associated with market volatility.
Long-term Perspective: Focus on long-term investment goals and avoid making impulsive decisions based on short-term market fluctuations.
Monitoring Industry Trends: Stay informed about industry trends and developments that may impact LVMH and the luxury goods sector.
LVMH remains the most prominent player in the global luxury goods market and as an extension its flagship stock. More growth is forecasted but never guaranteed. By understanding the company's history, components, and current market conditions, you can make informed decisions in managing your portfolio.
This is NOT investment advice.
Author Profile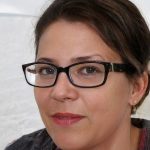 Lucy Walker is a journalist that covers finance, health and beauty since 2014. She has been writing for various online publications.