In the ever-evolving tech ecosystem, Apple's iPhone has always been a beacon of anticipation. The iPhone 15 is no exception. But with its dazzling entry into the market, the waters have muddied a tad. The question is simple: Is it a true piece of innovation, or is Apple merely ringing its own cash registers using the allure of its brand? Let's plunge into the deep end and decode the essence of the iPhone 15.
The Dawn of the iPhone 15
Apple's September 2023 sees the birth of not just the iPhone 15 but also its high-end siblings, the iPhone 15 Pro and iPhone 15 Pro Max. Nestled beside the standard iPhone 15 and iPhone 15 Plus, these models shimmer with a ton of fancy features. From a titanium alloy exterior, historically reserved for the lofty realms of spacecraft, to the intriguingly new "Action button", Apple seems to be keen on ensuring that the iPhone 15 series is in a league of its own.
Dressed in Titanium and Guarded by Ceramic
Gone are the days of the stainless-steel sheen. Apple's iPhone 15 Pro parades a captivating titanium alloy body. This wonder material, lighter and tougher than stainless steel, doesn't just bring robustness; it's an ode to elegance, coming alive in shades like white, black, natural, and mesmerising blue.
Encased within is an aluminium framework, which when combined with Apple's Ceramic Shield, arguably the sturdiest smartphone glass yet, hints at longevity and a promise of resilience against life's little accidents.
AAPL Price Chart
Beyond the Surface
Looking beyond what we can see and going beneath the immediate aesthetic, the iPhone 15 Pro and iPhone 15 Pro Max have several distinctive features. While the Super Retina XDR Display is a carry-over from previous models, what's different this time is Apple's finesse in diminishing the bezels. This subtle shift has transformed the overall visual experience, giving users an even larger, immersive screen to engage with.
And, in a move that has been widely anticipated by enthusiasts and analysts alike, Apple has finally embraced USB-C for its iPhone lineup. This change harmoniously aligns the iPhone with its Apple cousins, such as the MacBook and iPad, providing a more unified charging and data transfer ecosystem.
A Gentle Nudge on the Price
Apple's pricing strategy for the iPhone 15 series, particularly in the UK, surprised many. Contrary to the industry's expectations of a significant price bump, given the myriad of technological advancements, Apple chose a more conservative route. This decision not only exemplifies Apple's confidence in its product but is also an enticing factor for potential customers, making the new iPhones more accessible.
In the UK, the iPhone 15 starts at £799 for 128GB, going up to £1099 for the 512GB model. The iPhone 15 Plus ranges from £899 for 128GB to £1199 for 512GB. The iPhone 15 Pro is priced from £999 for 128GB, reaching £1499 for the 1TB variant. Lastly, the iPhone 15 Pro Max begins at £1199 for the 256GB version, topping out at £1599 for 1TB.
Performance: Unbridled and Unparalleled
The heart of any smartphone is its processor, and with the A17 Pro chip, Apple has surpassed itself. This groundbreaking 3-nanometer chipset promises staggering leaps in both GPU and CPU performance. For users, this means more than just faster app launches or smoother multitasking.
The A17 Pro chip paves the way for gaming and Augmented Reality experiences that might very well set the benchmark for what smartphones can achieve in the coming years.
A New Age for Mobile Photography and Videography
The iPhone 15 isn't just another camera phone either; it's a game-changer in mobile imagery and filmmaking. Apple is blending traditional photography and professional filming into this device.
At its core, the 48-megapixel camera, which captures at 24 megapixels by default, offers sharp and detailed images. The Pro Max version adds a 5x Telephoto lens with a unique tetraprism design, offering unmatched zoom. Features like the improved Night mode, Smart HDR 5, and advanced portrait mode highlight Apple's innovation.
The iPhone 15 also excels in videography. Beyond capturing video, it introduces tools typically found in professional cameras. The ProRes Log encoding provides enhanced post-production options, and with ACES support, the colour quality meets industry standards. Users can also shoot in 4K at 60 frames per second for smooth cinematic results.
In short, the iPhone 15 isn't just a phone that can take a few nice snaps; it's a pocket-sized tool for both budding and experienced filmmakers, reshaping the landscape of photography and film.
The Gaming Odyssey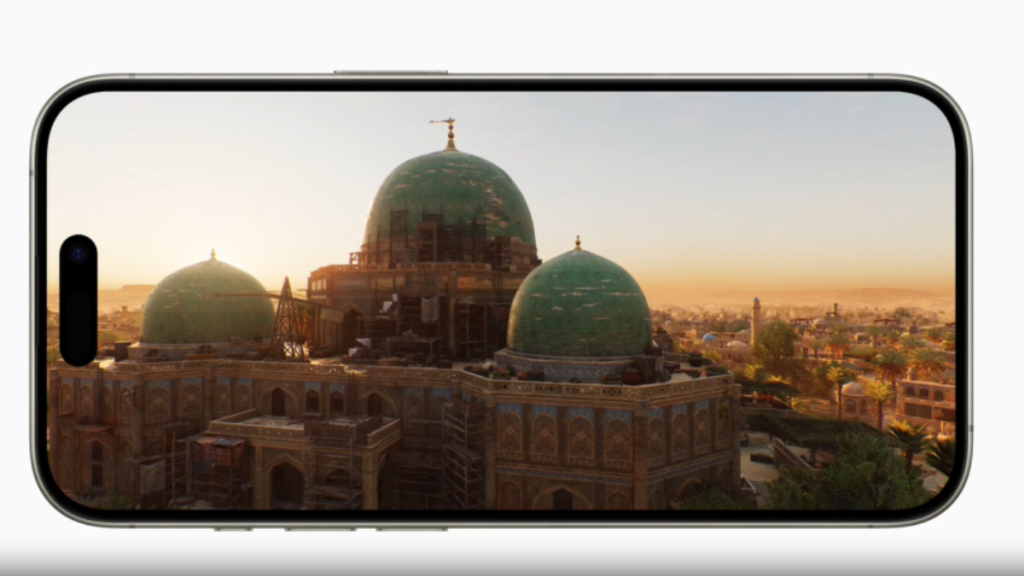 Assassin's Creed Mirage on iPhone 15 Pro
In another massive break from tradition, while Apple has predominantly been seen as an outsider, that's all seemingly about to change. Often focused on the business or creative side of tech, Apple's foray into the gaming arena with the iPhone 15 Pro has raised eyebrows and piqued interests alike.
The strategic vision of Apple is unmistakable. Gone are the days when Apple's gaming aspirations were limited to "Candy Crush" or simple AR games. Today, the landscape is shifting. Apple recognises the immense growth and potential of the gaming industry, and by targeting not just the casual but also the hardcore segment, it's tapping into a market previously dominated by console and PC giants.
The introduction of major titles like "Resident Evil: Village" and "Death Stranding" isn't a mere token gesture. It's a clarion call Apple is here to play and play big. This not only elevates the gaming possibilities on a mobile device but is also a direct challenge to competitors. The benchmark is set, and Apple is inviting, if not daring, its rivals to match or exceed these gaming heights.
The Final Verdict
To the untrained eye, the iPhone 15 Pro series might appear as mere refinements over previous models. But a more discerning look unravels layers of innovation, particularly in photography, videography, and gaming.
But here's the essence of it all: Is the iPhone 15 a genuine canvas of Apple's innovative spirit or just a glittering ornament in its portfolio? The reality likely straddles both realms. Apple has seamlessly blended remarkable enhancements with its devices. Yet, its true value might be more evident to the pro photographer, the ardent gamer, or the budding filmmaker, rather than the casual user.
Whether the iPhone 15's success stems from its intrinsic merit or the magnetic allure of the Apple brand is a tale yet to be fully told. For now, it remains a shimmering testament to technology, design, and perhaps, a bit of that Apple magic.
For the latest in tech and financial insights, What the Finance is your go-to source. Dive into expert analyses, timely news, and industry leader insights. Equip yourself to make informed choices, seize opportunities, and shape your financial future.
Author Profile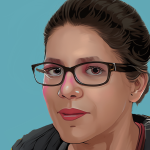 Lucy Walker is a journalist that covers finance, health and beauty since 2014. She has been writing for various online publications.