The unfolding tale of the Web3 ecosystem is nothing short of mesmerising. As the digital landscape swiftly evolves, certain platforms break through the din and signal a promising future. Immutable X is one such juggernaut, especially in the nexus of non-fungible tokens (NFTs) and blockchain-based gaming.
Journey's Start: The Ferguson Vision
Picture a world where gaming transcends mere recreation; that's the utopia James and Robbie Ferguson envisaged. These visionary siblings didn't just hop onto the blockchain gaming bandwagon; they practically built it with their groundbreaking venture, Etherbots. Heralded by many as possibly the world's inaugural blockchain-centric game, Etherbots bore the thrilling essence of Robot Wars, all while being decentralised.
But the Fergusons were far from done. Their next magnum opus was 'Gods Unchained', a trailblazing trading card game underpinned by blockchain technology. Their blueprint was revolutionary: Why not let players truly own their digital in-game assets? As 'Gods Unchained' took the gaming sphere by storm, the Ethereum network's limitations cropped up, particularly its scalability concerns.
Next came a fortuitous collaboration with Starkware, a maestro in blockchain security and scalability. Together, they confronted Ethereum's challenges head-on, bolstering its capacity, pruning costs, and fortifying security. This synergy culminated in the birth of Immutable X.
Immutable X: The Perfect Alchemy of Efficiency and Safeguarding
Immutable X isn't merely a fancy platform name; it epitomises the future. Tailored as a layer-2 scaling solution for Ethereum, its use of StarkEx zero-knowledge rollups (ZK rollups) propels its capacity, enabling it to handle a staggering 9,000 transactions every second. The resultant fusion is a platform offering both the lightning-quick prowess and Ethereum's unwavering security.
Adding another feather to its eco-friendly cap, Immutable X is impeccably poised to diminish its environmental impact as Ethereum transitions from a Proof-of-Work (PoW) consensus mechanism to the more sustainable Proof-of-Stake (PoS).
Furthermore, Immutable X's real magic lies in its ability to unshackle developers from technical obstacles. This freedom sparks heightened creativity, allowing game developers to craft more immersive and rich gaming landscapes. Need proof? Look no further than the ImmutableX Link an ingenious service that elegantly simplifies third-party NFT wallet integration.
Immutable X's Expansion Odyssey
To term Immutable X's rise as simply 'impressive' would be an understatement. The platform has forged robust alliances with industry titans like Illuvium and Guild of Guardians, and seamlessly melded with major NFT marketplaces. Further testament to its burgeoning clout? A recent fundraiser saw them accumulate an eye-watering $260 million. Their ambitious business blueprint includes growing their team to a formidable 600-strong by 2025, alongside introducing a plethora of innovative games.
An especially thrilling chapter in this expansion saga was the collaboration with retail giant GameStop, birthing the GameStop NFT Marketplace. This enterprise is geared towards offering GameStop's vast user base a taste of Immutable X's unparalleled offerings.
Unravelling the $IMX Token
Perhaps, the most intriguing evolution in the Immutable X saga is the advent of the $IMX token. This isn't just a token; it's the lifeblood that courses through the platform. Launched in 2021, $IMX is intimately woven into the very fabric of Immutable X, dictating everything from transaction fees and staking rewards to the platform's decentralized governance.
Immutable X transactions might proudly flaunt a 'gas-free' tag, yet a nominal 2% protocol fee remains. Intriguingly, a fifth of this sum morphs into $IMX, bolstering the staking rewards kitty. This ensures users aren't obliged to possess $IMX to execute transactions.
For $IMX holders, staking isn't just an idle endeavour; it's an invitation to partake in Immutable X's flourishing journey. The platform's ethos? Let success be shared! Staking rewards, siphoned from the aforementioned protocol fees, are equitably distributed amongst stakers, mirroring their individual contributions.
Yet, the allure of $IMX doesn't end at mere rewards. It's also a clarion call to actively sculpt Immutable X's trajectory. Token holders wield the power to vote on diverse proposals, capturing the community's essence at the very core of decision-making processes.
The Grand Finale: Envisioning a Luminous Tomorrow
Immutable X isn't just a fleeting sensation in the world of blockchain; it heralds a seismic shift in our comprehension of NFTs and blockchain gaming. By melding avant-garde solutions, forming strategic alliances, and placing its community front and centre, Immutable X sketches a radiant blueprint for Web3 gaming's future. If one thing's for certain, the gaming realm's horizon isn't merely steadfast; it's pulsating with boundless excitement.
Author Profile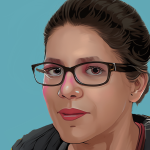 Lucy Walker is a journalist that covers finance, health and beauty since 2014. She has been writing for various online publications.