In an era of social media's unremitting dominion over public discourse, it is not uncommon to witness dramatic allegations surface on platforms like Twitter. Such an accusation was put forth on November 13, 2021, but has only been picked up now, by an unverified Twitter account under the name Annie Altman (@phuckfilosophy), claiming to be the sister of Sam Altman, the CEO of OpenAI.
The tweets contained a series of grave accusations, including allegations of various forms of abuse. We explore the allegations, but it is critical to underscore that the veracity of these claims has not been established, nor has the identity of the Twitter account been verified.
April 28, 2023
The Claims
The alleged account of Annie Altman accused her brother, Sam Altman, of various forms of abuse, including sexual, physical, emotional, verbal, financial, and technological. She suggests that her brother was involved in activities that could have severe legal and ethical implications, should they be proven true. She also hints at emotional trauma, indicating that she suffers from PTSD due to sexual traumas, exacerbated by the alleged actions of her brother. She further speaks about having suffered from a variety of medical issues like tendon and nerve pain, as well as ovarian cysts.
The financial aspect of the alleged abuse delves into the withholding of funds that were left to her by their deceased father, as well as a cryptic offer to buy her a house under conditions that would restrict her control over it. The alleged victim also claims to have been engaged in sex work and an OnlyFans account due to dire financial circumstances, which she attributes to her brother's alleged withholding of funds.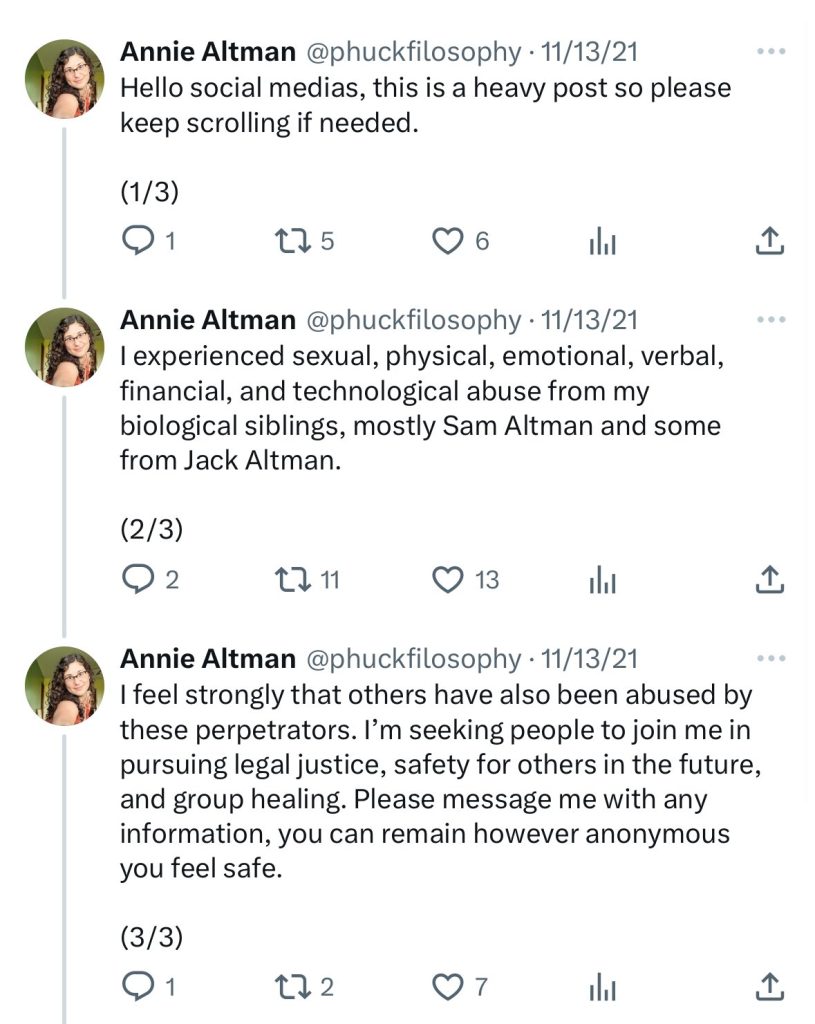 Alleged Technological Gaslighting
The allegations from Annie Altman regarding shadowbanning and its detrimental impact on her professional life open up a Pandora's box of ethical and legal quandaries in the realm of online discourse and business. Shadowbanning, if as alleged, can serve as a form of "technological gaslighting," subtly manipulating users into doubting their perceptions by making them invisible on the platform without their knowledge.
In Altman's specific case, she claims to have been systematically shadowbanned across multiple accounts, a measure she alleges impeded her from growing an online business and making a sustainable income. This adds a complex layer of ethical dilemmas, as it goes beyond censorship to arguably tamper with an individual's livelihood and mental well-being.
If these allegations hold weight, they could potentially raise concerns not only about the ethics of shadowbanning as a practice but also about how power dynamics in the technology industry may be exploited for personal grievances. Annie Altman's claim that she has been shadowbanned by her older sibling, who wields considerable power in the artificial intelligence sector, could become a talking point for debates about the responsible use of technology and its potential for misuse.
The act of shadowbanning, especially when done by those who have a personal connection to the person being banned, highlights significant ethical concerns that warrant further investigation and could lead to increased scrutiny of the technology companies involved.
Emotional & Psychological Dimensions
The accuser claims to have navigated her way through these incidents by employing a range of trauma therapies. She mentions her foray into sex work as a sort of inadvertent therapy that helped her come to terms with her past traumas. The irony of her healing process, as she states, is that it was the only available option given her circumstances.
Relevance & Scope
It is noteworthy that the account expresses disinterest in "he said/she said" debates or legal action regarding experiences during childhood. Instead, she is more inclined towards an acknowledgement of her narrative within a broader discourse and freedom from alleged gaslighting.
Thank you @nymag for acknowledging my existence and experiences.

Thank you for publishing "Jerry Altman," and facts about his health and overworking in the last years of his life.

I cannot begin to explain how relieving this feels, thank you is an understatement. ❤️ pic.twitter.com/dWNLAgAvPi

— Annie Altman (@phuckfilosophy) September 25, 2023
A Call for Transparency
The unverified account is actively seeking individuals who share similar experiences and are willing to come forward for "group healing" and the pursuit of "legal justice." In an era where truth can often be elusive, these allegations serve as a reminder of the imperative for transparency, not only for those involved but for society at large.
Ethical, Legal & Financial Considerations
The legal and ethical ramifications of these allegations, if proven true, could be momentous for both the accused and the alleged victim. Lawsuits, criminal charges, and the destruction of professional and personal lives are all very real possibilities.
From an ethical standpoint, Annie Altman's unverified allegations against Sam Altman, the CEO of OpenAI, underscore the critical importance of conducting a thorough and impartial investigation. It is imperative that organizations, both internal and external, approach these allegations with the gravitas they deserve while respecting the legal rights and privacy of both parties involved.
Yet, navigating the ethical landscape becomes particularly complex when the accused holds a position of significant influence. A cursory or incomplete investigation would not only potentially fail to provide justice for Annie Altman, should her claims be substantiated, but also could undermine public trust in OpenAI as an institution committed to ethical considerations, including those concerning artificial intelligence.
On the financial side, these allegations could have potentially significant repercussions for OpenAI and its partnerships, most notably with Microsoft, which has invested $1 billion in the company. If the allegations are substantiated, this could lead to a loss of public trust in OpenAI's leadership, causing both partners and investors to reconsider their association with the company.
Moreover, the situation could create legal entanglements that might drain resources and divert the focus of OpenAI from its mission. This comes at a time when OpenAI is central to advancements in artificial intelligence, a field that has broad societal implications and offers significant economic opportunities. Thus, the allegations, if proven, could have a cascading effect that impacts not just the involved individuals but also stakeholders, and even the trajectory of advancements in artificial intelligence.
A Delayed Response
In the whirlpool of accusations, counter-arguments, and public sentiment, it is often difficult to maintain an unbiased stance. However, it is our ethical obligation to approach such serious allegations with the caution they warrant. It is necessary to distinguish between the power of allegations and the substantiation of truth. As of the moment, these allegations remain that, unproven claims by an unverified account. Hard to jump to any conclusions but it would be interesting to see how the story evolves.
Note: This article is based on tweets from an unverified Twitter account claiming to be Annie Altman, and the allegations have not been confirmed or proven. The identity of the Twitter account is also not verified. Therefore, all information should be treated as alleged and unconfirmed.
Author Profile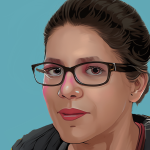 Lucy Walker is a journalist that covers finance, health and beauty since 2014. She has been writing for various online publications.