In an incredible turn of fate now, to get your business verified on Twitter as a Verified Organization will only set you back a mere $12,000 per year. However as most other changes recently on Twitter, you either love it or hate it. And guess what most people are thinking right now.
So if your business or organization is looking to gain credibility and increase its visibility on Twitter these days, you may want to consider Twitter Verified Organizations or you options might become very limited. With this service, businesses of all types can sign up and manage their verification and affiliate any related accounts for an extra fee.
If You Are Rich, Welcome to the New Twitter
For a monthly fee of (hold on to something) $1,000 (plus any applicable tax) and $50 (plus any applicable tax) for each affiliated account, Twitter Verified Organizations allows you to distinguish yourself on Twitter and gain the new yellow checkmark.
But here is some even weirder news – Twitter is exempting the 10,000 most-followed organizations from this monthly fee. This as anything else to do with this policy, will be fair to some, and very unfair to some others.
Meaning that you might be eligible for a free verified checkmark if your business already boasts a large following on this platform. Which in turn might also mean you are one of those very few companies that can affort to pay Twitter in excess of $1000 per month.
Advertiser Excemption
Verified Organizations is an especially useful tool for businesses that want to advertise on Twitter. In fact, Twitter now reportedly requires all advertisers to have a verified blue checkmark, which means it's more important now than ever to get verified.
The exemption for businesses is that if they spend $1000 per month, they will not have to pay for verification. Whilst this again might be logical for some businesses, some smaller businesses which used Twitter, are not anymore going to be able to do so.
Revenue Streams & the Collapsing Advertising Dream
Elon Musk famously said "We have to somehow pay the bills" and this latest move would raise $100 million dollars per month if he manages to attract 100,000 subscribers to this service.
However judging by the success (or not) of the current blue checkmark which attracted only 600k people so far at $8 per month (and makes a mere $4.8m per month), this new scheme is not looking great from the outset.
If Twitter only convinced 600,000 users to pay for verification, then it is hard to see how it will convince 100,000 businesses or non-profit organizations to fork out this amount.
Is it Fair?
Probably not if you are a small business. By introducing a flat fee you leave out a lot of organizations that would otherwise want to get verified but now cannot afford it.
But as with anything else that Elon Musk is building it is exclusive to a certain audience that can afford his latest whim, whether this is a car, rocket or social media network.
Charities and not for profit organizations will know how to spend their $$$ better than spend over $1000 of their hard collected money on social media verification. Because what if this sticks?
If it costs $1000 to get verified on each major social network, there would be a business cost of at least $5,000 per month for every business, a staggering $60,000 per year. Most small businesses do not pay anywhere close to that for their entire yearly marketing budget.
Let alone a fancy verification button. Huh.
Author Profile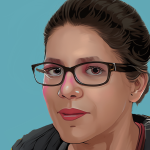 Lucy Walker is a journalist that covers finance, health and beauty since 2014. She has been writing for various online publications.