The pet industry is booming. In 2019, pet-related spending topped out at a record high of $95 billion and continues to grow year over year. The most recent number is $222.93 billion for 2023. A key driver of this growth is the rise of pet ownership and the subsequent business ecosystem that caters specifically to pets and their owners.
It also includes other businesses such as restaurants that increasingly accept pets, boosting their sales in the process. Let's take a closer look at why this market is so popular and how investors can benefit from it.
What is the Pet Economy?

The pet economy refers to the growing number of businesses that are catering to both pet owners and their beloved four-legged friends. This includes everything from specialty pet food stores to luxury pet spas. As more and more people view their pets as part of the family, they're willing to spend money on products and services that make their lives easier, and better, for their furry friends.
Why Now?

The rise of the pet economy has been driven largely by technological advances in recent years. For example, there are now apps available for pet owners that allow them to keep track of their pets' health records, find veterinarians in their area, or even order prescription medications for their animals without having to leave home. These innovations make owning a pet easier than ever before and have helped fuel the growth of this sector.
Investment Opportunities

Given its rapid growth, investing in companies operating within the pet economy can be a great way for investors to capitalize on this trend. There are many different areas where investments can be made: companies that develop or manufacture products specifically for pets (e.g., toys, accessories), companies that provide services such as grooming or daycare, and companies that specialize in online retailing (e.g., subscription boxes).
Investors should do their research carefully when considering an investment in this sector to ensure they get the most bang for their buck.
A Growing Economy

The pet economy is here to stay, with no signs of slowing down anytime soon! This burgeoning industry offers investors a great opportunity to capitalize on its growth as it continues to expand into new markets around the world.
With technological advances making it easier than ever for people to care for their pets, there's no telling what new products or services could be developed in coming years, meaning there's still plenty of potential for those who invest wisely now.
By doing your research beforehand and staying up-to-date on current trends within this market space, you'll be well-positioned to take advantage of any opportunities that come your way!
Author Profile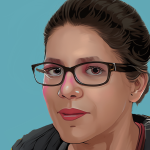 Lucy Walker is a journalist that covers finance, health and beauty since 2014. She has been writing for various online publications.