Kaspa is trending right now. Do you want to know why? KAS is a cryptocurrency project that utilizes the GHOSTDAG protocol, an extension of the Bitcoin Consensus algorithm. With a focus on speed and the purity of its proof-of-work consensus engine, Kaspa aims to establish itself as a leading blockchain network.
By building upon the foundations of Bitcoin's robust consensus mechanism, Kaspa aims to provide faster transaction processing times while maintaining the core principles of security and decentralization. It is a purist's game when it comes to the Proof-Of-Work consensus mechanism.
The implementation of GHOSTDAG allows for efficient validation of transactions, making Kaspa an attractive option for users seeking rapid and reliable cryptocurrency transactions. Through its commitment to enhancing transaction speed and maintaining the integrity of the proof-of-work model, Kaspa strives to position itself as a competitive player in the evolving cryptocurrency landscape.
KAS/USD 1-Year Chart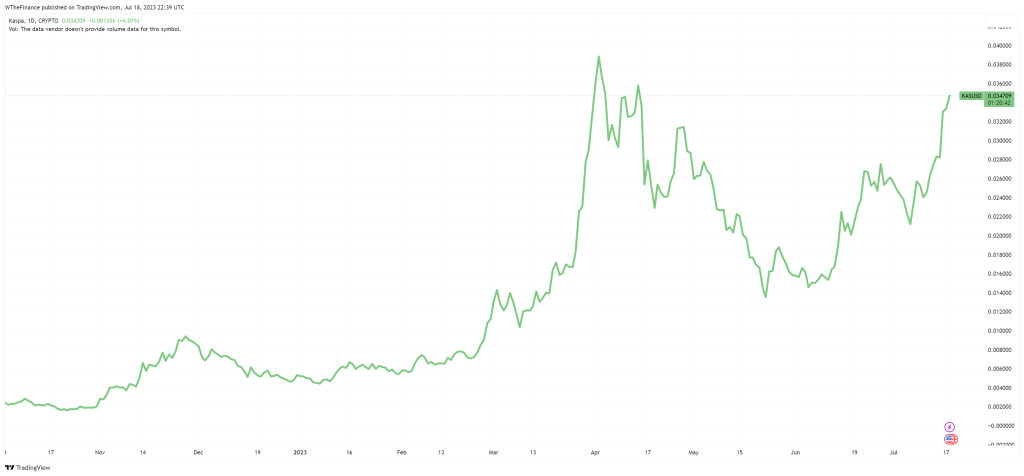 Here is a comprehensive analysis of Kaspa and the potential of its native cryptocurrency KAS (which is also available as a wrapped token on the Ethereum Network):
Technology and Scalability: Kaspa distinguishes itself by implementing the GhostDAG protocol, which combines the benefits of Directed Acyclic Graph (DAG) and traditional blockchain structures. This innovative approach enhances scalability, allowing for a higher number of transactions per second and reducing confirmation times.
Fast and Secure Transactions: With the GhostDAG protocol, Kaspa achieves faster confirmation times compared to many other blockchain networks. This makes KAS an attractive cryptocurrency for users seeking quick and efficient transactions. Additionally, Kaspa's focus on security ensures the integrity of transactions and the protection of user funds.
Community and Development: Kaspa has a dedicated community of developers and supporters who contribute to its growth and improvement. The project's open-source nature encourages collaboration and innovation, fostering the development of decentralized applications (dApps) on the Kaspa network.
Market Potential: As blockchain technology gains wider adoption, the demand for scalable and efficient networks increases. Kaspa aims to tap into this market by offering a solution to the scalability challenges faced by traditional blockchain platforms. If successful, Kaspa and its native cryptocurrency KAS could experience significant growth as more users and businesses seek scalable blockchain solutions. Crypto investors would be happy with recent developments such as Kaspa partnering with CoinPal to innovate in e-commerce and a pool addition with the popular decentralized mining service Poolin.
Risks and Challenges: Like any crypto project, Kaspa faces risks and challenges. Competition from other blockchain platforms addressing scalability, regulatory hurdles, and market volatility are factors that could impact the project's growth and adoption. It is important for investors and users to conduct thorough research and carefully assess the project's progress and potential risks.
KAS Exchanges
KAS is listed on a number of reputable exchanges such as:
KuCoin
MEXC Global
CoinEx
Gate.io
DigiFinex
UpHold
TradeOgre
LBank
BitPanda
Popular Exchange Pairs
The Community
Community is key in crypto. Often the reason a project might succeed or fail. The Kaspa crypto community is a vibrant and dedicated group of individuals who actively participate in the development and growth of the Kaspa ecosystem. With a shared enthusiasm for blockchain technology and the potential of the Kaspa project, community members contribute their expertise, ideas, and support to propel the platform forward. Apart from the usual hotspots the project also has a reach in Africa where it recently collaborated with Makerere University in Uganda.
The community fosters collaboration, providing valuable feedback to the development team and actively engaging in discussions related to the project's roadmap, features, and future enhancements. The open-source nature of Kaspa encourages community involvement, allowing developers to build decentralized applications (dApps) on the platform and contributing to the expansion of the ecosystem.
Through various online forums, social media channels, and offline events, the Kaspa community creates an environment of knowledge sharing, networking, and collective growth. The active and engaged community plays a pivotal role in driving awareness, adoption, and the overall success of the Kaspa project. Discord is one of the busiest platforms with 26k members
Proof-Of-Work in its Purest Form
Kaspa and its native cryptocurrency KAS present an intriguing solution to the scalability limitations of traditional blockchains. The GhostDAG protocol offers faster transaction speeds, while the project's active community and commitment to security contribute to its potential success.
However, investors and users should be mindful of the risks and challenges inherent in the crypto market. Continued development, adoption, and market demand will determine the long-term success of Kaspa and the value of its native cryptocurrency, KAS.
Author Profile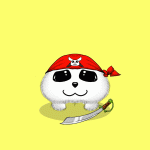 Community moderator of the Banano memecoin since 2018. I have since been involved with numerous cryprtocurrencies, NFT projects and DeFi organizations.