Ethereum has emerged as a major player in the cryptocurrency ecosystem, revolutionizing the blockchain landscape with its unique features and applications. As a financial analyst, it's essential to delve into the origins and history of Ethereum, examining its inception, key milestones, and the impact it has had on the overall cryptocurrency market.
The Inception of Ethereum
Ethereum was first conceptualized in 2013 by a young Russian-Canadian programmer named Vitalik Buterin. Recognizing the limitations of Bitcoin's blockchain, which primarily focused on peer-to-peer transactions, Buterin envisioned a platform that could support decentralized applications (dApps) and smart contracts – self-executing agreements with terms written directly into code.
To bring his idea to life, Buterin collaborated with other notable figures in the crypto space, including Dr. Gavin Wood, Joseph Lubin, and Charles Hoskinson. Together, they established the Ethereum Foundation, a Swiss non-profit organization responsible for overseeing the development of the Ethereum platform.
Factors and Conditions Leading to Ethereum's Development
Ethereum was born out of the need for a more versatile and programmable blockchain platform. While Bitcoin's blockchain was revolutionary in enabling secure, decentralized transactions, its limited scripting language restricted its potential applications. Ethereum sought to address these limitations by incorporating a Turing-complete programming language, allowing developers to create a wide range of dApps and smart contracts on its platform.
The advent of Ethereum also coincided with growing interest in blockchain technology, as investors, developers, and businesses began to recognize the potential applications and benefits of decentralized systems.
Major Milestones in Ethereum's Development
Since its launch in 2015, Ethereum has experienced several important milestones:
Crowdfunding and Genesis Block (2014-2015): Ethereum's development was funded through a successful crowdfunding campaign in 2014, raising over $18 million. In July 2015, the Ethereum network went live with its Genesis block.

The DAO Hack and Ethereum Hard Fork (2016): In June 2016, a decentralized autonomous organization (DAO) built on Ethereum was hacked, resulting in the theft of around $50 million worth of Ether. This event led to a contentious hard fork, splitting the Ethereum network into two separate blockchains – Ethereum (ETH) and Ethereum Classic (ETC).

Enterprise Ethereum Alliance (2017): A consortium of major corporations, including Microsoft, J.P. Morgan, and Intel, formed the Enterprise Ethereum Alliance (EEA) to collaborate on developing enterprise-grade applications on the Ethereum platform.

Initial Coin Offerings (ICOs) Boom (2017): Ethereum's platform facilitated the ICO boom of 2017, enabling numerous blockchain projects to raise funds by issuing their own tokens on the Ethereum network.

Ethereum 2.0 Upgrade (Ongoing): Ethereum is currently undergoing a significant upgrade known as Ethereum 2.0, which aims to address scalability and energy consumption issues by transitioning from a Proof-of-Work (PoW) consensus mechanism to a Proof-of-Stake (PoS) model.

The Impact of Ethereum on the Cryptocurrency Ecosystem
Ethereum has played a pivotal role in shaping the cryptocurrency landscape. As the second-largest cryptocurrency by market capitalization, it has attracted significant investment and developer interest. Its support for dApps and smart contracts has laid the foundation for the booming decentralized finance (DeFi) sector, enabling users to access financial services such as lending, borrowing, and trading without intermediaries.
Moreover, Ethereum's ERC-20 token standard has served as the basis for countless other cryptocurrencies and digital assets, further cementing its position as a vital component of the crypto ecosystem.
In conclusion, Ethereum's origins and history highlight its innovative nature and the visionary ideas that led to its creation. Its unique features and applications have transformed the blockchain landscape, paving the way for a new era of decentralized systems and financial services. As Ethereum continues to evolve, it remains a driving force in the cryptocurrency ecosystem, solidifying its position as one of the most valuable and influential platforms in the space.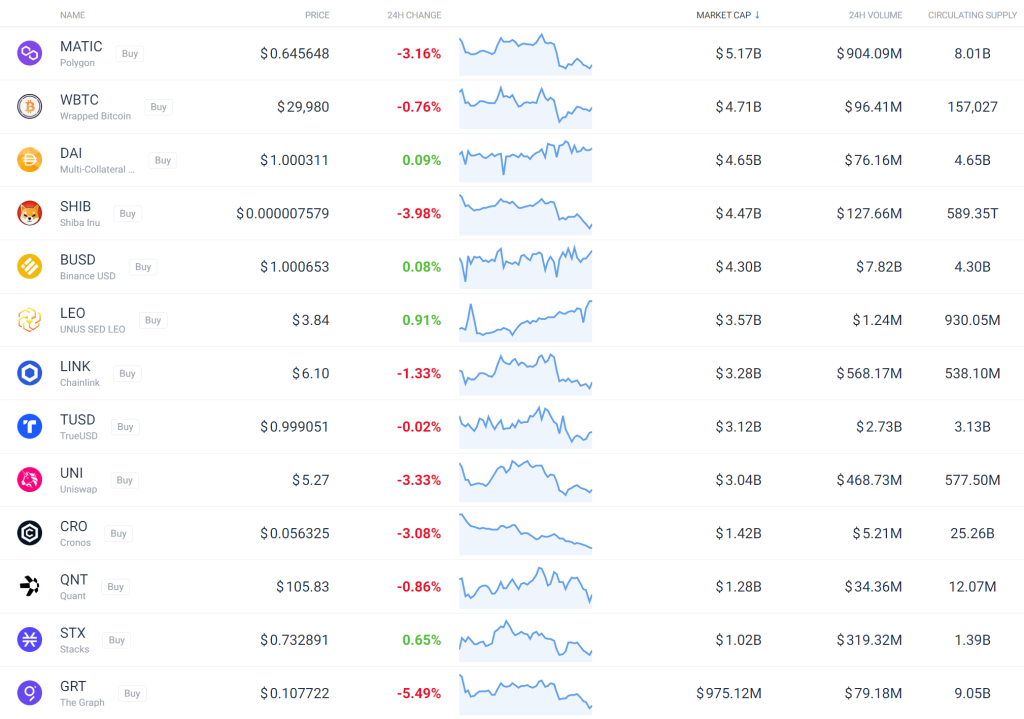 Forks in the Ethereum Network
In recent years, several forks have been made from the original Ethereum blockchain. The most notable fork is Binance Smart Chain (BSC), which was launched in 2020 by Binance Exchange. BSC provides developers with an alternative platform for creating dApps that are faster and cheaper than those built on Ethereum. Other forks include Tron (TRX) and EOS (EOS).
ERC-20 Tokens by Market Capitalization
As of June 2023, there are over 450,000 ERC-20 tokens with 1,277 listed on Etherscan with a combined market capitalization of over $40 billion USD. These tokens have helped drive wider adoption of Ethereum through their use in DeFi protocols such as Uniswap and Aave as well as NFTs like CryptoKitties and Decentraland.
Token Creation on Ethereum
Token creation on Ethereum has evolved significantly since its launch in 2015. Initially limited to ERC-20 tokens only, developers can now create more complex tokens such as ERC-721 non-fungible tokens (NFTs) that represent unique digital assets like artwork or collectables. This has paved the way for revolutionizing the NFT market with projects such as OpenSea becoming some of the most popular platforms for buying and selling NFTs today.
Security & Scalability
The security offered by Ethereum is unparalleled compared to other blockchain networks due to its proof-of-work consensus mechanism which requires miners to solve complex mathematical puzzles before validating transactions on the network. This makes it difficult for malicious actors to tamper with data stored on Ethereum's immutable ledger or disrupt operations on the network itself.
Ethereum's scalability has improved significantly over time due to various upgrades such as sharding which allows transactions to be processed faster without compromising security or decentralization. This has enabled developers to build a wide range of decentralized applications including games, exchanges, prediction markets, insurance products etc., all running securely on top of Ethereum's blockchain network.
Market Statistics
ETHUSD 2023 Chart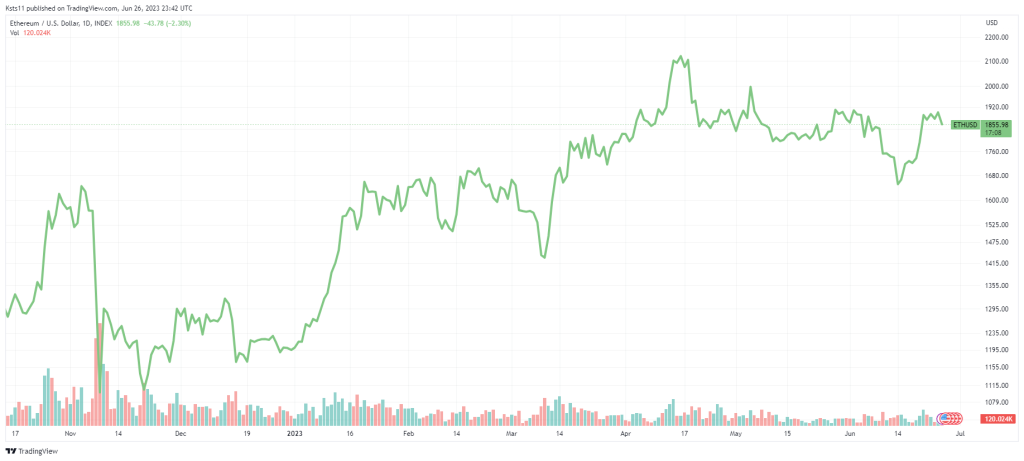 Ethereum (ETH) has recently reached a significant level, leading to increased bearish expectations. ETH's recent upward momentum has encountered resistance from late May and early June levels, causing the bulls to retreat and giving rise to bearish sentiment. Consequently, short positions are accumulating.
A recent analysis examined an intriguing large short position. A $12 million short position on ETH suggests that some whales see potential in downside opportunities. These positions stand to profit substantially if the price drops, but they could lose if the bulls regain control of the market. The balance between shorts and longs is a crucial indicator, as it can influence the market's direction. A higher number of short positions compared to longs may deter short-term holders and prompt selling pressure.
Conversely, liquidating short positions, particularly in large quantities, may fuel bullish sentiment. The opposite holds true for substantial liquidation of long positions. Therefore, it's essential to consider factors such as leverage and demand in the derivatives market.
Demand in the derivatives sector rebounded on June 19th, while the estimated leverage ratio recovered on June 23rd.
The Future Potential
It is important to recognize the promising future and potential of Ethereum (ETH). Ethereum has already established itself as a versatile platform with widespread usage across various sectors, including decentralized finance (DeFi) and non-fungible tokens (NFTs). Its ability to support numerous native tokens through the ERC-20 and ERC-721 standards has attracted countless projects and developers, further solidifying its position within the cryptocurrency ecosystem.
Ethereum's NFT creation capabilities have opened up new avenues for digital art, collectibles, and intellectual property rights management, showcasing its adaptability and innovation. With ongoing advancements such as the Ethereum 2.0 upgrade and the growing adoption of blockchain technology, Ethereum is well-positioned to capitalize on these developments and continue its trajectory as a leading force in the world of digital assets and decentralized applications.
Author Profile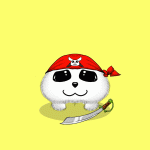 Community moderator of the Banano memecoin since 2018. I have since been involved with numerous cryprtocurrencies, NFT projects and DeFi organizations.