In the vast expanse of our financial universe, one star has been steadily growing brighter and more controversial: Cryptocurrency. The first whisper of this digital revolution came with the creation of Bitcoin, a little over a decade ago. Since then, the world of cryptocurrency has alternately been hailed as the harbinger of a financial utopia and condemned as an unstable, speculative bubble primed to burst. As we gaze at the horizon of 2023, a crucial question emerges: Is cryptocurrency still an emerging dawn, or has the sun already set in its prime moment?
Showering Fortunes: The Investment Odyssey
Our quest to understand the relevance of cryptocurrency begins by observing the staggering profits it has showered upon its early adopters. Bitcoin, the trailblazer of the crypto movement, embarked on its journey priced merely at a few cents in 2009. By 2021, it had scaled the lofty heights of well over $60,000 per coin, turning modest investments into colossal fortunes. Ethereum, another star in the crypto constellation, has had a similar ascendance – from under the humble $ Dollar mark in 2015 to over an impressive $4,000 in 2021. These staggering figures paint a narrative of unimaginable returns, suggesting that for those who boarded the crypto train early, it has been a golden journey.
Beyond Financial Gain: The Technological Vanguard
Cryptocurrencies are not merely another investment class; they're the pioneers of a technological revolution – blockchain. This decentralized ledger system, with its transparency and immutability, holds the potential to reform industries beyond the realm of finance, including logistics, healthcare, real estate, and more. Hence, cryptocurrencies are more than just financial instruments; they're the vanguard of a technological revolution poised to transform the world as we know it.
Reality Check: Navigating the Storm of Challenges
The journey through the crypto universe isn't devoid of turbulence. Cryptocurrencies have been plagued by extreme price volatility, a byproduct of their nascent nature and market sentiment. They have also found themselves ensnared in regulatory quandaries, with countries like China imposing stringent restrictions, while others are still figuring out an appropriate regulatory framework. Lastly, the adoption of cryptocurrencies as a daily medium of exchange remains limited, with the technical complexities of understanding and using cryptocurrencies presenting a significant barrier for the average person.
Total Crypto Market Capitalization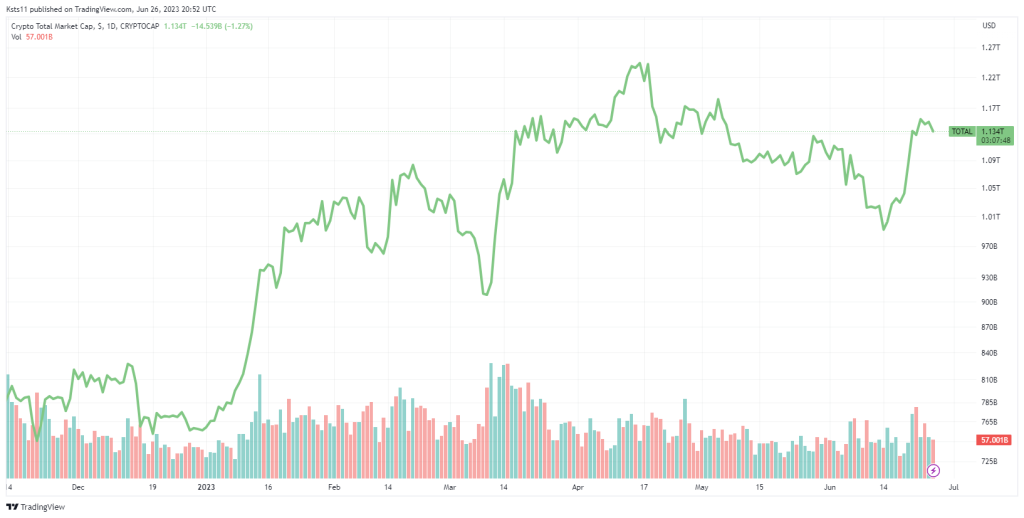 Echoes from the Past: The Bubble Dilemma
The incredible profits reaped by early crypto investors do cast a long shadow, with many falling into losses due to the volatile swings of the crypto market. The annals of financial history are stained with tales of bubbles that have burst, leaving ruin in their wake. The infamous Tulip Mania of the 17th century, and the Dotcom bubble of the late 1990s – all began with a frenzy of investments, only to end in despair. Critics argue that cryptocurrencies, with their wildly fluctuating prices, seem to be dancing to the same discordant tune, and warn of a catastrophic burst of the crypto bubble.
The Democratization of Finance: A Level-Playing Field
In the world of traditional finance, significant capital is often required to participate in lucrative opportunities, inadvertently creating barriers for average individuals. Cryptocurrencies, on the other hand, offer a level playing field. An individual can purchase fractions of a Bitcoin or any other cryptocurrency, allowing for participation regardless of financial status. This aspect of cryptocurrencies, combined with the accessibility provided by digital wallets and exchanges, is democratizing access to wealth-generation opportunities.
A Catalyst for Financial Inclusion: Bridging the Unbanked Gap
Around 1.4 billion adults worldwide remain unbanked, according to the World Bank. They lack access to essential financial services, leading to economic disenfranchisement. Cryptocurrencies present a potential solution to this pressing issue. By leveraging blockchain technology, it's possible to create a decentralized banking system accessible to anyone with a smartphone and internet access. Such a system could provide the unbanked with opportunities to save, invest, and improve their economic status, significantly bridging the global wealth gap.
The Rise of Decentralized Finance (DeFi): The New Financial Order
Cryptocurrencies are spearheading a shift toward a new financial order: Decentralized Finance, or DeFi. This financial system doesn't rely on intermediaries like banks or brokers. Instead, financial operations are carried out on a blockchain, making them transparent, accessible, and potentially more efficient. Lending and borrowing platforms yield farming, liquidity mining are a few of the innovative applications emerging from the DeFi space. While still in its early stages, DeFi could redefine the way we interact with financial services, offering a radical alternative to traditional banking systems.
The Unsettled Argument
The debate surrounding the future of cryptocurrencies remains contentious. On one hand, they offer a tantalizing glimpse into a future where transactions are decentralized, transparent, and secure, promising significant returns for investors. On the other hand, the stark realities of volatility, regulatory challenges, and adoption barriers caution against unbridled optimism. The true value and potential of cryptocurrencies continue to be hotly debated, but one thing is certain: for investors, traders, and tech aficionados, the crypto universe continues to be an enthralling and fascinating realm to explore.
Author Profile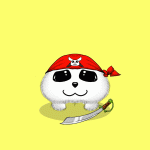 Community moderator of the Banano memecoin since 2018. I have since been involved with numerous cryprtocurrencies, NFT projects and DeFi organizations.