What is Groupon?
It is an international website which claims to offer the greatest deals on a broad range of all kinds of products and services.
What is the recommendation service?
Groupon has been long advertising a £6 Groupon credit for referrals. What does this mean? If a person recommends this deal to one of his friends her account will be credited the value of £6 as a reward. This would count for every friend that a person sends to Groupon and buys any deal on their website. The credit could then be redeemed against a future deal of choice.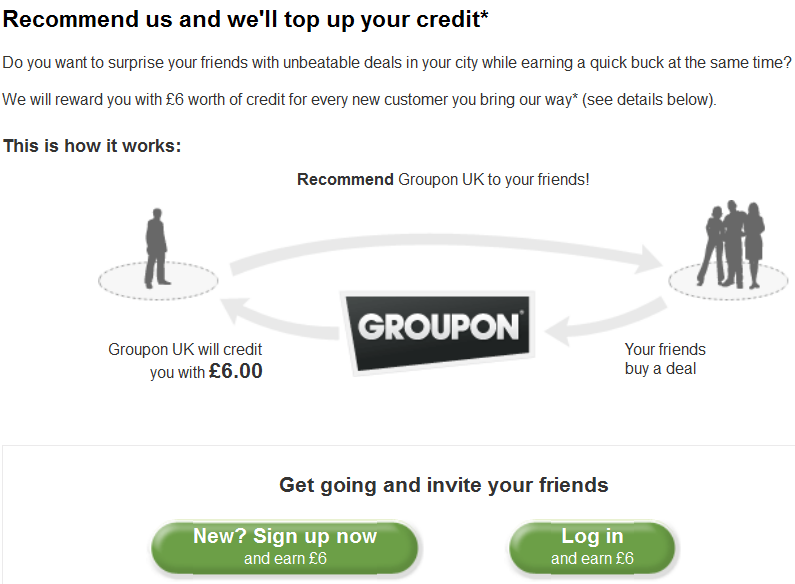 A closer look on the recommendation service
Basically what Groupon says in their advertisement is that everybody can earn 6£ once they get a friend to buy a deal through the recommendation they were giving. Sounds obviously like a good deal, where people can make some easy money by recommending a site to others. But as it so often happens in life and on the internet alike, if something sounds too good to be true, its probably because it isnt true…
Fine print
Always read the fine print first!
Only when it comes to actually paying of the credit will Groupon to explain their policy better and in more detail:
For a successful referral of a new customer, a person can get £6 credit to spend on any Groupon.co.uk purchase. But the referral has to fulfill a few simple criteria to qualify for a credit. Only if all the steps are followed, the credit is issued to a users account automatically within seven days of the referral.
So how does it really work?
Before you start working for Groupon for free… you need to know the following:
To refer a friend to Groupon, you need to have a unique referral link to pass along, but it's very easy to get. At the top right of every deal page, there's an orange tab which says "Recommend now and get £6 for every recommendation!".
BUT the most important bit lies in the fact that the recipient of the link will need to register a new account and make a purchase within 72 hours of clicking that link. Which in turn means you wont get any credits for people that are already registered with Groupon or that delay their purchase beyond the time limit.
Should you manage to refer someone new to Groupon successfully; the credits will automatically show in your account after a seven day delay period and are valid for 6 months.
BUT (yes, I am afraid there's another BUT…) the company advises that because these credits are automatically credited to your account, there is unfortunately no way for Groupon to track referrals that did not successfully go through.
Reasons that the referral may not have been successfully recorded may include:
*Your friend did not purchase the deal in one go after clicking your link.
*Multiple people referred your friend and your friend clicked a different link to subscribe or buy.
*Your friend is not a first time customer or has previously opened an account with us.
*Your friend has not purchased their first Groupon yet (even though they have subscribed).
Basically it looks to me that the recommendation service is a great way for them to go viral by offering £6 credit for every recommendation, but they have also created the small print that says something different than the offer they are advertising but protects them eventually from having to pay out the credits to the consumers.
Is it a scam? At the end of the day, I wouldn't say its a scam. But at the same time, people do need to read the small print to understand what the recommendation service is about as the promotion of the service itself is misleading.
So, my take is that it may not be a scam but it is still a not-totally honest marketing trick to get people to work for them for free.
What do you think?
Author Profile
I have been writing articles about finance, the stock market and wealth management since 2008. I have worked as an analyst, fund manager and as a junior trader in 7 different institutions.