The Never-ending Journey
The quest for financial wellness is a multidimensional journey toward achieving financial security and independence. However, the impact of financial wellness transcends the numerical figures in your bank account, deeply influencing various facets of your personal and professional life. In a time marked by financial uncertainties and increasing economic anxieties, the comprehension and application of financial wellness concepts have never been more crucial.
Dissecting the Concept of Financial Wellness
Financial wellness is characterized by a state of financial health and confidence, reflecting a delicately balanced equation of income, savings, investments, expenses, and debt. This concept is intimately tied to financial literacy, as a fundamental understanding of financial principles and skillsets is crucial for making informed decisions and working towards financial wellness.
The essence of financial wellness manifests in several areas of life. It ensures financial security and peace of mind, enabling you to concentrate on achieving your life goals and ambitions without worrying about making ends meet. Financial wellness also plays a significant role in stress reduction and the prevention of related health complications. Fostering financial independence and stability allows you to lead a life unencumbered by financial anxieties.
Interplay Between Financial Wellness and Mental Health
Financial wellness and mental health share an intricate relationship. Financial stress can pose detrimental effects on overall well-being and productivity, potentially triggering a gamut of mental health issues. Numerous scientific studies underline this correlation, thereby emphasizing the importance of financial wellness for mental health.
Financial Wellness and Physical Health
The connection between financial wellness and physical health is a topic that merits more extensive exploration. Chronic financial stress can lead to various physical health issues such as high blood pressure, heart disease, diabetes, and other stress-related conditions. Delving into this subject would shed light on how achieving financial wellness can also contribute significantly to overall physical health.
Identifying the Hallmarks of Financial Wellness
Several indicators serve as benchmarks of financial wellness. These include adhering to a well-planned budget, maintaining a robust emergency fund, managing debt effectively, saving and investing regularly for the future, and having suitable insurance coverage. Collectively, these elements form the bedrock of financial wellness.
Blueprint for Achieving Financial Wellness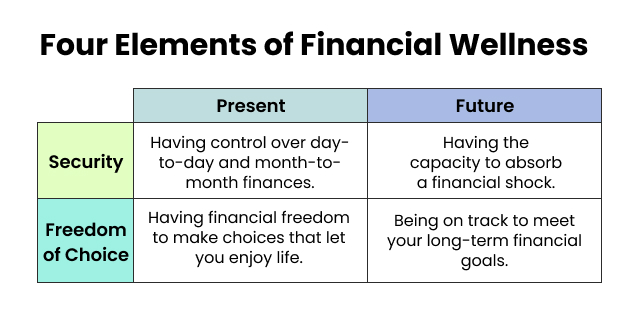 The road to financial wellness necessitates well-defined steps and strategic planning. Crucial components of this process include budget creation and management, designing a savings strategy, wise investments, debt management and reduction, and retirement planning. Each of these steps contributes to a holistic approach to achieving financial wellness.
Budgeting: Creating and sticking to a budget lays a foundation to build your financial well-being. It provides a roadmap to manage day-to-day finances, prepare for financial emergencies and plan for your future.
Debt: Managing long-term debt — and eliminating consumer debt — can reduce barriers to saving, investing and long-term financial planning. Knowing how to carefully manage credit can also build your credit score — giving you access to better borrowing rates for mortgages, auto loans and other large purchases.
Savings and Investments: Long-term savings and investments can provide financial security and peace of mind for retirement planning. Short-term savings can leave you with cash on hand to cover home repairs, vacations or other planned expenses without having to increase your debt.
Protection and Insurance: Insurance or emergency funds can protect you financially from unexpected emergencies. Insurance can cover losses due to fires, floods or health emergencies. An emergency fund, on the other hand, covers other crises. Both can help prevent you from using long-term savings or going into debt.
The Pivotal Role of Financial Education
Financial literacy and education hold a significant place in the journey toward financial wellness. Potential sources for gaining financial knowledge encompass books, online courses, and consultations with financial advisors. Furthermore, educational institutions and workplaces play a critical role in promoting financial literacy, equipping individuals with the tools necessary for sound financial decision-making.
The Role of Technology
Technology plays an increasingly crucial role in fostering financial wellness. The advent of digital tools and platforms like budgeting apps, online investment platforms, AI-driven financial advisors, and financial literacy websites has made managing personal finances more accessible and efficient than ever before.
Lessons from the Field: Case Studies
The journey towards financial wellness has been undertaken by various individuals and families, offering valuable insights and actionable lessons. Case studies drawn from real-life experiences provide practical examples of how the path to financial wellness can be effectively navigated. Two famous real-world examples related to the journey toward financial wellness are:
Dave Ramsey

Dave Ramsey is a well-known financial expert, author, and radio host who has inspired millions of people to take control of their finances. In his early years, Dave Ramsey faced significant financial challenges, accumulating millions of dollars in debt. However, he turned his financial life around by implementing a disciplined approach to money management. Ramsey developed a set of principles known as the "Baby Steps" and started sharing his experiences and advice through his books, radio show, and Financial Peace University program. His story serves as an inspiring case study, emphasizing the importance of budgeting, debt reduction, emergency funds, and long-term financial planning.
Elizabeth Warren

Elizabeth Warren, now a prominent United States Senator, has also become known for her expertise in personal finance and advocating for financial wellness. Before entering politics, Warren was an academic researcher and bankruptcy expert. Her work focused on understanding the root causes of financial distress and developing strategies to help individuals and families achieve financial stability. Warren's research and real-world case studies shed light on the systemic issues that contribute to financial challenges and the importance of regulations to protect consumers. Her work has influenced public policy and contributed to the ongoing conversations around financial wellness.
These two examples highlight individuals who have experienced personal financial struggles and have used their experiences to educate and empower others in their journey toward financial wellness. Their stories offer valuable insights into overcoming obstacles, making sound financial decisions, and achieving long-term financial security.
Navigating Challenges on the Path to Financial Wellness
The route to financial wellness can be dotted with several roadblocks. Unanticipated financial emergencies, a lack of financial education, and psychological biases influencing financial decisions are some common hurdles. However, equipped with the right set of tools and a resilient mindset, these challenges can be surmounted.
Society and Policy: The Broader Perspective
While financial wellness is often approached from an individual or family standpoint, societal and policy-related factors also have a significant role. Economic policies, financial regulations, and societal structures can greatly influence the ease or difficulty of achieving financial wellness. Discussing these broader influences provides a more complete understanding of the financial wellness landscape.
Starting is the Main Requirement
Financial wellness is not merely a theoretical concept—it's an impactful journey that can substantially transform your life. As explored in this article, the importance of financial wellness radiates beyond the financial realm, significantly influencing mental health and overall well-being. Regardless of where you are on your financial journey, it's never too late to take the steps toward financial wellness.
Author Profile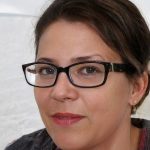 Lucy Walker is a journalist that covers finance, health and beauty since 2014. She has been writing for various online publications.