In the ever-evolving world of investment, few figures have captured the attention of investors and analysts quite like Cathie Wood, founder and CEO of Ark Invest. With her unique investment approach, Wood has disrupted the traditional investment industry and carved out a prominent position in the market. This article delves into Cathie Wood's investment strategies, her most successful products, and the potential impact she holds on the broader investment landscape.
Cathie Wood's Unique Investment Approach
Cathie Wood's investment philosophy is rooted in innovation, growth, and technological disruption. Unlike traditional investment managers who often rely on established companies and conservative strategies, Wood focuses on disruptive technologies and long-term growth prospects. She embraces forward-thinking themes and bets on companies at the forefront of technological advancements, such as artificial intelligence, genomics, robotics, and blockchain.
Wood's approach is characterized by active management and a conviction in her investment thesis. She takes a longer-term perspective, holding positions in companies she believes have the potential to revolutionize industries and drive exponential growth.
Successful Product: ARK Innovation ETF (ARKK)
One of Ark Invest's most successful products is the ARK Innovation ETF (ARKK), which embodies Wood's investment philosophy. ARKK focuses on companies at the forefront of disruptive technologies and innovative industries. Through this actively managed ETF, Wood has assembled a diverse portfolio of companies with high growth potential.
The success of ARKK can be attributed to several factors. Firstly, Wood's research-driven approach and in-depth analysis of emerging technologies and industries enable her to identify early-stage companies with transformative potential. Secondly, the ETF's focus on high-growth stocks has resonated with investors seeking exposure to the next generation of industry leaders. Lastly, the transparent nature of Ark Invest's investment process has earned the trust of investors, who appreciate the visibility into the firm's strategies and holdings.
ARK Innovation ETF (ARKK) Chart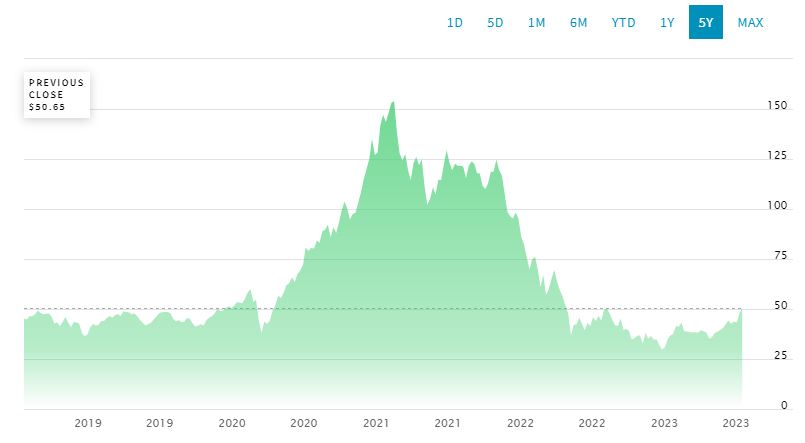 Ark Invest's Impact on the Market
Cathie Wood's rise to prominence has not only attracted significant attention to Ark Invest but has also influenced the broader investment landscape. Her unwavering belief in disruptive innovation has shifted the focus towards growth-oriented investment strategies. Additionally, her bold predictions and willingness to invest in nascent technologies have inspired other fund managers to explore high-risk, high-reward opportunities.
Furthermore, Wood's success has demonstrated the power of thematic investing, where portfolios are constructed around specific trends and themes. This approach has garnered attention from both retail and institutional investors, who are seeking exposure to companies that are reshaping industries.
Bitcoin Influence
Cathie Wood has been known for her optimistic and forward-looking approach to Bitcoin. Wood has been a vocal supporter of cryptocurrencies, particularly Bitcoin, and has integrated them into her investment strategies. She views Bitcoin as a store of value and a hedge against inflation, believing that it has the potential to become a significant asset class in the future.
She has also highlighted Bitcoin as a safety net, especially after the events of 2023 where several regional US banks went bankrupt while at the same time, Bitcoin rallied from $16,000 to $30,000. Ark Invest has famously produced a bear and bull price prediction for Bitcoin which ranges from $600k (bear) to $1.5M (bull).
Unlike traditional asset managers who may shy away from the inherent volatility of cryptocurrencies, Wood embraces the risk and sees it as an opportunity for potential long-term gains. Her bullish stance on Bitcoin aligns with her overall investment philosophy of seeking out disruptive technologies and innovative assets that can drive exponential growth.
CATHY WOOD: The bull case for #bitcoin is $1,500,000

Everyone will want the insurance policy offered by #bitcoin, providing protection against the confiscation of wealth by inflation and a hedge against counter party risk 👀🙌 pic.twitter.com/G3nlBFjIiQ

— Bitcoin News (@BitcoinNewsCom) July 18, 2023
The Broader Investment Landscape
Cathie Wood's investment strategies come at a time when the traditional market paradigm is being challenged. Historically, value investing and established companies dominated the investment landscape, but the rise of technology and the pace of innovation have created new opportunities and challenges.
Today, investors are re-evaluating their portfolios and looking to diversify beyond traditional assets. The search for uncorrelated returns has led many to explore thematic and disruptive innovation investing, as exemplified by Ark Invest's approach.
Potential Risks and Criticisms
While Cathie Wood's investment strategies have garnered widespread acclaim, they are not without risks and criticisms. One major concern is the high concentration of assets in certain positions. Ark Invest's focus on innovation and growth has led to significant exposure to certain companies, making the ETFs susceptible to potential downturns in specific sectors.
Additionally, the risk of regulatory changes and macroeconomic events could impact the performance of Ark Invest's funds. Wood's strategies heavily rely on certain policy and market conditions to play out as expected, and any unforeseen changes could have adverse effects on the funds.
It has to be noted that many ETF strategies have similar (if not more) risk and of course the risk/reward aspect is also notable.
Girl Power
Cathie Wood's disruptive investment strategies have challenged the status quo and reshaped the investment landscape. Her thematic and growth-oriented approach, exemplified by the ARK Innovation ETF (ARKK), has resonated with investors seeking exposure to innovative industries and disruptive technologies. While her success has been remarkable, potential risks and criticisms should not be overlooked.
Cathie Wood's unique investment approach has not only positioned her firm, Ark Invest, as a market leader but also ignited a paradigm shift in the investment industry. As she continues to navigate uncharted territories, her innovative strategies and unwavering conviction will undoubtedly impact the market and influence the future of investment management.
Author Profile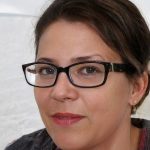 Lucy Walker is a journalist that covers finance, health and beauty since 2014. She has been writing for various online publications.