For the past 10 years, the office of Governor of the Bank of England has been filled by Mervyn King, chosen for two consecutive five-year terms.
Mr King is due to step down from his position, and his £302k salary, on June 30 of next year (2013). In a speech to Parliament, Chancellor of the Exchequer George Osborne announced that Mr King's replacement will be found with a fair and open competition, by which the government will begin to run advertisements for the job from Friday (Sept 14).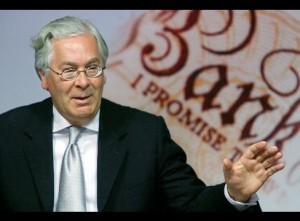 Mr Osborne continued to say "As with Mervyn King, we are seeking a governor of intelligence, independence, and integrity. We intend to announce the successful candidate by the end of the year."
The Treasury plan on running ads in the Economist and on the Government recruitment website. Applications close on October 8, after which an interview process will begin. The successful candidate will then face questions from a Treasury committee before taking the post.
Many names have already been suggested as replacements for Mr King, including BoE Deputy Governor Paul Tucker. Alongside Mr King's deputy have been suggestions of Gus O'Donnell, Britain's top civil servant and Lord Turner, chairman of the Financial Services Authority.
Some commercial bankers have also been put forward, including former Barclays CEO John Varley. Although it is believed that the recent scandals that surround the commercial banking industry, including attempts to rig Libor, have reduced the chances of someone with a commercial banking background being selected or proving a popular choice for the position.
The position of Governor is traditionally appointed by the Queen, under recommendation of the Prime Minister and the Chancellor. Mr Osborne said that he expected the successful applicant to inspire "confident and credibility both within the Bank and throughout financial markets", as well as boast experience of working at a senior level with central or commercial banking.
This is the first time in history that the position of Governor has been advertised. It is hoped that the process will boost confidence and trust with the central banking system.
Author Profile
I am a financial services writer with experience in forex trading and stock market analysis.