I listen to podcasts to learn, not so much for entertainment value, although a bit of entertainment is never bad. I just said that to prepare you for what is to follow. I hate podcasts where all they do is speak about market price action. 🥱
1. UpOnly
That Cobie & Ledger are some of the best hosts in the crypto world, is a fact stated by many experts. For me, the unique thing they do, is that they manage to bring the most interesting people together in web3. And that makes for fascinating conversations.
They seem to make even the most boring and tedious interesting and captivating, how they do that, I do not know.
Take as an example the interview with Zooko from the privacy-focused cryptocurrency project zCash back in July. Simply fascinating inspiring stuff you can actually learn from.
Website: https://uponly.tv/
2. Tilton Talks Crypto
I do not know how many people have come across this, but if you want to get a whiff of what will happen in crypto in terms of regulation, this is the only podcast I have found with a very high caliber of guests dedicated to this topic.
The guests range from Senators to government officials, top lawyers and blockchain innovators. The hosts are also very knowledgeable in crypto matters and general finance, which makes this podcast particularly interesting.
Many industry insiders are listening to this now and would recommend it if you want to expand your knowledge about the future of cryptocurrency regulation.
Website: https://smartfi.com/tilton-talks-crypto
3. Lex Fridman
This is not strictly a crypto podcast so perhaps it should not be on this list. Dr Lex Fridman is not a flashy presenter. He is not loud, he is not your typical fanciful social media influencer. His voice could almost be deemed boring. But when you really listen to him you learn.
Whatever this podcast lacks in being flashy, compensates for in knowledge. With over 300 shows under his belt, Lex had almost everyone on. Not all are on crypto although he had on most of the very important people in the industry like Ethereum co-founder Vitalik Buterin. One of my favorite interviews was recently with Coinbase CEO, and social media personality Brian Armstrong.
Lex and Brian both geek out for the first part discussing programming languages and getting back to their roots. It made for a fascinating following discussion, which is the reason so many people listen to this.
Website: https://lexfridman.com/
4. Tokel Talk
The best podcast about web3 and NFTs. If you want to discover crazy things like global NFT-connected cobalt mining, AI overtaking the way artists work and many many more, this is the place to go.
Mack Flavelle from Cryptokitties was there a couple of months ago and they have so many exciting guests it is hard to keep count.
They have only been around for one year, but everyone in the NFT space is in agreement that this is one of the best up-and-coming podcasts in crypto.
Website: https://tokel.io/tokeltalk/
5. Crypto Over Coffee
This podcast by Hashoshi is in short, very good. It is well rehearsed and Hashoshi is a gifted presenter with great information to share.
There are no guests on this show usually but there is plenty of info on trading, coin picks and other very useful analyses of current news.
He is simply a very easy guy to listen to and his insights are most times very sensible.
He does drink a lot of coffee though. Who knows? Maybe he needs it. 😂
Author Profile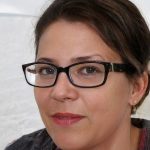 Lucy Walker is a journalist that covers finance, health and beauty since 2014. She has been writing for various online publications.