New Intelligence
Artificial intelligence (AI) is changing the way we do business more than ever before. The latest AI technology, ChatGPT, is revolutionizing processes and impacting the global economy in powerful ways. Let's take a look at how exactly ChatGPT will affect the economy in 2021 and beyond.
What Is ChatGPT?
ChatGPT stands for "Conversational Graph-Based Pre-Trained Transformer", and it's an AI platform that can be used to automate certain tasks. It uses natural language processing (NLP) and machine learning (ML) to understand input from users in plain language.
This means it can parse information into usable data that can be used to make decisions or provide automated responses. For example, ChatGPT could be used to respond to customer inquiries on a website or provide product recommendations based on user input.
Impact of ChatGPT on Businesses
The introduction of ChatGPT has already had an impact on businesses large and small, from streamlining processes to eliminating human labor in certain roles. In fact, many companies are already utilizing this technology as part of their customer service operations, allowing them to reduce costs while improving efficiency and accuracy of responses.
Furthermore, AI technologies like ChatGPT eliminate the need for manual data entry, freeing up time for employees to focus on other tasks that require human intelligence and creativity.
Impact of ChatGPT on Job Creation
Although some jobs may become obsolete with the introduction of AI technologies like ChatGPT, it does not mean that job creation will suffer as a result. In fact, many experts believe that AI technologies are actually creating job opportunities by freeing up existing resources within organizations so they can focus on developing new products or services or creating more efficient workflows.
Additionally, new roles such as 'AI trainers' and 'AI engineers' are being created as well as jobs related to data science and analytics which help businesses make better use of their data sets.
However, there is also a very high probability that technologies like ChatGPT will have an immediate impact on jobs for writers, communication specialists, marketers and other professionals connected to the services provided by ChatGPT.
Change is Coming Fast
In conclusion, it's clear that the introduction of AI technologies like ChatGPT have already had an immense impact on businesses around the world. While some roles may become obsolete due to automation, there will also be job opportunities created through improved efficiency and resource allocation within organizations as well as new roles related specifically to AI technology development and usage.
As such, investors should keep a close eye on these trends in order to capitalize on potential profits from these changes in the market landscape over time.
Author Profile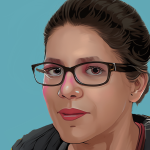 Lucy Walker is a journalist that covers finance, health and beauty since 2014. She has been writing for various online publications.