The crypto market had a torrid time in 2022. However since the start of this year, Bitcoin, alongside most other altcoins, has recovered almost ~50% of its losses. The recovery was quick but progress has stalled with tough macroeconomic conditions making it difficult for users to return to crypto investments.
Ethereum (ETH) has held well against market forces with its price closely following that of BTC and in some cases surpassing it in % of gains. This trend could continue and intensify as part of a bull run as Ethereum establishes the strongest ecosystem and subsequently use case to date.
Cardano (ADA) has been following Bitcoin as usual for most of the year, however, it has been more closely aligned with the Ethereum price action since late March. Overall Cardano has done well to recover from the horrors of 2022.
Tezos (XTZ) has been on a rollercoaster this year. It rose together with Bitcoin and the other altcoins, then peaked in late February in unexpected upward price action but has now suffered heavier losses than other coins in the top 10 at the beginning of May.
Monero (XMR) is somewhat the odd one out. Sitting at position 23 for market cap currently, it is by far the most stable of the major cryptocurrencies hovering between $150-$180. Remarkably steady in an unremarkably volatile space with sentiment fluctuating.
Comparison of 5 Major Crypto Coins

Author Profile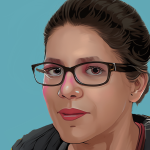 Lucy Walker is a journalist that covers finance, health and beauty since 2014. She has been writing for various online publications.