Woolworth's was about to celebrate its 100th birthday this year, but instead of appointing party organizers to celebrate its century long history of success it had to appoint administrators after a vain last minute attempt to sell stores to raise cash.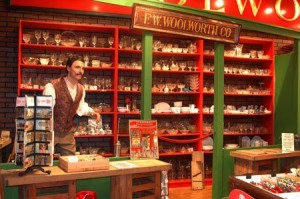 Woolworth's has more than 800 stores across the UK and employs around 25,000 people according to a company's statement.
Woolworth's is expected to be sold at the nominal price of £1, but if you own it dont think you can sell it as the stock was yesterday suspended for the second time this week. The stock has lost more than 90% of its value since the beginning of the year. It had already fallen by 62 percent in 2007.
Although its true the consumer economy got bad enough, fast enough, Woolworth's executives should have no excuse. Robert James McDonald, Chief Financial Officer, has made no comments so far and the questions remains if he will do so as analysts find it hard to explain the strategy of doing-nothing-until-there-is-nothing-left-to-do.
Why?
While 25,000 are agonising for their jobs, lets have a look at the facts behind Woolworth's bankruptcy.
– Credit market freeze. Banks ability to lend has been restricted massively, but more importantly their willing to lend is close to zero. This is basically still the case, despite global government efforts to revive the economies by injecting cash, providing all sorts of guarantees, printing new money, etc.

– Spending drop-off. Consumers squeezed to the penny by rising living costs, are holding tight to their money postponing any cash outflows until they feel safer. Consumer confidence reached record lows in Europe, US, and Asia and so sales have plunged

– Debt. More Debt. Too Much Debt. Of course any economically viable company should be flexible enough to cope with lower levels of demand and be able to finance its way out of an economic downturn. But not a company that is already carrying debt 16 times more than its current worth in the market. Woolworth's current market capitalization is not even enough to pay the (debt) interest costs which amount to £18.6 million.
The market outlook is pretty gloomy at the moment and will remain such for the rest of 2009 and possibly for the first half of 2010. Companies such as Woolworth's that have taken on too much debt are inevitably going to find it difficult to refinance themselves. This is not a prediction, but a fact.
Author Profile
I am a financial services writer with experience in forex trading and stock market analysis.