According to Wikipedia, manufacturing production is a wealth-producing sector of an economy, whereas a service sector tends to be wealth-consuming. However, as the recent economic data indicate even the strongest of the world economies undergo the reverse process of de-industrialisation.
De-industrialization as a concept can generally be defined as a decline in the ratio of the workforce employed in industry (Patnaik, 2003). Drawing upon previous analysis by Alford (1997) it was decided that the key measures of de-industrialisation that should be considered would be the number of people employed within the manufacturing industry, manufacturing output/productivity, and the level of import and exports of manufactured goods.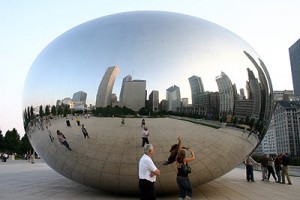 The outlook for Gross Domestic Product in 2009 has deteriorated once again based on national accounts data submitted that show that most economies saw a contraction in the last quarter of 2008.
In Western Europe, all indicators show further huge falls in manufacturing production in the first quarter of 2009, following substantial contractions in the last quarter of the previous year. This is particularly true for Germany which is Europe's main industrial power.
In the United States, the Federal Reserve's beige book survey of activity in 12 Fed districts over January and most of February showed job losses spreading beyond manufacturing and the financial services.
In France, manufactured output contracted by 4.1% in one month in January and sentiment is definitely worsening. There is however some evidence, that industry could potentially receive a boost from the government.
In the UK business expansion plans have been hit by credit restrictions and dropping demand and output has fallen by over 10% in December from its October 2007 peak. Unemployment also rose to 3.8% in January.
In Canada, exports have fallen substantially and both industrial and manufacturing output contracted on the bank of the deepening recession in the industry.
In Netherlands, manufacturers are more pessimistic than ever before and analysts expect a huge manufacturing production contraction of 9.5% for 2009. Investments also feel by 8.7% with businesses cutting off costs and expansion plans. Unemployment is still on the rise.
In Norway, both consumption and investment has contracted in the last quarter of 2008 and the industrial sector is feeling the pain with manufacturing output down by 2.8%. This comes as a result of weakening external demand for manufacturing exports.
In Sweden, the manufacturing sector has been especially hard-hit by the global financial crisis, with production down by almost 8% from the previous quarter and new orders slumping. The labor market has worsened further, with unemployment climbing to 7.3% in January.
Author Profile
I am a financial services writer with experience in forex trading and stock market analysis.