December 3, 2008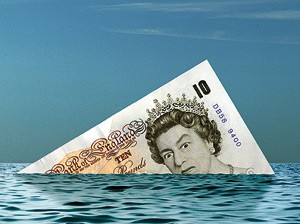 In the UK, a full-blown recession is now unfolding: export growth set to collapse, credit crisis to hit investment, but consumption benefiting from lower oil prices. The UK suffers from a highly indebted consumer and large banking sector and benefits from a weaker sterling.
Sterling continues to suffer from expectations that the UK economy will have a deeper recession and that the Bank of England will have to cut rates more aggressively than its European counterparts. The pound declined against all 16 of the major currencies. It has lost 1.7 percent of its value against the USD and about 1 percent against the EURO. The British currency was hit by reports that showed UK services sector sank at a rate of knots, reporting record falls across activity, employment and new business, as consumer confidence continues to deteriorate.
The BOE are expected to slash rates again by a full one percent tomorrow bringing the base rate down to an unprecedented 2%. Former U.K. policy maker Willem Buiter said yesterday the central bank may reduce the benchmark rate to zero early next year. The Pound traded between 1.4934 and 1.4862 respectively.
The Nationwide consumer confidence index fell to 50 last month, its lowest level since records began as the impending recession puts fear over jobs in the spotlight. Another survey showed that British recruiters reported a record fall in job appointments and wages in November.